Spring Weather Outlook: Flood Risk Lower But La Nina Could Throw Curveballs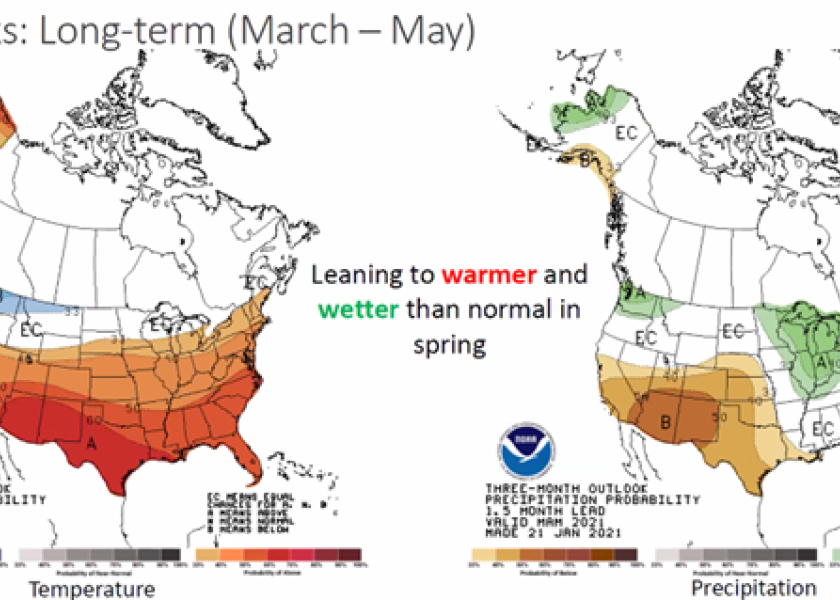 As the winter thaw nears and spring planting is on the horizon, how is the weather outlook shaping up? Trent Ford, Illinois State Climatologist is factoring two things into his analysis: soil moisture conditions and La Nina. 
Ford says the winter started warm and slightly drier than normal. Not factoring in this past week's widespread snowfall, which wasn't high in liquid content anyway, he notes many areas in the state registered a 7" to 8" precipitation deficit which has been lingering since this past summer. 
From NASA models, the top layer of soil down to 20" is measuring normal soil moisture across much of the key crop producing state, but it's the range from 20" to 40" in the soil layers where the lack of rain in the past year shows the biggest departure from normal. 
"2020 was dry in Illinois—we lost the buffer," Ford says. "We have a La Nina that's been present since September and persisted through the winter, but it is weakening. The NOAA models indicate March to May will be warmer for the southern 2/3 of the U.S. And there will be a large part of the eastern Midwest that will be wetter than normal."
What if La Nina stick around? Ford says it's a bit more a mixed bag. 
"When La Nina persists, we see a drier than average spring–1.5 to 3.5" less rainfall than average," he says. "This isn't to forewarn about a dry spring or dry summer. But there's a lot of variability when it comes to La Nina in the springtime"
Ford says this year's thaw may be a bit different. 
"Most of the state of Illinois is covered in snow," he says. "But it's been snow with very low water equivalent." 
He notes in the upper Mississippi River region there's a below average snow pack. 
This past week measured soil frost as far south as Pudacah, Kentucky. 
But on net balance, he sees a decreased flood risk as the snow melts and water goes into streams, creeks and rivers. He notes if areas can avoid heavy rains in early March, the flood risks will really decrease. 
The bigger risk to watch is the overall change in how precipitation events occur. 
"We have seen an increase across the state of what we consider 100-year precipitation events, so we are observing an increase in the frequency of heavy rainfall," Ford says. 
Ford shared his outlook at a Monmouth Learning Center virtual agronomy meeting conducted for Dekalb/Asgrow farmers and dealers in northern and central Illinois.