North Dakota Farmers Need 200% of Normal Spring Rainfall to Undo Drought
The scene across North Dakota a year ago was frustrating for farmers. Snow was piled up in farm fields, and moisture was in abundant supply. Combines slogged through snow last March just to try to get the 2019 crop harvested.
"The 2019 harvest was horrible," said Terry Wehlander, a farmer in DeLamere, North Dakota. "The spring of 2020, we were mudding stuff in the ground and smearing it in. Anything we could do because we were a month late of where we normally start. So, it wasn't fun for anybody up here."
It wasn't just a battle for Wehlander. Four hours northwest, farmer Chris Brosshart faced similar frustrations.
"2020 was a really interesting year," said Brosshart who farms in Wolford. "Like many people in North Dakota, we had 30 plus inches of snow in the fall of 2019."
Mountains of moisture also produced near record prevent plant in North Dakota during the 2020 growing season.
"Spring of 2020 was a battle," added Wehlander. "There was a lot of prevent plant. It was really an unprecedented amount of prevent plant for North Dakota. I've never seen it like that before."
As the spring progressed into summer, the weather flipped. The rains started to shut off, and a drier weather bias set in.
"I think guys are getting excited about some sense of normalcy in the spring that we can get out early and actually feel good about putting the crop in for the first time in three years," said Wehlander, looking ahead at the 2021 growing season.
A drier end to 2020 also helped open up the window for fall field work, with growers getting more field work accomplished last fall than they had in the previous few years.  
"There's ground that hasn't been worked in number of years, that actually got worked last fall," Wehlander added.
But it's the dryness that's also planting drought concerns for 2021. The latest drought monitor shows a dramatic shift. A year ago, 100% of the state was drought free. And today, 100% of North Dakota is seeing some level of drought.
Current North Dakota Drought Picture (Top) vs North Dakota Drought Monitor Feb. 25, 2020 (Bottom):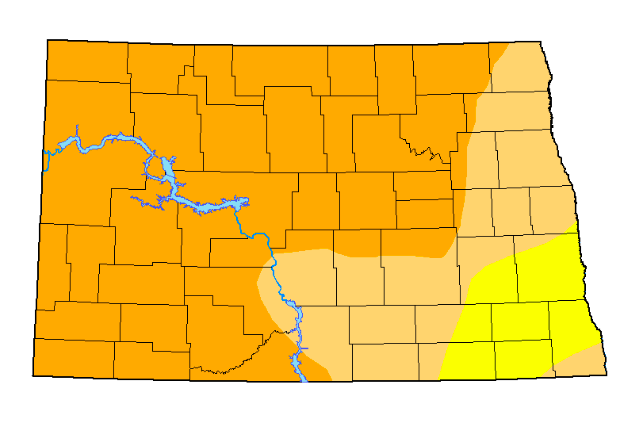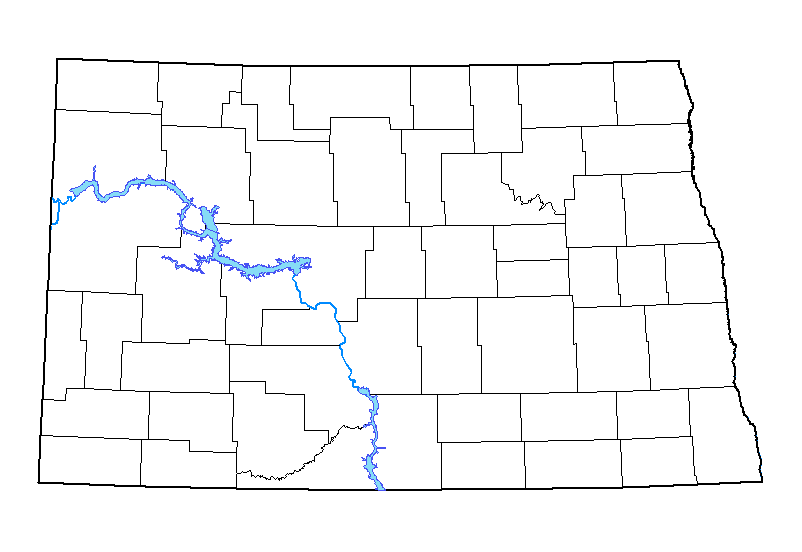 "I don't want to go from one extreme to the other," said Wehlander. "I'd like to meet in the middle and that hope we can get some normalcy up here."
Drought Concerns Linger
Drought concerns are also sprouting for meteorologists. Eric Snodgrass of Nutrien told Top Producer Summit attendees that the drought picture today is truly unique.
"The drought monitor has been around since the year 2000, and over those last 21 years, we've never seen a drought situation looking like this," he said during the virtual meeting. "What I mean is, there's extensive drought in the northern plains, we can see exceptional drought in the four corner states, but practically very, very little drought once you get into the eastern half of the United States."
Had a friend put this map together (I'm not that tech savvy) which overlays the drought monitor over the USDA cropland map. There are a LOT of acres on the wrong side of those lines.

Mother nature needs to step up her game. We are running out of time..... pic.twitter.com/poHVCbY2OX — Josh Linville (@JLinvilleFert) March 2, 2021
So, just how dry is it? Snodgrass says you have to look beyond the drought monitor to get a picture of just how bad the drought situation in the northern Plains is today.
"In North Dakota, it is the driest that it has been there in the last 40 years," added Snodgrass. "It is very difficult, without getting return of moisture into March and April, to overcome drought pressures throughout the rest of the year."
Snodgrass fears drought will continue to plague the Plains this year, and he says it will take more than just "normal" precipitation to erase the impacts of the dry conditions in that area.
"You need 200% of your normal spring rain to undo this drought," said Snodgrass. "And, by the way, it needs to soak in. So, when I say you need 200%, we were just looking at this data last night, that would be 200% of rainfall getting there on unfrozen soil."
As dryness continues to be a concern for North Dakota farmers, many are just thankful to have the possibility to plant this year.
"My outlook is 'finally,' because we've had some battles," said Wehlander. "Everybody needs a healer. And I really hope this year can set up to where we don't have to mud the crop in and we can get the corn or beans in the ground in the proper way. And then hope Mother Nature can hold her hand and carry us into the fall."
Related Stories: