Intercropping Gains More Interest from US Farmers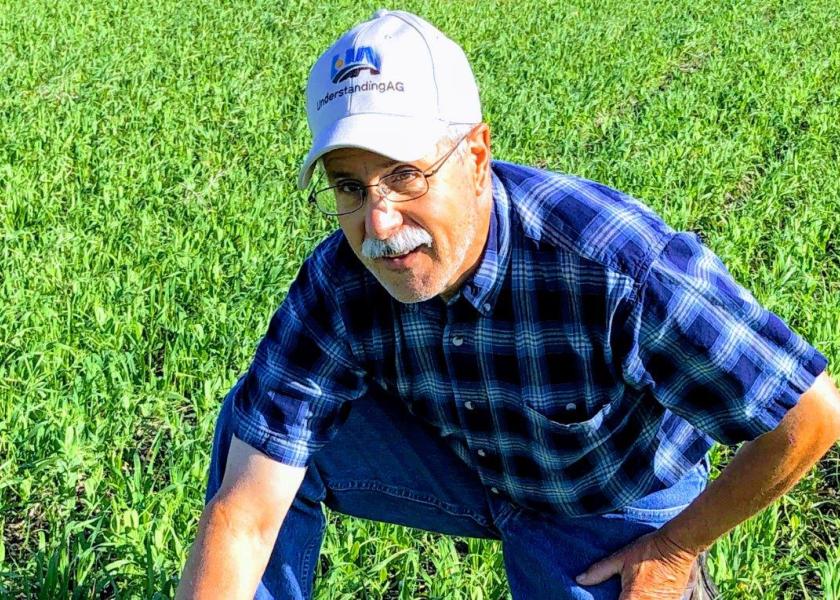 Two crops are better than one. The logic is simple; the practice is not. Intercropping continues to gain attention of U.S. producers hopeful of growing two cash crops simultaneously on the same ground to pull in greater overall return from the duo, as compared with the ROI on a single crop. Depending on geography, the results show promise—and susceptibility to the whims of weather.
Farmers Nathan Neameyer and Paul Overby, along with researcher Mike Ostlie, are intercropping innovators intent on finding crop combinations that translate to a whole greater than component parts. "If I can grow two crops at once and consistently make more money, and add diversity to my soil, then intercropping is a fit for at least a portion of my ground," Neameyer says.
Nathan Neameyer's Soyola
In northcentral North Dakota's Rolette County, roughly 30 miles from the Canadian border, Neameyer grows barley, canola, flax, soybeans, spring wheat and sunflowers in heavier clay soils, on relatively flat land with above-ground ditching and no tile.
By nature, Neameyer pokes and prods his farmland, steadily taking on various degrees of innovation: companion crops, no till, pollinator plots, cover crops and more. In 2018, he took a maiden shot at intercropping, seeding 35 acres of soybeans and canola, and held back a big scoop from the planting populations of both. Soybeans dropped from 180,000 to 140,000 seeds per acre, and canola dipped from 4-5 lb. to 1 lb. of seeds per acre.
Placed in separate hoppers, the LibertyLink soybeans and canola were blown through an air seeder into the same rows (15" row configuration) at a compromised depth of 1". "I was worried the smaller canola seeds wouldn't come up, but they did great. The bigger seeds sort of make a pathway, and everything came up perfectly," Neameyer describes.
Neameyer applied no fertilizer and no fungicide. In addition, he noted significantly decreased flea beetle presence in the canola. "Flea beetles may not be able to locate the canola as well in soybeans," he contends. "Mixing canola and soy could be a way to avoid some flea beetle problems early in spring."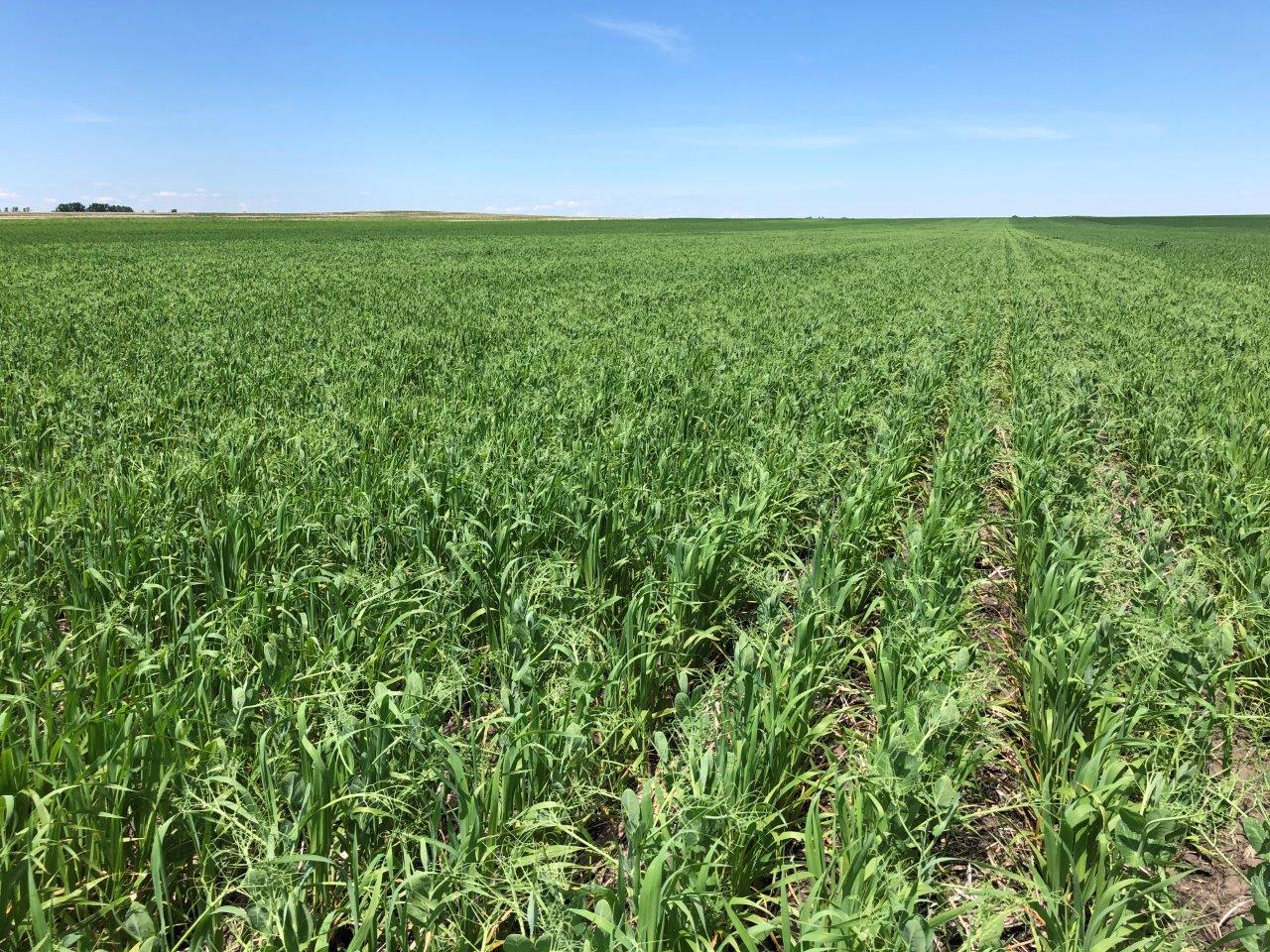 After dessication with glyphosate, Neameyer harvested the "soyola" with a flex header and separated the crops with a Kwik-Kleen grain cleaner. The canola yielded 1,356 lb. per acre and the soybeans yielded 22.6 bpa—results eclipsing Neameyer's expectations, particularly considering he only paid for seed, a shot of Liberty, and burndown. (Crop insurance, unavailable for intercropping, didn't factor as an expense.) "My first intercropping experiment in 2018 was fantastic, and built my interest and confidence," he says. "I was excited to try new things in 2019, but then it turned into a year straight out of the record books. Awful, just an incredibly bad year."
Salt in the Wound
Neameyer kicked off 2019 with a bright outlook, planting nine crops on his farm, including nine intercrop plots (flax and fava beans; soybeans and canola), but after a generally poor growing season, the wheels came off Oct. 10, with the arrival of a major blizzard, the earliest snow of Neameyer's 20-year career. Instead of cutting crops in the middle of soybean harvest, Neameyer was staring at a white blanket: "It was crazy and my crops were under a foot or two of snow. It was the heaviest snowfall of the entire winter, and it fell at the beginning of October."
The extreme conditions prevented many North Dakota producers from harvesting—period. As for Neameyer, he lost the intercropping plots, but managed to complete harvest of his main crops the day before Thanksgiving. Rubbing salt in the wound, the excessive moisture carried into 2020, well into spring, and hit the Dakota grower with the back end of devastating one-two combination. "Planting has been a very tough waiting game this year," Neameyer describes, "and a fair amount of land will go unplanted in my neck of the woods this year, and maybe 10% to 50% of many farms won't get seeded."
Yet, foul weather piques Neameyer's curiosity all the more in regard to intercropping. "Certain weather produces better soy or canola, but often not the same weather. If you plant both crops then the weather can dictate which one becomes the bigger money-maker. In a way, it's like hedging against the weather with dual crops," he says.
Despite the weather travails, Neameyer remains hopeful over intercropping potential and encourages other growers to consider a trial: "There could be real profitability and a long-term, beneficial soil impacts. Not many people are interested unless intercropping proves successful, but this is going to take more guys to figure it out, and we need people in our farming neighborhood to try this so we can all learn from each other and accelerate the learning."
"Just keep an open mind," Neameyer continues. "I'm very hopeful and I'm going to keep learning by the year to find out what role it can play on my farm, and we need more years of university studies to show if intercropping is economically viable."
Mike Ostlie's Bottom Line
An old agronomic practice common prior to mechanization, intercropping cycled back and regained attention in the early 1990s, but was knocked off stage by the advent of Roundup Ready technology. From a producer's standpoint, interest in intercropping waned with the relative ease of glyphosate-tolerant crops. However, over the past decade in North Dakota, researchers have ramped up focus, beginning with a cereal rye-soybean relay as a kickstarter: plant rye, terminate, plant soybeans.  
The cover crop attention segued into intercropping, explains Mike Ostlie, a research agronomist with North Dakota State University Extension. "Intercropping allows us to do more on a per acre basis, and make more per acre of total product than with either crop alone. It's about using acres for more than one thing because we've only got four to five months of growing season to get more use out of land rents."
In Ostlie's geography, he commonly sees field peas and canola in trial marriages. "If you want lots of field peas—then plant field peas. But if you want to try to maximize net production per acre, then you want to try to intercrop."
In a field pea-canola combo, Ostlie reports approximately two-thirds production for both crops: "If you have the right seeding rates and ratios, you can get up to 66% of normal full crop yield. A 60 bu. field pea crop planted at a two-thirds rate can end up at 40 bushels, and you can get 60% of the other crop like canola, while only planting a quarter rate and also cutting fertility."
The key to an intercropping union, Ostlie emphasizes, starts with finding matches in planting and harvest. In addition, peak water use must not be synchronized. Case in point, field peas drink water earlier in the season; canola uses water later in the season. "Whether insects, weeds, fertility or anything else, you want to pair agrarian weakness with agrarian strength," he notes. "For example, we're seeing less disease with chick peas and flax."
(To listen to a podcast featuring Ostlie and intercropping, see Soil Sense)
Chick peas are highly sensitive to blight, and the wrong conditions mean repeated fungicide applications. However, Ostlie has identified synergy between fungicide and intercropping: "We're not precisely sure of the reasons, but if you use intercropping and fungicides, you'll drastically cut back on blight."
Ostlie further highlights the mycorrhizal benefit to canola from intercropping. "Normally, when you follow canola, you can have fallow syndrome, or lack of mycorrhizae. With intercropping, you partner with a mycorrhizal species so there will still be a mycorrhizae host even though you are growing canola in the field. The whole soil microbiome has so much synergy in our systems and we are just scratching the surface, particularly in the case of intercropping. We're going to learn more and find out that plants are interacting way more below ground than above."
From a nuts-and-bolts standpoint, Ostlie sees most Dakota growers, both conventional and no till, plant both crops in the same furrow on 6" to 10" row spacing, and pick a seed depth in between the ideal of each crop.  
Planting and harvest require minimal equipment modifications: "We harvest with a straight header and standard combine. You may have to play with settings, and may be more reliant on a dessicant. Usually, the vastly different seed sizes mean keeping the sieves open wider than you would for smaller-seeded crops."
Ostlie encourages on-farm plots, and says most growers often try 2-5 acres of intercropping. Echoing Neameyer, he believes more on-board farmers would be a major boost for experimentation. "On the research end, we can show benefits, but does it translate to scale? I've gotten so much good feedback, but last year was so incredibly difficult on everyone, and that was followed by an extremely tough spring. When good conditions arrive it means guys have to go fast to get regular acres planted."
Bottom line, does intercropping allow a producer to come out ahead compared with a single crop? "We've been building production data, and now we need economic analysis to tell us where we're at," Ostlie adds. "I know up in Canada, where they're way ahead with intercropping, they are starting to market both crops together. That would be huge if someone took in mixed crops; it would be an intercropping game-changer here."
Paul Overby's Challenge    
Roughly 8 miles as the crow flies from Neameyer, Paul Overby no tills canola, field peas, flax, hard red spring wheat, oats, sunflowers and soybeans on 1,750 acres split between Pierce, Rolette and Towner counties.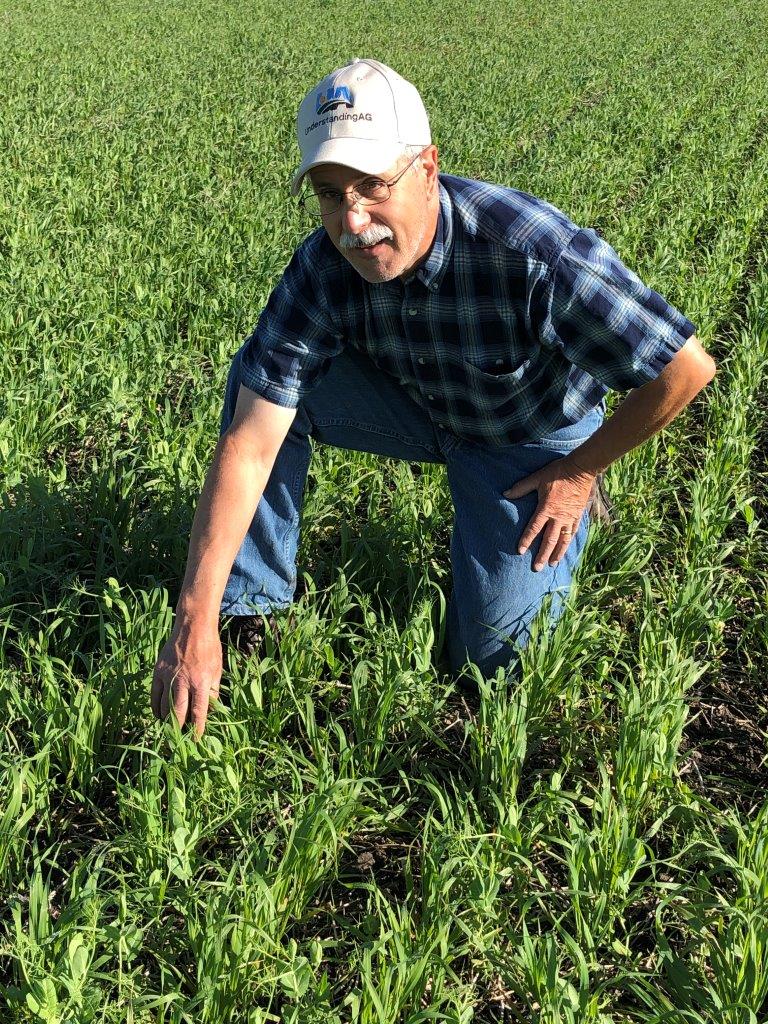 Overby's interest in intercropping began with cover crop research, and in 2019, he planted cover crops (radish, lentils, buckwheat, and clover) into standing oats and wheat in July. After incessant fall rains, the trial fields were never harvested. To his eye, the bushels looked promising, but with no yield monitor analysis, Overby was left with guesswork.
In 2020, Overby's intercropping plots, coordinated through General Mills and South East Research Farm in Saskatchewan, consisted of two 10-acre strips of field peas and oats (within a 40-acre field) planted toward the end of May, with the intention to reduce fertilizer and learn if the peas provide nutrients to the oats.
Overby says planting dates can be an intercropping difficulty: "It's extra management and a time consumer at this point, because equipment must be adjusted—maybe half a day to plant 20 acres. But then again, that's part of learning and you learn a lot by doing things in difficult circumstances."
And what about the same ground in 2021? What does Overby hope to plant on the oats-pea ground the following season? Hard red spring wheat on the entire 40 acres; essentially a stacked rotation of two brasses followed by two broadleaves to work disease management. "That would let us see if we have follow-on effects on the two strips. We use satellite imagery and watch to see the variations we pick up. If we plant wheat evenly across the entire field, will we see the strips pop out in the imagery? That might indicate two benefits: One to oats and one to the following crop. That would also provide us with an economic answer about the extra seed and extra management time."
Field peas and flax, canola and field peas, wheat and flax, Overby is highly curious about the possibilities and anticipates upcoming plots, but doesn't expect significant intercropping acres in North Dakota in the immediate future, due to seed, management and harvest costs. However, he says the potential for intercropping is genuine. "It could take up to 15 years before adoption of intercropping becomes accepted. Right now, I'm still working on covers and my highest priority is how to intercrop covers into standing crops like wheat, in order to get covers up and running."
"I want to learn how these crops grow together and once that happens, farmers will adapt and take real interest," Overby adds. "It's a big challenge, but I'm not going to stay back in the weeds and watch."
For more, see:
US Farming Loses the King of Combines
Ghost in the House: A Forgotten American Farming Tragedy
Rat Hunting with the Dogs of War, Farming's Greatest Show on Legs
Misfit Tractors a Money Saver for Arkansas Farmer
Predator Tractor Unleashed on Farmland by Ag's True Maverick
Government Cameras Hidden on Private Property? Welcome to Open Fields
Farmland Detective Finds Youngest Civil War Soldier's Grave?
Descent Into Hell: Farmer Escapes Corn Tomb Death
Evil Grain: The Wild Tale of History's Biggest Crop Insurance Scam
Grizzly Hell: USDA Worker Survives Epic Bear Attack
A Skeptical Farmer's Monster Message on Profitability
Farmer Refuses to Roll, Rips Lid Off IRS Behavior
Killing Hogzilla: Hunting a Monster Wild Pig  
Shattered Taboo: Death of a Farm and Resurrection of a Farmer     
Frozen Dinosaur: Farmer Finds Huge Alligator Snapping Turtle Under Ice
Breaking Bad: Chasing the Wildest Con Artist in Farming History
In the Blood: Hunting Deer Antlers with a Legendary Shed Whisperer
Corn Maverick: Cracking the Mystery of 60-Inch Rows
Against All Odds: Farmer Survives Epic Ordeal