Nutrien Launches Digital Platform "To Make Doing Business Easier"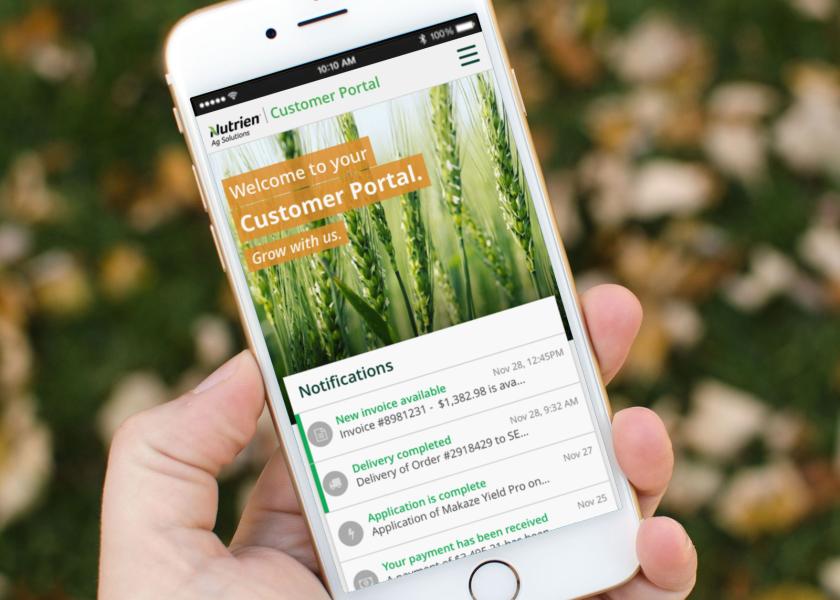 To digitize more of its business activities, the newly named Nutrien Ag Solutions will roll out a new digital platform. The company has "made a significant investment" in the new platform and sees it as a way to transform its business.
"Our investment in this leading digital platform will put us in a strong position to further enhance our unique ability to deliver value for growers by moving beyond a focus on product sales – and towards a solutions-oriented approach that will ultimately maximize productivity and profitability for our customers," says Mike Frank President of Nutrien Retail.
Frank says development was driven by listening to farmer customers, and the platform (the official name has not be released) will continue to have new features added. The initial launch will focus on "making Nutrien even easier to do business with." The platform is designed as an integrated hub where farms can manage their agronomic and business needs.
It will be integrated with the company's Echelon precision ag services and will allow farmers to interact with Nutrien agronomists (the company has more than 3,000) and field service representatives. The digital platform aims to optimize growers' yields and financial results—growers can manage their account, services, products and payments via the web and mobile.
"We want to do business with our customers the way they want to do business with us. Some of our customers are excited to see this new tool, while others have told us they want to keep doing business with us the same way they've always done it," Franks says. "Our new customer portal will create the only omni-channel network across North American agriculture – and one of the most compelling aspects of our business model is that growers can now engage with us in multiple ways."
With 1,500 retail locations in the Nutrien Ag Solution network globally, the platform augments the distribution network, agronomic advice and services of the company.
"There are an increasing number of disparate digital product offerings in the market today that only address isolated challenges on the farm – and we believe that we are in a unique position to offer our customers a more holistic solution that addresses a broader set of needs," Frank says. "The introduction of our digital platform will also enable us to better support our customers throughout the growing season and allow growers to more efficiently manage their relationship with Nutrien Ag Solutions. This will extend across tools and functionality that add value across crop planning and agronomic advisory services, to online orders and account management."
The official roll out the platform will begin in July 2018, new phases will be launched into mid-2019, and additional features will be announced in the coming months (including securing products and reorders, and advisor modules to help growers make better-informed decisions.) While e-commerce capabilities for Nutrien have not been officially launched, this platform sets the stage for the company.
"This is why Nutrien Ag Solutions is launching a digital platform and experience that is fully integrated with our industry-leading distribution network and our unparalleled product and service offering – in a unique omni-channel experience that can meet and exceed our customers' needs by combining it with the high-touch, trusted advisory relationship they have come to expect from our people and business model," Frank says.
It also reaffirms the company's approach to potential acquisitions and partnerships.
"We have a very strong belief in assessing the merits of building, buying and partnering as we develop new digital tools and capabilities, in order to ensure that we are offering the most value for our customers and the tools that growers need to be successful. In situations where another company has created a great set of tools or capabilities, we will look to partner with them so our customers can use those tools, seamlessly within their Nutrien Ag Solutions login portal," Frank says.