U.S. Grains Council Confident Record Corn Purchases will Produce Shipments
As the calendar flipped to February, export announcements to China turned quiet. During the final week of January, USDA confirmed China put a record number of corn purchases on the books, totaling 5.85 million metric tons. While rumors surfaced China purchased another 2 million metric tons of corn from the U.S. this week, USDA hasn't confirmed those reports. 
Just because China hasn't made any confirmed buys so far this week, it's not all bad news when it comes to exports. Other countries seem to be stepping up to buy from the U.S., including a confirmed sell to Mexico of 115,000 metric tons of old crop corn, which could be a sign demand is strong across the board.
"We've seen activity from Mexico," says Ryan LeGrand, CEO of U.S. Grains Council. "When you look across the top five traditional buyers that we have for corn and what's remaining after China, you have Mexico, Japan, Colombia, South Korea. They're all well ahead of pace of last year's corn purchases. And that's not even to speak of that unknown category out there. 'Unknown destinations', we have nearly 8 million tons on the books for unknown destinations. And that's a record as well.
LeGrand says while some of the purchases from "unknown destinations" may be China, he also thinks counties that haven't typically come to the U.S. for corn are starting to show up. However, he says there's no way of knowing that at this point.
"We won't know until it ships," says LeGrand. "There's a lot of speculation that some of it could be China but don't count out typical buyers. They've been known to buy in that category as well. And I wouldn't be surprised just a hunch here that we may have some non-traditional buyers in there. I'm hoping to see once we start to ship to North African destinations pick up a little bit and even some Southeast Asian Nations, but we'll see."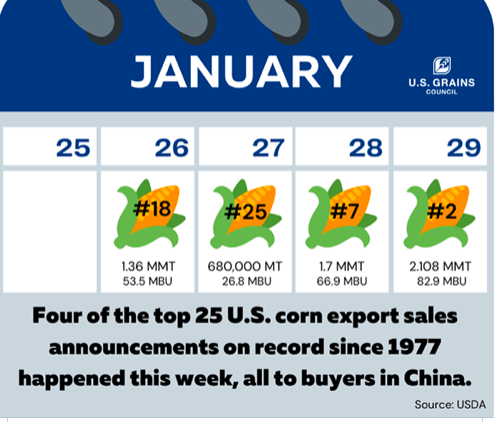 U.S. Grains says U.S. commodities like corn are on pace to see its best export year yet. However, LeGrand cautions it's all about shipment, something he thinks will materialize over the coming year.
"It's all about the demand in China," he says. "I think more than anything, we're seeing that the demand is there. that the hog herd is recovering from ASF. They're no longer feeding spent food waste, which was allowed before, and it's no longer allowed. That's a big source of demand. And while their herd was decimated, they were putting in poultry production, a good amount of poultry production, some beef and even little mutton. So those three areas combined are really driving that demand in China."
As China's monster buys continued last week, Arlan Suderman of StoneX said strong purchases from other countries signaled some countries may be getting nervous about supplies.
"Non-China buyers continued to buy up continuously at strength, and really kind of some hoarding and some panic buying," says Suderman. "Frankly, after the pandemic now, we're seeing a number of countries raising their reserve levels and starting to restrict exports are increasing imports, because everyone's kind of worried about supplies, that combined in with the increased money supply is really creating a perfect storm."
LeGrand agrees there's a sense of nervousness from exporting countries outside of China, which could be a driver of the record export commitments.
"I think so, because look at the fundamentals," he says.  "South America is not having the best crop, Ukraine does not either. So the fundamentals are there we are we have affordable corn in the U.S. right now. So, I think countries are starting to put more and more us corn on the books for that reason."
Moving forward, LeGrand says U.S. Grains Council would like to see the Biden Administration enforce the U.S., Mexico, Canada Agreement (USMCA), especially when it comes to biotechnology and Mexico's proposal to ban genetically engineered corn and glyphosate.