Amazon, Walmart? Farming's Wild Scramble For Online Ag Retail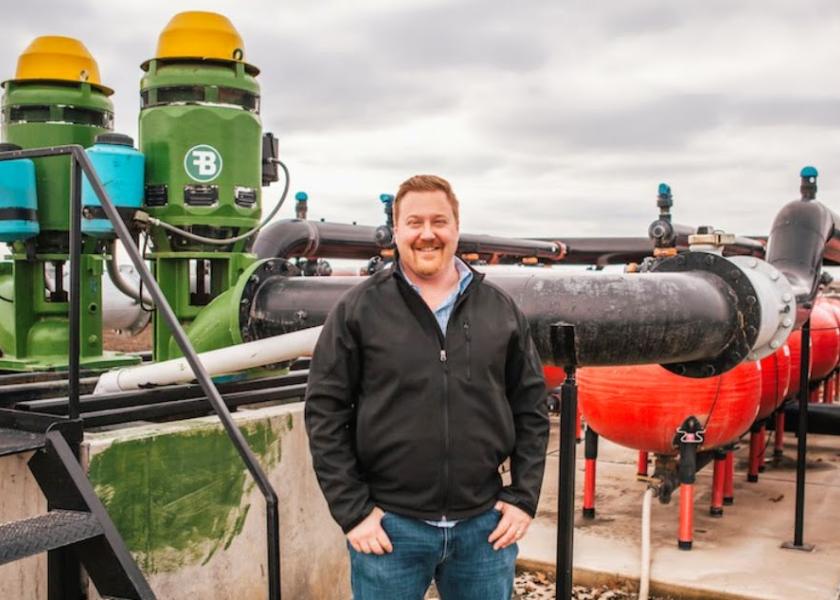 What if an entire farm supply of herbicide, fertilizer or seed was a mere click away and deliverable by Amazon or available by pickup from Walmart? Outlandish? Probably. Maybe. However, farming is rooted in one inescapable certainty: Change waits perpetually offstage.
The scramble for ag retail dollars has kicked up a dusty haze as traditional chemical players scrap gravel with an expanding list of online start-up companies elbowing for market space. It's a brick-and-mortar vs. e-commerce clash, and the rules of purchase, customer loyalty, and transparency are at stake. The Wild West has come to ag retail and the outcome for U.S. farmers remains a looming issue.
Confusion and Surprise
"It's crazy right now and I've never seen a more competitive time in the ag retail space," says Curtis Garner, senior farm analyst for Bowles Farming Co. in Los Banos, Calif. "Twenty years ago, there was money made hand-over-fist; not now. Ag retail is in new territory and I can't even predict what'll happen a decade from now."
In November and December of 2017, Bowles Farming Co. joined five neighboring farms and approached 11 retailers with a proposition to buy in bulk, shaking the tree for the best deals available on herbicide, fertilizer, defoliant, growth regulators, and more. Retailer reaction? Confusion and surprise, according to Garner: "They wanted to know why I was doing this and what was going on. A lot shied away and said we were already getting the best deals possible, but some guys wanted to play ball—especially the independent dealers."
Garner believes ag retailers are caught in a whirlwind of change. "There is a new generation of farmers raised on an 'information should be open and free' mentality and we're seeing the reverberations specifically in ag retail. The culture is changing so fast that business is playing catch-up."
"Maybe no one wants to admit it, but some retailers are scared and see change coming from online competition. No question, the big retailers got lazy and provided opportunity for online disruption. Nobody knows where this is headed, but I don't think online ag retail will blow up the supply chain as much as some think," he adds. "In the end, the ones who create value on both sides are going to win."
Who Fits the Future?
According to USDA's Farm Production Expenditures 2017 Summary, "Combined crop inputs (chemicals, fertilizers, and seeds) are $51.8 billion." The number of online ag vendors seeking to tap the input market is steadily growing, with a roster including Agrellus, Agroy, AgVend, CommoditAg, Farmer's Business Network (FBN), FarmTrade, HarvestPort, INPUTS, The FarmElement, and more. In addition, InCeres, Agriconomie, Yagro, Agrofy, and Ag.supply are based overseas. (According to a 2018 Farm Journal purchasing behavior study of 997 U.S. farmers, 8% of growers bought at least some inputs online this year and 13% plan to buy some inputs online in 2019.)
Despite the crowded stage, Alexander Reichert, co-founder and CEO of AgVend, sees the future of ag retail as the combination of the convenience and time savings of e-commerce, with the service and local agronomic expertise of traditional ag retail. AgVend launched in 2018, covers 26 states, and partners with ag retailers looking to sell crop protection, nutrition, fertilizer, lubricants and oils online (seed sales are set for 2020). AgVend enables growers to search for products, filter results (based on price, delivery, bundled services, etc.) and select the option that best fits their needs, with the retailer handling the last mile delivery or pickup. (AgVend also offers retailers an online storefront if needed.)
Reichert estimates total sales of online ag inputs in the single digits, but expects the figure to steadily rise. "We're going to see the percent of e-commerce purchases hit 10% and rise fast. Within three to five years, I project we'll see the number grow as high as 25%."
"AgVend has an advantage of credibility and network with established retailers. Other players in the online retail market are held back by trust issues. Buy a branded product online and watch what happens when a generic shows up at the door. It's a very, very bad customer experience," Reichert adds.
Representing approximately 11 million acres of U.S. farmland, Brad McDonald is the managing director and co-founder of Agroy Inc., which utilizes online technology to link suppliers and buyers. Agroy connects farmers directly to providers of ag inputs through direct purchases online, or through mobile applications specifically designed for given retailers. Essentially, Agroy connects the dots as a third-party seller.
McDonald is certain: Online ag input purchases will continue to gain traction. "This is going to be second-nature. Twenty years ago nobody bought online and now look at the pace of change. I don't believe farmers are going to abandon current retailers, but the overall system is going to be more efficient through new purchasing technology. The players willing to disclose prices and offer products online will fit into the future."
Praised and Pilloried
In 2015, FBN lobbed a grenade into the online ag retail market, allowing growers to go further upriver to source ag chemicals directly from manufacturers. In addition, paid membership allowed growers to view anonymous aggregation of seed performance data. The access to transparency was a radical change for growers, further accented in 2017, with the release of FBN's seed relabeling project, which showed when a given corn or soybean seed was sold by multiple companies. Seed relabeling remains a common industry practice and one that farmers are often unable to track or recognize. According to FBN, relabeling is practiced by 67% of corn seed companies and 78% of soybean seed companies.
FBN was praised and pilloried from all ends of agriculture, and the clamor continues with the kickoff of the F2F Genetics Network in 2018. Pared down, FBN offered its own seed line for non-GMO corn ($99 per bag) and off-patent glyphosate-resistant soybeans ($29 per bag).
Charles Baron, co-founder of FBN, says the pushback from major industry players is consistently strong. "We're constantly up against heavy-handed tactics, but we maintain focus on grower profit through a fair and transparent market. Whether it's seeds, inputs, or crop marketing, the future is transparency and increasing farmer profit—and that's our model."
"When we first started, we were attacked for introducing transparency. What does that say about principles of the industry? Well, first they attacked and now they're trying to replicate our online system."
As anemic commodity prices pile the pressure on farmers, Baron insists the online option is not merely about cheaper products, but it is the future of distribution. "This is going to restructure the industry in ways massively beneficial to farmers. Why? It puts the farmer consumer in control."
Baron is insistent: Following mechanization, the Green Revolution, and genetic technology, the online transformation will trigger a "fourth revolution" in farming. "Growers can connect and network online to leverage power through data sharing on genetics and pricing to actually change the structure of the industry. That's where the deepest and most profound change is going to come and it is already starting. Online is going to be the fourth revolution in agriculture."
Subscribing to the local and personal formula, Tyler Horbach believes the future of online ag retail will be a marriage of brick-and-mortar and e-commerce. Horbach is the founder of The FarmElement, an Iowa-based startup that partners with local retailers and co-ops. "We don't disrupt their way of business, but enhance it by adding an additional channel to their business model."
Within 10 years, Horbach estimates 50% of fertilizer and chemicals will be purchased online. He says the tide of younger farmers is inescapable. "Everyone can see this happening, especially growers 35 and younger, who already have limited loyalty to retailers."
Horbach acknowledges a wave of online change, but says the gravity of purchases will always require a hands-on connection. Growers betting livelihoods on chemicals, fertilizer and seed can't afford to make flippant purchases: "This is not like buying a pair of shoes. A farmer will always need human interaction, service and trust."
Achilles Heel
Online retail expansion has an inescapable ceiling, according to Michael Boden, head of U.S. Crop Protection Sales for Syngenta. Crop management requires a host of decisions which can't be completely met by e-commerce and the lack of human interaction is a major Achilles heel, he says. "Most growers value a service component and the agronomy that comes with it from a local relationship. That's where online ventures miss the mark. Online options may offer more price transparency, but they don't provide the decision-making components needed to make good agronomic decisions."
In addition, Boden says counterfeit products and stewardship are growing areas of concern over online sales: "When online entities acquire products from sources other than authorized dealers or contracted distributors, you'd better question and be concerned about the quality."
Echoing Boden's concerns, Chris Novak, CEO of CropLife America, says the online sale, handling and delivery of agriculture chemicals raises significant stewardship questions and requires understanding of federal and state law. "We're beginning to hear stories and we're looking for data on counterfeit ag products sold online. It's a major concern that speaks to farmer loss, quality control and lost sales for the industry."
"There is certainly opportunity for farmers to purchase online, but if they end up with any problems that result in damage to crops, they may not be able to resolve these issues by going back to the company or the sales rep. An online purchase can mean farmers give up some of that access to service. It is important that consumers consider this factor," Novak adds.
"There's been a lot of fearmongering from the existing channels," says Baron. "We, frankly, find it ridiculous."
Consolidation and Crystal Balls
The number of major market players on center stage continues to shrink, and further consolidation is an incessant concern for farmers. How might an expansion of online retail affect future consolidation? Todd Janzen, attorney with Janzen Ag Law, says the legal spillover from e-commerce is a likely road to turmoil, at least in the short-term. "It doesn't take a crystal ball to see the big online issues stacking up. If farmers can go online and see that they're being price-gouged, it's going to create waves. Zone pricing, seed rebranding, and now seed sales are all related to transparency. Traditional agribusiness has consistently moved toward consolidation, but these online players have definitely upset the traditional apple cart."
"Agriculture is headed for a wild time of anti-trust questions, regulatory issues, transparency factors and Amazon.com comparisons, and it all connects with online ag retail," Janzen continues. "Who can say that even more online ag companies won't pop up and what happens then?"
Selection will play a counterbalance role, notes Reichert. "There are so many products out there that struggle to get in front of growers because they don't come from one of the top manufacturers. Traditionally e-commerce in other industries has given rise to these lesser-known brands, which slows consolidation and creates more product diversity."
Networking, in tandem with online retail, is a vital counterweight to consolidation, according to Baron. "Who really believes there's not more consolidation coming in all aspects of agriculture? Farmers have to connect to gain market strength with independent genetics, price transparency and lower cost technology. Selling online is just one piece; farmers need to network to drive deep market transformations."
The torrent of change is so rapid that Garner declines to make a 10-year prediction, but says online ag retail could boomerang on consumers and spark another level of consolidation: "I think the successful online ag retail sites may eventually be purchased by established manufacturers and retailers. What'll happen if you can just go buy UN-32 from Walmart?"
"You have to be willing to recognize change," Garner concludes, "because there is one thing for certain in agriculture: Nothing remains the same."
For more articles, see:
Killing Hogzilla: Hunting a Monster Wild Pig
Agriculture's Darkest Fraud Hidden Under Dirt and Lies
Blood And Dirt: A Farmer's 30-Year Fight With The Feds
Seeds of Discord: Crossing the Great Cover Crop Divide
Bald Eagles a Farmer's Nightmare
Living the Dream: Honoring A Fallen Farmer
Cover Crop Bandwagon Frustrates Farmers
Corn's Carbon Cowboy Busts Outstanding Yields
Pigs Don't Fly: Feral Hog Spread Is A Man-Made Mess
Jimmy Frederick Booms 163 Bu. Soybeans
Who Killed the Finest Soybean Soil in the World?
Meet The Father of Six-Row Corn