Three Conservation Ag Insights from Illinois Farmer Craig Swartz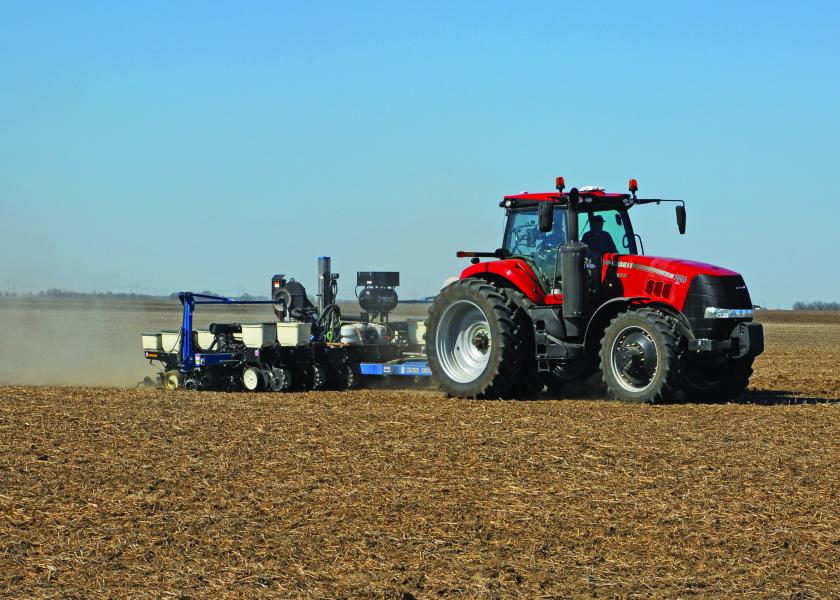 This article was written by Emily Smith, Community Engagement Coordinator/Digital Producer, for Trust In Food. Learn more at trustinfood.com.
If you're like most farmers, you pride yourself on being a good steward of soil, water and air. Those elements are essential to the success of your business. And you recognize there are opportunities to keep improving and to take that next step. That is the approach Illinois farmer Craig Swartz takes on his family's operation in the Vermilion River Watershed in central Illinois.
Swartz is a Conservation Steward for America's Conservation Ag Movement, a public-private partnership that brings farmers and the sustainability community together around the future of farming by bringing profitable, planet-friendly farming practices into the mainstream. In that role, he shares his conservation experiences with fellow farmers, collaborates with local conservationists and identifies ways the partners of the Movement can help local producers on their conservation journey.
His first recommendation? Use nearby experts and resources to your advantage.
"They are our helping hand to get started," says Swartz, referencing his local service center with the USDA Natural Resources Conservation Service (NRCS). Local conservationists can provide more information about incentive programs available to you.
Swartz shared insights with other producers seeking to improve their stewardship, during a recent webinar. Trust In Food, a Farm Journal initiative, organized the event in partnership with Farm Journal Foundation, the Vermilion Headwaters Partnership and American Farmland Trust, which leads the headwaters work and has actively supported farmers and the conservation community in the Vermilion River Headwaters for more than five years.
Financial and technical support for the event was provided by the USDA-NRCS and leading agribusinesses, food companies and nonprofit organizations, including American Farmland Trust.  
Second, Swartz explains, his family gauges the success of its conservation adoption not only by evaluating economic return but also by considering the future of the farm and how conservation will benefit the land for generations to come.
Third, Swartz says he believes his most successful conservation investment to date has been the nitrogen program he has adopted, including variable-rate fertilizer application. Using fewer inputs reduces his farm's footprint on soil and water. It also ensures Swartz doesn't waste product or money.
In addition to Swartz, speakers included Farm Journal Field Agronomist Ken Ferrie, owner of Crop-Tech Consulting; State Conservationist Ivan Dozier of NRCS in Illinois; and Jean Brokish, Midwest program manager at American Farmland Trust.
In his presentation, Dozier spoke about the importance of conservation implementation for farmers, not only in the Vermilion but across the state of Illinois.
"Conservation is not easy, and conservation practices don't just appear on the land," Dozier says. "It takes a coordinated and concerted effort to implement and maintain conservation practices. The good news is that there are indeed conservation practices that really do work, and they do fit in with production agriculture."
The Vermilion River Watershed spans more than 853,000 acres including streams, creeks and man-made lakes that flow into the Vermilion River and then the Illinois River. The region produces row crops including corn, soybeans, wheat and alfalfa, as well as livestock such as hogs, beef cattle and dairy cows. More than 85% of the watershed is devoted to agriculture.
Estimates from American Farmland Trust show 80,000 new acres of conservation cropping systems are needed in the 305,000-acre headwaters region to help reduce nitrogen runoff into the Vermilion and Illinois rivers and meet the goals of the Illinois Nutrient Reduction Strategy. That's why the organization and its partners meet quarterly with farmers, promote conservation practices for in-field and edge-of-field use, and coordinate collaboration among producers and the conservation community, says Jean Brokish, Midwest program manager at American Farmland Trust.
During the webinar, she introduced the Vermilion Headwaters Partnership and its work in the watershed, noting that an integral aspect of conservation adoption is the support of local agencies dedicated to providing resources and advice to farmers. The Vermilion Headwaters collaboration also includes community leaders, research institutions and nonprofits. Brokish highlighted several opportunities available to Illinois farmers interested in participating in some of the programs the NRCS offers for financial and technical assistance.
"Since 2015, we've been able to leverage $1.4 million in NRCS funding for the headwaters portion of the watershed, and there's about $700,000 available specifically for this area over the next three years," Brokish explains. "Farmers interested in reducing tillage, trying cover crops or shifting from fall nitrogen to a split application in the growing season can access cost-share to help get them started."
To learn more about the Vermilion Headwaters Partnership, visit the American Farmland Trust website
Interested in learning more about joining America's Conservation Ag Movement and engaging with local partner organizations in your area?
Email  mailto:conservationag@farmjournal.com or text the phrase ACAM to 31313. Then visit AgWeb.com/ACAM for additional information, videos and resources.
To view a shortened version of the Illinois webinar, click here.