Ken Ferrie: Go Vertical For High Corn Yields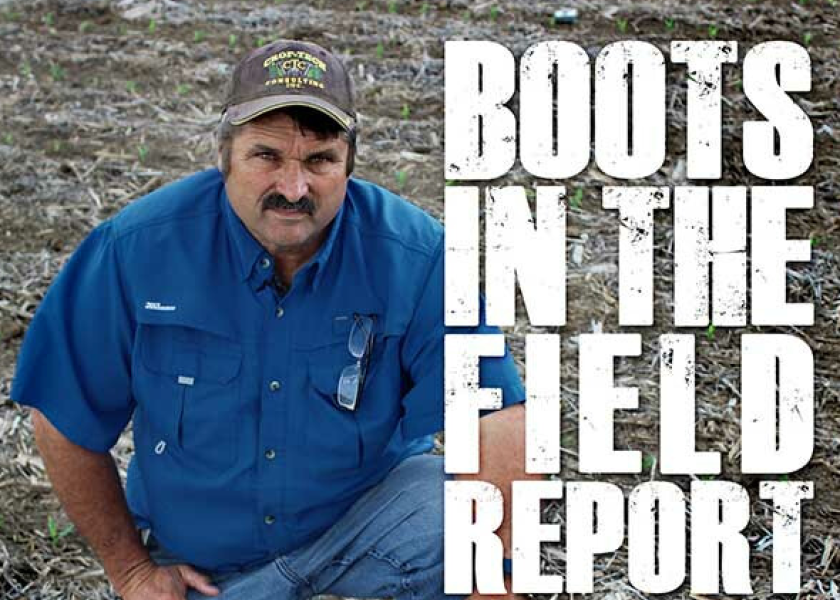 The "sins of spring" sounds like the title of an old-time dime store novel, but that's not the case. Instead, it's a presentation by Farm Journal Field Agronomist Ken Ferrie that addresses the way various tillage practices in a 2020 test plot influenced corn yields in soils compromised by compaction layers.
At first blush, some of the results Ferrie shares in this week's edition of Boots In The Field are surprising.
Ferrie says at face value it makes no sense that a no-till system in a plot with two compaction layers (one at 2" and the other at 4.5") would deliver higher yields than a one-pass-and-plant system running over a single 4.5" compaction layer. But, that's what occurred. The no-till system averaged 258 bushels per acre, while the one-pass-and-plant program produced an average of 243 bushels per acre.
To add to the confusion, Ferrie throws in yield results from using a vertical tillage system in a portion of the plot. This entailed chiseling out the two compaction layers in the fall of 2019, making a pass in spring 2020 with a vertical harrow and then planting. The vertical tillage system produced 270 bushels per acre on average.
Why did such a large yield spread occur between the three tillage systems? Ferrie says a significant part of the answer has to do with how soil density and water availability impact root growth and development, particularly when soils turn dry in summer heat.
Listen here to get Ferrie's complete, in-depth answers to the agronomic puzzle his team faced and worked through last season:
Fertilizer Shortage? Ken Ferrie Weighs In on Fertilizer Issues This Spring
Boots in the Field: Banding Vs. Broadcast Nitrogen Efficiency
Boots in the Field: Beetles, Rootworm and Nutrient Deficiencies