Farmland Is Hiding Loads Of Buried Treasure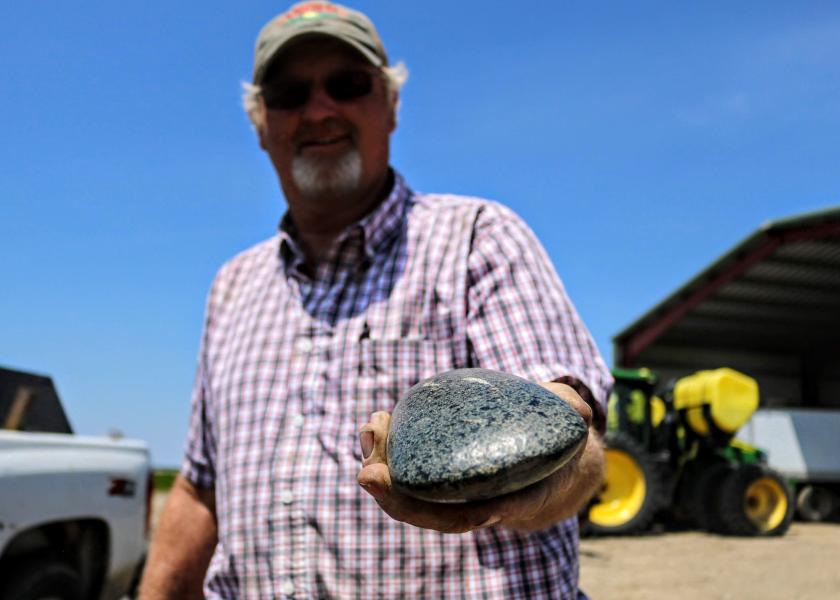 Farmland hides treasure. Catch a furrow following a winter rain, check a ridge after a field is flipped, or walk a turnrow months after grain trucks have gone silent—the dirt continuously reveals its secrets.
As accidental time capsules, farms are a giant repository of odds and ends. What lies beneath? Arrowheads, fossils, petrified wood, meteorites, marbles, coins, buttons and bullets are a portion of an endless list pulled straight from the trappings of yesteryear. With a bit of fortune and a tad of instinct, a sharp-eyed hunter can find a stone tool untouched for millennia or uncover a child's marble lost for a century.
In 2009, after 20 years of searching with a metal detector around Somerset, England, David Crisp made one of the most astounding finds in farmland history. Roughly 1' down, he found 52,500 coins (350 lb.) in a massive earthenware pot—the largest find of Roman coins in a single container in UK history. The market value was estimated at $1.6 million, reportedly shared between Crisp and the farmland owner.
For pictures of Crisp's find, see here.
American farmland isn't home to Roman coin caches, but it is a haven for seekers simply chasing the thrill of the history hunt. Agriculture producers have some of the finest private holdings of Native American stone tools in the U.S., often supplemented each year by winter rains and erosion. The slightest rise or color gradation may offer scattered clues: chert flakes, pottery shards, or mussel shells. The right farmer in the right location may have a museum-quality collection of celts, hammer stones, points, hoes, bone implement, drills, jewelry, banner stones, gorgets, and so much more.
Child's Play
Highlighted in the soil by morning or evening sunlight, glass-shard graveyards glitter and highlight the location of sharecropper homes, long-since torn down in the 1960s and 1970s. The surrounding acres are home to pipe stems, ceramic doll parts, bits of coal, coins, shattered crockery, and a child's favorite—marbles.
Chris Kale, co-owner of Farmers Supply in Marvell, Ark., hunted arrowheads as a boy and began searching for marbles in the late 1980s. Untold and uncounted jars of marbles later, Kale is a marble whisperer and has honed his skills with a focus on location, timing, and blind luck. "I'll pick up a marble that might be untouched by human hands for 100 years," he says. "What child lost it? What was the child's name? It was part of someone's life and I respect that."
"Find a marble that hasn't seen daylight in 75 years, pick it up and rub the grit off," Kale adds. "You'll almost hear it speak."
For more on Kale's marble hunts, see The Secret Life Of Farmland Marbles.
Star Wars
Farmland's rarest treasure is extremely difficult to locate, but it still waits patiently; just ask Bruce Lilienthal. In May 2009, from high in the box, Lilienthal spotted a large rock sticking halfway out of his Minnesota dirt. He got down and dug out a 16" long, 10" wide and 2" thick specimen weighing an unseemly 33 lbs. Lilienthal harvested the single most unique item in his farm's history—a meteorite. Between 5,000 to 17,000 meteorites pound the Earth each year, and 75% are swallowed by the ocean. The rest? Fair to say, farmland is home to tens of thousands of meteorites. "Today, we still look from the cab and wonder," he says.
For more on Lilienthal's meteorite, see How Many Meteorites Are Hidden On Farmland?
Bones and Stones
Eyes to the ground, South Dakota producer Terry Springer has amassed a collection of ice age bones, teeth, petrified wood, stone tools and a host of unidentified geological specimens. Each year, erosion draws a treasure map for Springer, even though his farmland is no till. In the 1950s, Gregory County bulldozed a cut directly through Springer's hills and pasture, exposing a major fossil source. "As a farmer, I hate erosion, but for hunting rocks, erosion is key," he says.
"These rocks and fossils are simple parts of my life, and one thing for certain, they'll always be a part of this farm," Springer adds.
For more on Springer, see The Indiana Jones of Farming.
True farmland hunts are spurred by the simple desire to uncover a tiny piece of the past. It is only a waiting game—more farmland treasures will be revealed.
For more, see:
Blood And Dirt: A Farmer's 30-Year Fight With The Feds
Agriculture's Darkest Fraud Hidden Under Dirt and Lies
The Secret Life of Farmland Marbles
Cover Crop Bandwagon Frustrates Farmers
Corn's Carbon Cowboy Busts Outstanding Yields
Pigs Don't Fly: Feral Hog Spread Is A Man-Made Mess
Bald Eagles a Farmer's Nightmare
Who Killed the Finest Soybean Soil in the World?
When a Farmer Punches Back at the Feds
Private Property Rights Collide With Invisible Frog
Death and Burial on an American Farm