USDA Chief Economist Expects Continued Chinese Demand, Battle Over U.S. Acres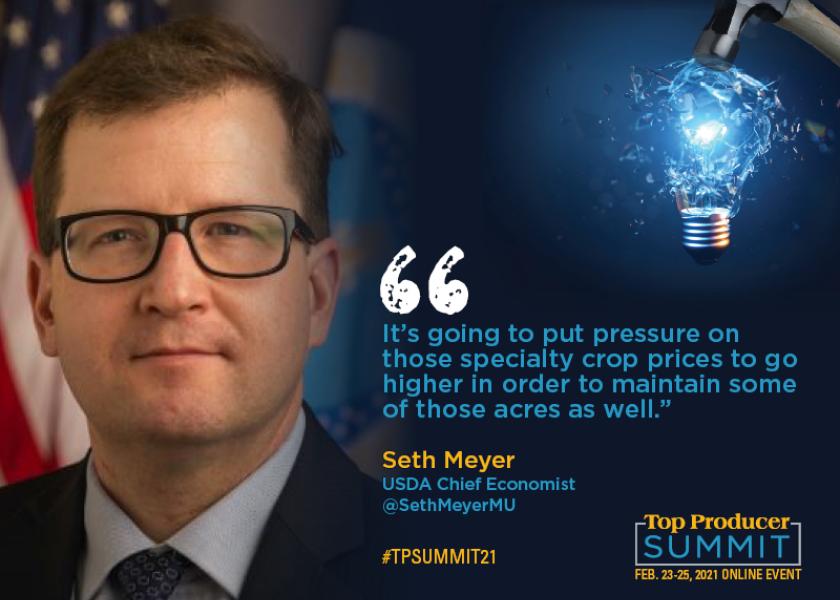 USDA is already predicting a record 182 million acres of corn and soybeans in 2021, assuming a normal weather year. Much of that added acreage will come from 2019 and 2020 prevent plant acres. 
If planting weather is good, expect prices to drive corn and soybean planting in nearly all available acres, according to USDA Chief Economist Seth Meyer.
"If we have an open window in terms of weather and folks can get in the field, you can certainly assume that those prices will incentivize them to do so get out there and get into the field," Meyer told a panel at Farm Journal's Top Producer Summit.
---
USDA Chief Economist Seth Meyer is a speaker at the Online Top Producer Summit. Learn more here.
---
Tight supplies are driving such a price battle over acres that even specialty crop acres are going to have to compete.
"It's going to put pressure on those specialty crop prices to go higher in order to maintain some of those acres as well," Meyer said.
USDA's current estimate, released at the Agricultural Outlook Forum, is based on historically 'normal' weather and current price pressure, according to Meyer. The first projection with on-the-farm data comes next month with the Prospective Plantings report. That could set off more bidding for acres.
"That's almost like the first part of a bid ask, right? That's the farmer saying, 'Hey, when I see prices today, here's what I intend to plant,'" Meyer said.  "Then you'll get a further signal from the market that'll try and balance that out. Right? So, the next observation we'll get is the farmers' chance to say, 'Hey, here's what I intend to do.' So the market will get a chance to bid at that."
The continuing X-factor is China. Will the communist nation continue to buy U.S. ag products at the same rate or greater as in 2020? Will it live up the commitments of the Phase One trade deal. As Meyer notes, the acreage and price projections rely on those continued purchases.  He says there is significant evidence that those purchases will continue.
"You can't say no, no, I'm 100% confident, it's always a risk when things are on the book, but look at the strength of those buys. And again, let's go back to that turning point in August of 2020. Remember, our view of the size of the US corn and soybean crop was getting smaller at that time, prices were rising, and yet the Chinese came in and continued to buy very strongly," Meyer said. "So, the Chinese are buying into rising prices. And when you look at the prices, we're forecasting for next year, you need - and we would have in there - an export number consistent with continued demand by China."
That doesn't mean that there aren't question marks around China and their projected demand.
"There are also things that that we always have to keep in mind, which is while they are taking in a large amount of corn, it's not so much larger than the corn equivalents they were taking in in 2015 when they were buying stocks," he said.  "So part of the problem here is this looks like good solid demand as the swine herd grows, but China is not the most transparent when it comes to understanding what is their underlying production. What is their underlying stock position when it comes to corn? I think it remains a big question, and we don't have a perfect picture of it."
So, how does Meyer see that China corn purchases picture unfolding in 2021?
"There's more than 11 million metric tons on the books now that should be shipped to China before September one. Now the problem is, of course, they can cancel those sales or they can roll those sales," Meyer said. "But you look at that as what do we think underlying Chinese demand looks like? What's on the books? It's not costless to cancel or roll those items."
That cost, Meyer said, makes it likely that the Chinese will follow through with the purchase commitments.
"Then you look at the overall global balance, right?" said Meyer. "We look for these signals again, because the Chinese aren't that transparent, and sometimes you get little hints of mixed items. There's phytosanitary issues with corn from Brazil for instance. They don't buy corn from Brazil. They like to keep that lever on keeping control of trade. And so right now they seem to want it and they seem to want to buy it from us. The question is how bad do they need it,  and how would those SPS issues unfold if they really, really needed it badly? So these are all questions where we try and figure out what the market balance looks like. And clearly, the export number that we're suggesting for next year says that this demand is going to continue in the same magnitude as we've got now."
 
Read more coverage of the Top Producer Summit