Record Chinese Demand Drives Markets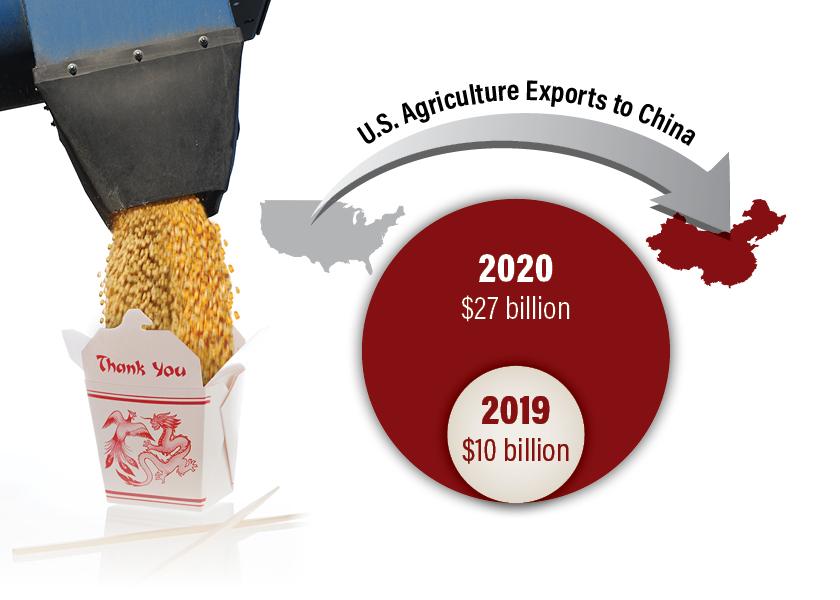 Understand the fundamentals at play for prices
China is hungry for U.S. corn. From September 2020 to December 2020, China imported 4.9 million metric tonnes of U.S. corn. That's an 8,000% increase from September 2019 to December 2019.
These big buys are coming at a time when U.S. corn prices have increased around 60% since August 2020. What's behind all the buys?
"The hog herd is recovering from African Swine Fever," says Ryan LeGrand, CEO of U.S. Grains Council. "They're no longer feeding spent food waste, which was allowed before. That's a big source of demand. And while their herd was decimated, they were putting in poultry production, some beef and even a little mutton. So those three areas combined are really driving that demand in China."
Even with higher-priced corn and shipping costs, it still pays for China to import U.S. grain, says Arlan Suderman, chief commodities economist with StoneX Group. 
"With current U.S. corn prices, freight costs and basic tariffs, China can import U.S. corn for $9 per bushel," he says. "Inland China corn prices are $11 to $12 per bushel."
U.S. commodities such as corn are on pace to dramatically improve over recent years and perhaps see the best export year yet. 
"If you go back to 2016 and 2017, we were exporting about $20 billion to $23 billion in ag products to China every year," says Brian Kuehl, co-executive director of Farmers for Free Trade. "Then we had the trade wars start, and that dropped down to about $9 billion. We've come back to about that pre-trade-war level."
Support for More Acres
The incredible fundamental turnaround in corn and soybean prices will be a key factor this spring, says Brian Grete, editor of Pro Farmer.
"We'll see a big increase in corn and soybean acres, and both crops need more acres," he says.  
---
All Eyes on China
For fiscal year 2021, China is forecast to be the largest U.S. agricultural market, a position it last held in 2017. Strong Chinese demand for corn and soybeans is driving the forecast, which shows exports at a level not seen since 2014.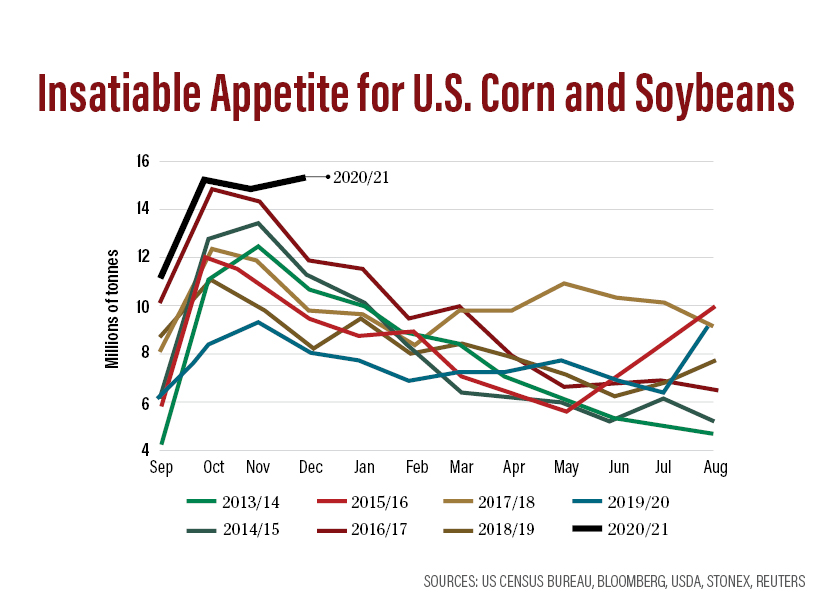 For the first four months of the 2020/21 marketing year, the U.S. shipped a record 56.6 million tonnes of corn and soybeans — which is nearly 80% above a year ago.  
---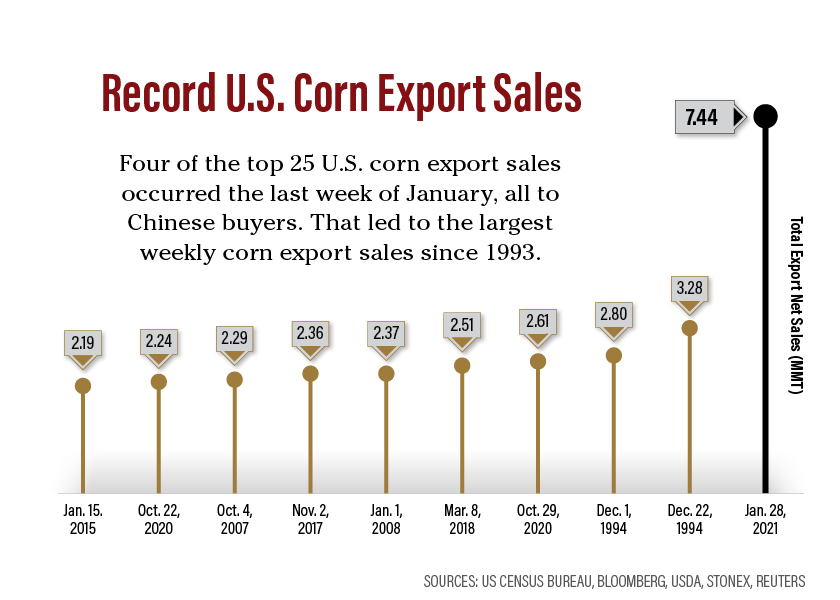 So far in 2021, China has put a record number of corn purchases on the books. "China will bundle purchases, but it is usually for political reasons," says Arlan Suderman with StoneX. "It seems they saved their big purchase for the first week of a new administration."
---
High Demand Draws Down Supplies
From a historical perspective the soybeans stocks-to-use ratio is on the cusp of a record low, and the corn stocks-to-use ratio is at an eight-year low. "We need to rebuild stocks for corn and soybeans," says Brian Grete of Pro Farmer. "If summer weather doesn't allow us to do that, you're talking about a game changer again."