Farmer Finds Success With E-Commerce; Will Buy All Seed Online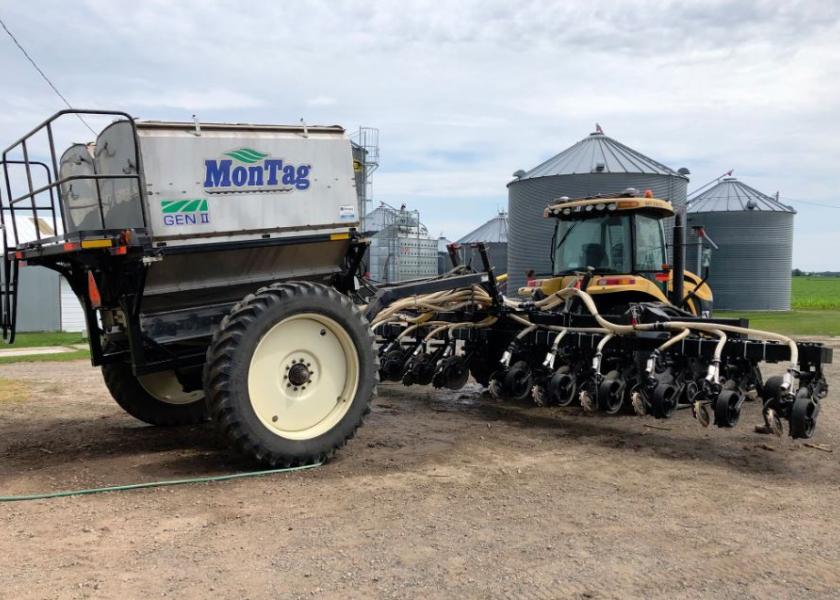 Lance Petersen remembers the first thing he ever bought online—a 1/64th scale Lexion combine. He was about 13 years old and remembers his family had dial up internet at the time.
Now the 31-year-old leads all the procurement efforts for he and his father's 800-acre Minnesota farm. And every year, they are buying more and more online and via electronic communication.
"It seems like we've bought equipment parts online for more than 10 years," he says. "And today we buy electric connectors, lights, roll pins, and other components on Amazon and other sites."
But the biggest change to his online purchasing behavior in the past two years has been buying more crop inputs online—crop chemicals and fertilizer—and committing to himself to buy all seed for 2019 online.
Since switching to strip-till seven years ago, the farm does all of its own fertilizer application. They also purchased a self-propelled sprayer last year, and they don't regularly plan on late season applications. While Petersen's father, Chuck, recently retired from his off-farm job, Lance still works as a sales and serviceman for Yetter Equipment and Ag Leader as a satellite sub-dealer for a larger dealership. He also does custom soybean seed treating.
Petersen explains he has learned something with each purchasing process, and he's not afraid to try something new.
In 2018, he purchased post-emergent herbicide and 54 tons of urea online. For seed, he worked with his local retailer and a seed supplier on a "no frills" seed contract—he bought 100% of his soybean and corn seed under a signed agreement saying none would be returned, he wouldn't have any promise for replant seed, and no additional services would be provided. All seed was delivered direct to his farm in bulk boxes and bulk tender loads.
"We worked through it to make this deal as close to a wholesale account as we could," Petersen says.
Compared to 2017, he saved 15% on seed costs.
"I understood I was taking risk," he says. "But I ended up not replanting anything."
The urea he purchased was via AgVend, a site that allows farmers to search for products within a given mile radius. The two semis delivered the fertilizer direct to his farm from a retailer that was 160 miles away in western Minnesota. He needed an additional amount to finish his fields, which was bought via a local retailer.
"I saved about $50 a ton or 10 to 15% vs. local retail prices on that urea," he says. "Because of our location from the Twin Cities river terminals, we always watch wholesale v. retail fertilizer prices, because sometimes in the past it has made sense to buy wholesale."
He has bought crop protection products via a couple of different sites. In 2018 he bought all his crop protection products via three routes: a local retailer; deals on AgVend.com; and a wholesaler out of Illinois. And he describes online e-commerce like an "easy button," with which he has saved up to 30%. 
"I can't go back the other way and do solely via traditional ag retail," he says. "My day ends up being how much we want to get accomplished on the farm, and I know I've saved time and money buying things online---at my convenience."
He says he often doing most of his inputs research at 9 or 10 p.m.
For seed purchasing, he says online seed sales are still just getting started and many companies are still figuring out how to make the complex process simple.
"I want no frills, whereas others are in the seed purchase circus," he says.
"Seed sales guys and gals are going to come around between 8 a.m. and 4 p.m. and I have a whole different agenda of what I want to accomplish during the day than talk seed. And that's just one company," he says. "I'm burning up their time, and also my time is valuable."
Peterson is approaching his seed purchasing for 2019 in a specific way, he wants prices upfront.
"I don't want the price depending on what I'll order, and I don't want the price based on what I've previously ordered," he says.
If prices are shared with him, he is promising that those won't be shared with other seed salesman, and it will only be he for his analysis.
"For the seed salesman who get the way I want to do business, they are realizing that long-term if they can make it work, I'm a guaranteed low-margin and low service customer," he says. "If they don't want to sell seed to me the way I want to buy it, then I don't have to do business with them. Today there are plenty of options."
He's still considering a few avenues to purchase his 2019 seed—an online seed sales website, a seed salesman who is happy to communicate fully via email, and his previous retailer who worked to form the low-service contract last year.
So far, he and his dad have been in agreement with how they have used online purchasing and communication tools—because Lance has been able to show the savings. They have yet to have a negative experience or product issue with something delivered not as promised or expected.
"You need the mentality that you can do it yourself, but there's a nervous anxiety factor if you can't go back," he says. "If this doesn't work, it's shame on us. But if it does work out, there are dollar differences. And that's the biggest thing that can give us some profit."