CommoditAg Launches Live Updated Inventory Feature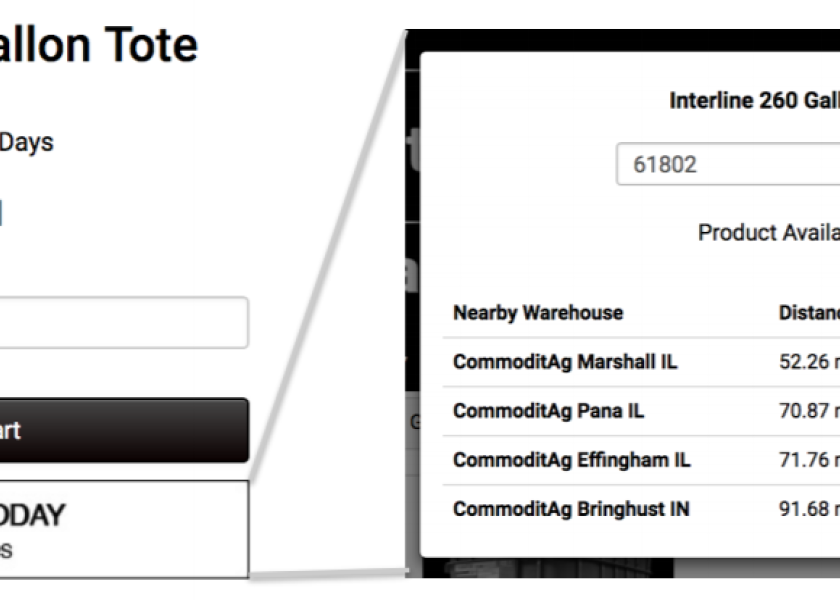 The team at CommoditAg has unveiled a new customer-facing feature—CommoditAg Live. This feature will allow customers to identify if a product is in-stock at a warehouse for same day pickup or they can elect to have their product shipped.
The goal is to have a real-time transparent inventory. Users can enter a zip code to shop a location and ensure the product is in-stock.
CommoditAg was started in 2017 to serve farmers through local ag retail but with an online ecommerce platform. CommoditAg.com features an online selection of crop protection, plant nutrition and adjuvants.
The Live feature is being launched at all 16 CommoditAg warehouse locations, which include warehouses of the following retailers: The Equity, Landmark Services Cooperative, MKC and Sunrise Cooperative.
"With every purchase on CommoditAg, we want the buyer to be fully informed of their order status," says Cheryl McWhorter, Vice President, Business Alignment for CommoditAg. "Instead of the general time frame of one to four days, this feature lets a grower know the product is in the warehouse right now and available for same-day pickup—even available for pickup in just minutes."
She explains after every online order, CommoditAg calls the customer to confirm their order has been received and is processed.
"We want to be the most user-friendly site for purchasing crop inputs. And we want to keep the grower up to date on the status of their order so there is never any confusion," she says.