Dicamba Application Cutoff Looms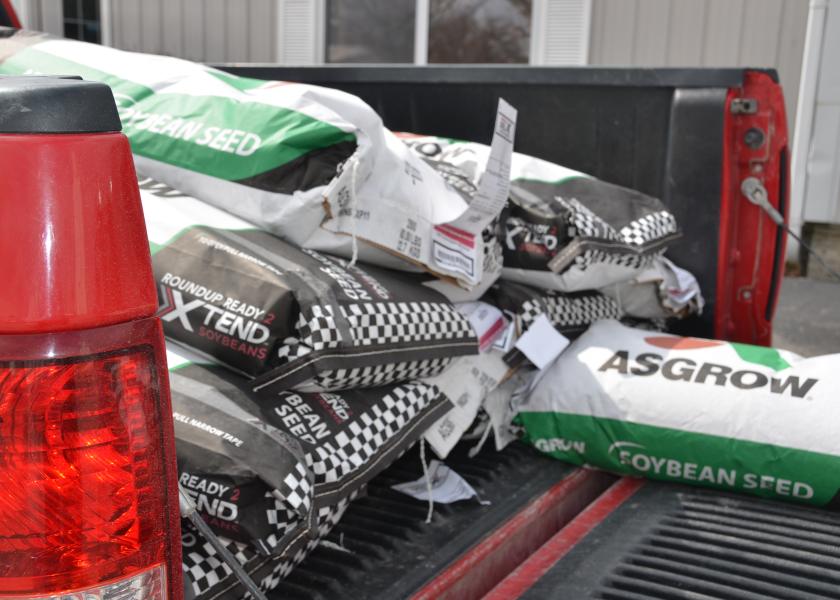 While some states, such as Missouri, have strict cutoff dates, others rely on label guidelines which stop applications at R2. In many areas, soybeans are at or near R2, with the northernmost soybean growing region and double crop soybeans possibly a little behind.
Know label and state dicamba application requirements. If soybeans are past label or state restrictions, don't spray off label, consider other options.
"R2 is when you have soybean blooms on one of the top two nodes," says Gary Schmitz, BASF regional manager for technical services. "We can apply [Engenia] through R1, but as soon as you see flower on lower nodes you'll be at R2 in about a week."
In many parts of the country soybeans are at or past R2 stage. Representatives from BASF and Monsanto are encouraging farmers and applicators to diligently check their soybeans to make sure any possible application is on label, and check for any downwind sensitive plants. Non dicamba-tolerant soybeans are considered sensitive.
"Be mindful of windspeed and wind direction," says Ryan Rubischko, Monsanto dicamba portfolio lead. "It's legal to spray [if your soybeans are at or before R1 even if neighbors are past R2] but take that extra level of precaution when spraying."
EPA is watching and this season's success is critical to renewing the labels. This August, EPA will determine if farmers will continue to have access to dicamba for over-the-top soybean and cotton applications.
"We're logging every call that we get of alleged off-target movement and putting reports together," Schmitz says. "We will have a summary [at the end of the season] we can share with EPA and other parties."
The August timing is important, as the herbicides' approval, or removal, could impact seed decisions. This will let farmers know what herbicides are available before the heat of seed buying begins.
"We went from 25 million acres of Roundup Ready 2 Xtend in 2017 to 50 million in 2018," Rubischko says. "So, when you look at that number and compare the number of complaints we're [Monsanto] receiving, there is a downward trend in inquiries of off-target movement."
Monsanto reports its had 381 calls and visited 299 of those farms with complaints as of July 12. Rubischko says there has been some symptomology related to dicamba, but some of those symptoms mimic dicamba damage and was caused by other issues.
Overall, BASF has had fewer calls alleging off-target movement than last year, Schmitz says. He believes that stewardship training efforts and applicators working hard to follow the label have made an impact.
Both companies agree that this year's training, which reached more than 95,000 applicators between the three registrants (BASF, Corteva and Monsanto) and states, has made a difference. This training focused on understanding label requirements, such as what conditions lead to temperature inversions, downwind sensitive plants and drift reduction requirements.