Farmland Market Defies Trend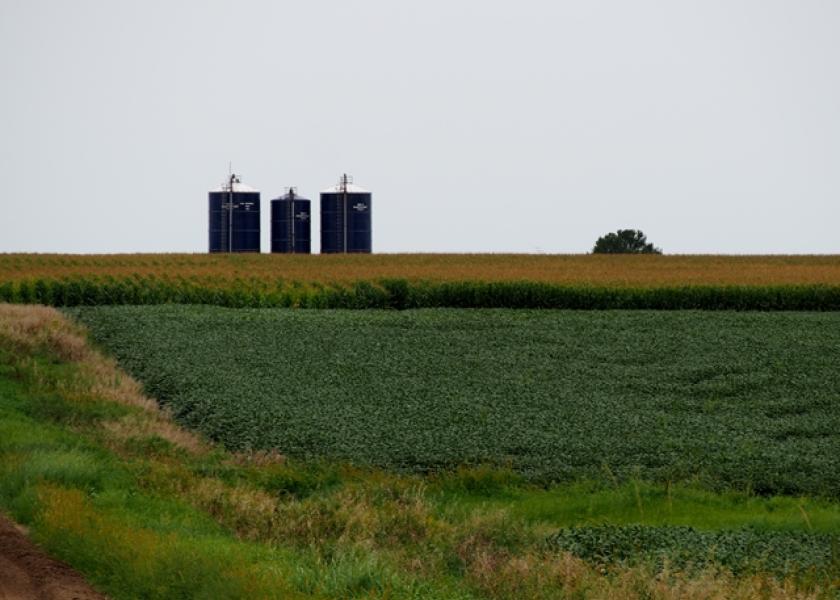 "Steady with exceptions" might be the best way to describe the farmland market, judging by the semi-annual market update from Farmers National Company (FNC).
"The trend in today's land market is hard to discern as some sales bring a better than anticipated price, while others may show a decline in value from previous sales," says Randy Dickhut, senior vice president of real estate operations at FNC. "Agricultural land values in most areas can be expected to continue to gradually decline over the next several years if commodity prices and the underlying farm incomes remain at current low levels," Dickhut says. "Small interest rate increases, potential tax law changes and world economic uncertainties will also keep some outside pressure on land prices in the coming year."
One unknown factor that could adversely affect land values later this year is the potential increase in the number of properties for sale caused by financial stress in the ag economy, he notes. Despite anticipated additional declines in land prices in most areas, there are positives on the horizon for land values.
"Those include potential improvements in farm and ranch incomes after bottoming out. If we have limited stress sales and no other shocks to the markets, land values will move to stabilize over the next several years," Dickhut notes.
The variability is evident from the regional reports from FNC.
Iowa
: Good quality land in Iowa has been steady or experienced a slight decline in value in the past six months, notes says Sam Kain, ALC, national sales manager, West Des Moines, Iowa. Average quality land continues to see a slow decline in value while pasture land has experienced some strengthening. "Overall, land values have stayed fairly stable due to the limited amount of land on the market over the past several years," he reports. "Recent commodity prices indicate there is still room for a downward trend in land values. If we start to see more land available on the market, we may see values decrease more rapidly."
North Dakota, South Dakota, Minnesota: Location and quality make a difference in the land market in FNC's northern region. "Even though the company's sales volume is up 20% in the region, sales of ranches and grazing land in the western portion of the area are slower than the cropland in the east," according to Brian Mohr, area sales manager in Garretson, South Dakota.
Land values across the region continue the gradual decline seen in the past few years with good-quality land barely moving lower with average- or lower-quality land declining further. Investor interest in cropland is increasing and these buyers are competing against farmer buyers who, as a group, make most of the agricultural land purchases. Lenders are growing more cautious in working with farm and ranch borrowers as grain and livestock prices remain low, he states. "We have buyers looking for distressed sales of farmland at lower prices, but we have not witnessed that in our area so far," so far.
Nebraska: "Our number of sales is up 10% to 20% over last year and good quality land is definitely in demand," says JD Maxson, assistant area sales manager, Omaha. "The value of top-quality land has declined a moderate amount, whereas lower-quality land has taken more of a drop."
"We have seen only two or three stress sales where the owner/operator needed to shore up working capital. Depending on the season and commodity prices, we could see more stress  sales this fall if the state's farm economy stays soft,"Maxson notes.
Eastern Corn Belt and Delta: "Prices overall have surprisingly remained steady; leveling off compared to the downward trending from the fall of 2015," states Roger Hayworth, ALC, area sales manager. "Higher-quality land has been unchanged with a slight dip for mid-to lower-quality farmland."
"We believe the stability of land prices in the area will continue through 2017 unless we see some type of market-moving event from crop prices or outside economic influences such as a change in tax policies," Hayworth adds. "With a slower pace of land sales and cautious buyers, our land market is in equilibrium across the region."
Kansas, Oklahoma: Kansas and Oklahoma land values are "all over the board," reports Brock Thurman, AFM, area sales manager. "Location and demand are really influencing land prices in this area, but in general, values are down," he states.
Good-quality cropland is holding its value much better than lower-quality land that is less productive. Lower-quality dryland farms and poor-quality grazing land have dropped the most in price since the peak seen four years ago. Less productive acres are the hardest to sell while good quality land priced right will sell well.
Want more farmland news? Subscribe to LandOwner Newsletter, a must-have resource for both farmers and landlords.