Beth Ford Takes The Helm At Land O' Lakes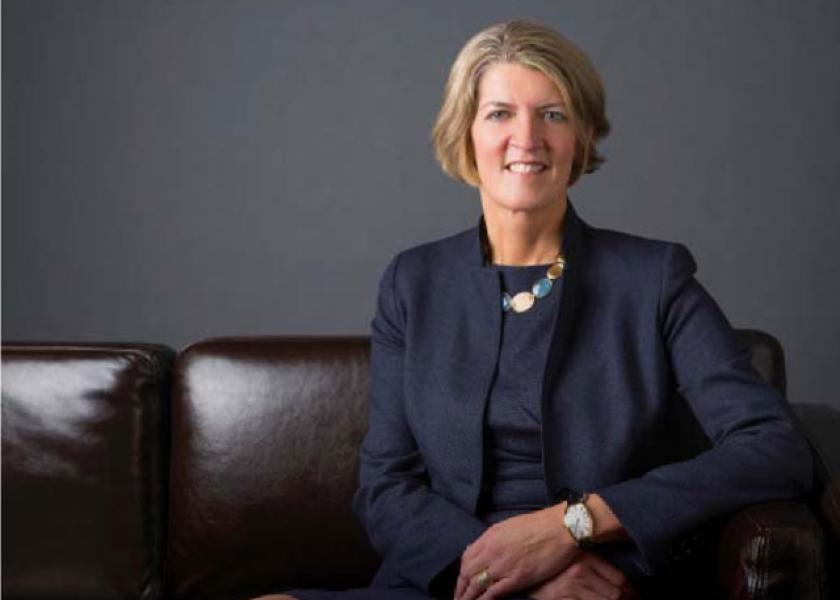 This week Land O' Lakes announced Beth Ford as their new chief executive officer. The promotion from her previous roll as COO means Ford is the first female CEO in the company's history and one of only 25 female CEOs currently leading a Fortune 500 company. 
A few years ago Top Producer editor Sara Shafer caught up with Ford and asked her about business, life and farming. 
SS: What is your connection to farming?
BF: I grew up in Iowa but was not from a farm family. That said, like many of my older siblings (I have seven brothers and sisters) when I turned 12 or 13, I detasseled corn in the summer and also walked the beans. 
Attending Iowa State University meant that I was exposed to many children of farmers. As I attended during a particularly challenging time for those in agriculture, many friends struggled to pay tuition and had families in positions to lose their farms. It gave me even more respect for the grit and commitment of farmers and helped me realize farming is not just a livelihood but a way of life.
SS: What are the top three challenges facing your agribusiness sector in 2016? 
BF: The biggest challenge facing agribusiness is talent. Although the industry is growing, the talent pool has not kept up with the needs. The second, more global challenge, is feeding the world in a sustainable way. And finally, agribusiness is facing considerable market headwinds that will require better thinking, better planning and better execution to meet them.
SS: What tools or strategies is Land O'Lakes using to recruit best-in-class talent? 
BF: Land O'Lakes is unique in that we have developed several ways to connect to top universities. We average more than 300 intern positions each year. Our Global Food Challenge program, in particular, asks interns to deliver ideas to solve emerging global hunger. We use programs, like our Talent Acceleration program, which targets promising supply chain employees and exposes them to different experiences in a condensed timeframe, to build talent within our organization. We focus on advancing specific segments of employees with networking and education opportunities with internal organizations like the Women in Leadership Network. 
SS: What food trends do you see surfacing in the next five to 10 years?
BF: I think the single-most significant trend is consumers' surging desire for information and transparency around their food. I think this trend will only escalate in coming years, and that's good news for all of us. At Land O'Lakes, we see consumer interest as an opportunity to tell our story more broadly and more deeply. 
SS: What are some of the best business practices you've learned during your career that farmers could apply to their operations?
BF: I would encourage farmers, as I've encouraged employees over many years, to ask themselves, "Are we in touch and in alignment with what's going on in the market?" Once you've answered that question, you can identify points of weakness and turn them into business opportunities by bringing data-driven solutions to your problems.
SS: What are your top keys to motivate employees?
BF: When I have the opportunity, I try to give actionable advice. I encourage them to get broad experiences, especially as a leader, early in their careers. Don't be afraid to go sideways in a career move to get that experience. Continue to invest in yourself with your education. Demonstrate intellectual curiosity. Be a positive partner and realize a career is a journey; it isn't a zero-sum game. Success comes when others succeed with you.
SS: What grade would you give agribusiness in terms of recognizing and promoting women leaders, relative to other industries? 
BF: I really don't think recognizing and promoting women leaders in agribusiness is the issue. There is nothing but opportunity for women in agribusiness. 
We have the tremendous and exponential growth in technology. And, we have big ag getting 
bigger—consolidation at every level in the industry—supplier, cooperative, retailer, grower. These may seem like challenges, but they are truly opportunities for the best and brightest—women and men. If women perform and manage their careers well, they will get the recognition they have earned.
SS: How do you balance your family life with a career with a major company?
BF: I am very lucky to have three middle-school children and an exciting, demanding job. Like most working mothers, I'm too busy to think about balance; we just figure it out as we go along.