Tim McArdle Reflects On His Ag Retail Career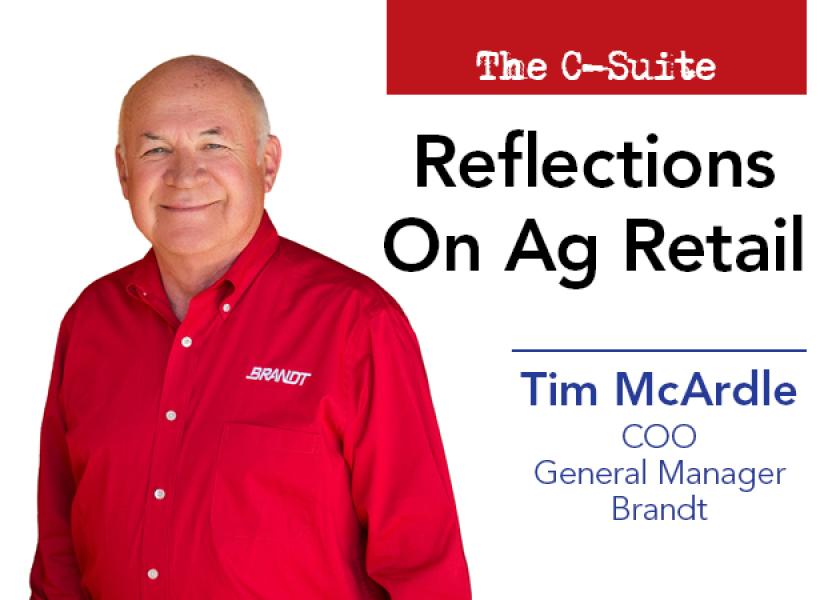 After 45 years in the industry and 18 years with Brandt as COO and general manager of the ag retail and wholesale businesses, Tim McArdle reflects on how to measure success in the agronomic services space before he fully retires from Brandt in August. 
How do you sum up what ag retailers do?
What we really do is we tune ourselves to farmers' needs: what they want, when they want it. When we learn that, then we are more successful. And rather than focusing on just the whats—it's the why. 
How can you define excellent customer service? 
Delivering on the details. Excellent customer service requires you train all your people all the way up and down. Just as an example, if you are doing custom application, regardless of what equipment you are using, you have got to know where you pull into the customer's field. Always pull into the field at the right place, and always treat the waterways the way he wants them to be treated. Details make the difference. 
How did you get involved in ag retail? 
I grew up on a peanut, cotton, cattle farm in southeast Alabama. I loved the science of ag and was always curious. I came to Illinois in the mid-1970s and joined up with a company that today we'd call a startup, Trace Chemicals, at 25 years old. I was there for 25 years. We were a manufacturer of ag products. Just so happened, one of our financial partners was Glen Brandt. So I got to know Glen and the Brandt company.  In 2002 Rick Brandt asked me to join and run the Ag businesses for Brandt.
During your time with Brandt, what do you see as the company's biggest milestones? 
We have had meteoric growth in the last 15 years. Rick Brandt is driven for growth, pushing the boundaries and launching new initiatives. When I joined here, we had seven retail stores. And now we have 28 operating locations. On the retail side, when we made the Myer's acquisition in 2009—that moved us up into a new category. Then we bought Hardy Fertilizer in 2013. And that put us in tall cotton for an independently owned and managed retail company. Other acquisitions have followed.
The proprietary business has also grown so much--- with our presence in Fresno, California with the acquisition of Monterey Ag Resources we now have a leadership position in the specialty formulations business. We further solidified our international business with acquisitions in Brazil (2015) and Spain (2016). 
We started two very well-respected research farms in Lexington and Pleasant Plains, IL during my tenure.
We built the new corporate office in 2007. And that was a bold move. It brought us together in one location and allowed us to do things that wouldn't have happened otherwise. 
What's been the biggest lesson in business? 
We have to remember in business that we are in business. We can lose sight with too many details, but being a profitable business allows you to do good things internally and externally. And if you aren't profitable, you can't do things. 
How would you describe your approach to leadership? 
My number one leadership mantra is the thing I learned the most quickly: Put the people first. I would only be successful to the extent the location managers and their staff were successful. And retail has many moving parts, you have to recognize which parts need central control, and which are better done locally. You can't let your ego get in the way of that. Put the right people in the right seats, and support them. 
Most important for all of us, communicate. When you have a lot of people in the field, you gotta talk to them a lot–all the time—sharing critical information. Communication and listening are key. And then you can really hear what's going on.
There's no magic to it. Put it all together and do it well. Respect for who you work for, and the people who work for you. Don't be afraid to be upfront and break the wind. 
What have you learned about working in agriculture? 
You've got to be adaptable and flexible. We operate in a biological system. Things don't always go the way you plan. We can have a lot of anguish about what's going on around us. But we learn to respect and not fear the uncontrollable: the weather and the markets. You can't be paralyzed if it'll rain or not. 
Retail ag is a community business. The people who are the best and most successful in this business, they learn to live this and to love it. Immerse yourself in it and be part of the community. 
You have to learn to build relationships up and down the channel: customers and suppliers. One of my sayings is, "he who has the technology rules." And if you need it, you need to be dealing in it. You gotta have good supply partners to succeed. You can never think you can stand alone. 
When you think about the challenges ag retail faces, what would you share with your peers? 
This business is really in change. There's no question about it. It's about people, consolidation, and new technologies. It's a challenge to find and keep good employees—this is a challenging profession. With consolidation, everything is getting bigger. This requires a different management style to be successful because you can't be looked on as a middle man. You have to provide service that makes you stand out in the crowd and a proposition the customer can buy into. 
And there's plenty of new technology, and you'll either on be on the bleeding edge, cutting edge or get left behind. And I've been all three. I think it's important to stay ahead of the curve and try to anticipate what's coming and not just react. It's a challenge because you have to take risks, but you also have to be discerning.  
What did you enjoy most about working in ag retail? 
This is a family atmosphere business. We're still a family business even through we're bigger. I like the comradery. And in other times, not so much this year, we do a lot of grower meetings. I enjoy the people—they are smart, hard working. And I still like the science of it. I've always been interested in how it worked and how to make it work better. 
Was there a moment where you knew you found the career you were meant to be in?
When I was at Trace Chemicals, we didn't have an office, or a factory… we just had an idea. And I remember trying to develop products. I borrowed a tractor and a planter in central Illinois and tried to figure out if our products were functional. And I knew this felt good, it felt like home. 
Being in retail, when you get the opportunity to go to farmer's house and discuss their operation at their kitchen table, and when they bring out a cup of coffee in a real cup, and everyone treats everyone with respect, it feels real and feels like home. 
What have been your biggest takeaways from being involved in ARA, including being chair?
First thing I always say about ARA, the leadership there is first class. When I chaired in 2017, during that year we dealt with sticky wicket membership issues. And when I was on the exec team in 2016, we had something happen that makes your chest swell. When OSHA was taking away the PSM retail exemption, that was a big deal for anyone in anhydrous business. And ARA rallied the industry with a significant legal defense and won. Collectively we did something that none of us could have done by ourselves. 
Everybody shares common challenges in how they run their business. It boils down to an overall big picture leadership. With the local challenges we face, we do not always know when the game is going to be changed. You are out doing a good job, and then the board changes. And it can happen in Washington and in the states. ARA monitors the game for us.
What accomplishment by ResponsibleAg are you most proud of? 
I'm most proud of our really good statistics. We have 2500 sites registered. Out of that, 1,275 are fully certified. That means that a retail location has participated in an independent audit that proves they are in full compliance. And anyone who knows anything about ag retail knows we are subject to just about every agency that regulates—we are on their radar. During the time of ResponibsleAg 89,758 issues of compliance have been identified and been brought into compliance. That should make people sleep better at night. 
We need more participation. This is a low cost way for you to make sure your compliance program is working. 
Another organization you've been involved with is AgGateway—and what impact do you think that organization's mission continues to make on the industry? 
It's important because electronic commerce is important. We are doing year end work now at Brandt and when you have a lot of locations and products used, bookkeeping is a major thing. AgGateway has provided a way for businesses to communicate electronically and it's eliminated paperwork. I predict, as we go down the road, the ability to participate in e-commerce is going to be more important. Creating universal standards that everyone can adhere to and having suppliers adhere to these standards is a strong way to make it happen.