Bayer Plans Monsanto Close Amid $30 Billion Share, Bond Sale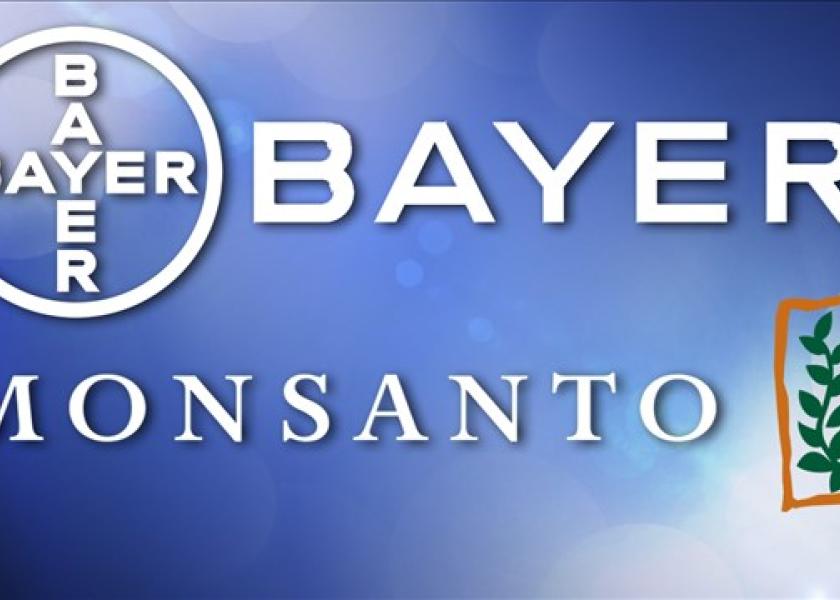 (Bloomberg) -- Bayer AG is days away from a transformation into the world's biggest maker of seeds and agricultural chemicals, saying it plans to close its purchase of Monsanto Co. this week.
Bayer will retain its name and drop Monsanto's as it closes the deal Thursday while raising as much as 26 billion euros ($30 billion) in shares and bonds.
The purchase is part of a multiyear transformation, as Bayer sold off its legacy plastics business and remade itself into a life-science company with roughly half its sales from medicines and half from agriculture. It's the third in a series of mega-deals in the industry, following Dow Chemical Co.'s merger with DuPont Co. and China National Chemical Corp.'s takeover of Syngenta AG.
"We are about to close the transaction," Chief Executive Officer Werner Baumann said on Monday. He didn't rule out further portfolio changes, saying in a press conference that the Leverkusen, Germany-based company will continue to "actively manage" its units. "If you stand still, you will fall back," he said.
The deal will double the size of Bayer's agriculture business. The shares were little changed at 102.50 euros at 11:35 a.m. in Frankfurt. The stock has returned 2.2 percent this year, compared with a 1.3 percent loss in the benchmark DAX Index.
Bayer plans to raise 6 billion euros in a rights offering and 20 billion euros from bond sales, it said Sunday. The total deal value of $63 billion reflects Monsanto's outstanding debt as of Feb. 28.
S&P downgraded Bayer two levels from its previous A- rating. The company will seek to return to an A- rating in the long term by paying down debt, Baumann said.
Under the rights offering, existing shareholders will be able to buy two new shares for every 23 held at a price of 81 euros, Bayer said. That's a discount of about 22 percent to the German company's June 1 closing price.
The offering has been underwritten by a group of 20 banks. Joint global coordinators are Bank of America Merrill Lynch and Credit Suisse. Bayer raised a $56.9 billion loan in October 2016 to support the acquisition, the company said at the time.
To gain approval for the deal from the U.S. Justice Department, Bayer agreed to sell assets to BASF SE. The divestiture package is worth about $9 billion, the largest in a U.S. merger-enforcement case, the government said. The German company said it submitted some 40 million pages of paperwork to U.S. and European authorities, nearly enough to reach from Leverkusen to Monsanto's headquarters in St. Louis and back if the documents were laid end to end.
The integration is scheduled to start once the BASF sale has been completed, probably about two months from now.
©2018 Bloomberg L.P.