Telematics Pay Off With Eyes On Efficiency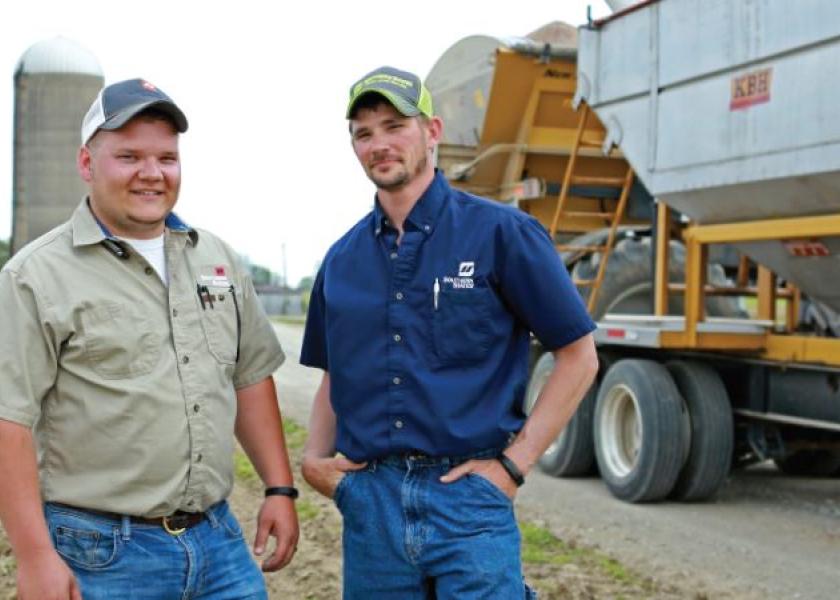 At Southern States Cooperative, senior management identified fleet management as one of the top five initiatives for the company. With more than 2,500 vehicles—300 of which are sprayers or spreaders—maximizing the company's investment was in the bull's-eye.
"As a whole, fleet management has so many opportunities and challenges," explains Thurman Register, who for the past six years has been fleet manager at Southern States. "Fleet operations will always be a cost center; however, our goal is to mitigate and manage those costs. The challenge is to increase revenue with the same or fewer vehicles while reducing the cost or expense per vehicle—all the while maintaining the same or better customer satisfaction and expectations."
The top objectives for Southern States were efficient fuel consumption, fleet rightsizing and fleet utilization and increasing vehicle efficiency and productivity.
As Register explains, data were going to drive fleet management decisions. In 2012, the company started a trial with Verizon's Networkfleet GPS tracking system. The Networkfleet system can be installed on any vehicle chassis—a fork lift, pickup, sprayer, spreader, etc.—and is used to monitor vehicles and equipment.
Vehicle location is an important tool. Remotely tracking assets has led to greater efficiencies in serving customers. For example, at some fertilizer plants, the company has set up a geo-fence, so the plant manager receives a real-time alert via text message when tender trucks are heading back to the plant, so they can start blending loads.
Location technology also helps route equipment to the field, and it helps the trucks pick up equipment.
"It happens a lot where we drop off a piece of equipment, and a farmer may tell us it's ready for pickup, but they've drug it a couple fields away," explains B.J. Tingle, precision ag specialist with Southern States in Shelbyville, Ky. "With GPS location, we always know exactly where the equipment is and the best way to get there."
The Shelbyville location maintains six KBH tender trailers, five truck spreaders, two TerraGators, three road tractors and three sprayers.
Register says this kind of efficiency at the locations adds up. He gives another example of road tractors at a facility turning at most four tender trailers a day before the technology was used. And now depending on demand, the road tractors can each turn six trailers a day. 
Weather overlays are also providing guidance on how to dispatch application equipment in light of any coming storms.
Some locations have customer-
facing monitors displaying their machinery fleet in action as a way to market their full offering of services.
"We need data we can react to; data that is in real time; and what we are working toward, which is predictive data," Register explains. "If there is a sensor out there to help us measure a key performance metric, we want to use it."
The key machine-generated data include percentage of load, PTO run time, hours, miles and fuel usage.
Register says the most valuable action in fleet management hasn't been collecting the data but rather analyzing data, so they can be used in the process of decision-making.
"The end goal is to be able to calculate the total cost of ownership on every asset and also know the cost per mile, hour or acre for that unit to operate," Register says. 
The company runs application equipment in eight states: Alabama, Delaware, Kentucky, Maryland, North Carolina, South Carolina, Virginia, and West Virginia.
In using Networkfleet, the team tracks the speed and run time of machinery. That has led to a reduction in fuel use, wear and tear on equipment and labor needs. Register explains that to know exactly what it costs for a TerraGator to apply product across an acre, it's going to be a combination of telematics and other data sources.
"Without data, you are shooting from the hip," he says. "Telematics data help us make those informed business decisions."
Some application machines are outfitted with three systems used in fleet management—Networkfleet GPS, the telematics system from the manufacturer (Ag Command or JDLink) and Raven Slingshot.
As Tingle explains, being able to send and receive application files wirelessly is another leap forward in efficiency and accuracy of the applications.
After monitoring machine performance in the past three years, Southern States has been able to increase efficiency of its sprayers and spreaders by 8%.
"Once we quantify that improvement into dollars, that's a big number for Southern States because we have close to 300 machines," Register says.
Included in cost of ownership is maintenance. The company is tracking the vehicles that cost the most from a maintenance perspective and setting benchmarks as it reviews choices with vendors. 
"For us in the field, we've been able to see how preventative maintenance pays off," Tingle says. "And when we do have downtime, it makes it easy to see the value in responsive service from the dealer."
Two years ago, the company did a utilization study, which included a full count of the machines it owned.
"We discovered we had spares that were backup to spares—so new equipment was coming in, and old equipment never went away," Register explains. "There's a cost to iron sitting around, so we had to educate our team internally to what those costs are. We implemented a remarketing program, and it captured $200,000 in a year."
The co-op uses telematics data in its replacement strategy to identify what equipment is underutilized or overutilized. These data are supplemented with annual vehicle inspection programs during which each piece of equipment is inspected and all data points are recorded. All of these reports add up to build a replacement plan by equipment type, equipment manufacturer and even by location.
"Rightsizing any fleet is constantly evolving," he says. "But from the utilization study, we reduced our asset spend by $1.4 million."
This kind of analysis also helps define return on investment when new machines are added to the fleet.
In 2014, the Shelbyville, Ky., location added its first self-propelled, high-clearance spreader whereas previously it only had truck spreaders.
"We know having that new capability brought in more business, and it helped us cover more acres," Tingle says.
Some changes, albeit still very data-driven, are dependent on behavioral changes.
"As part of our proactive fuel management program, we used telematics data to set metrics around things we could improve. Idle time was and is one of our core focus points because it's behavior-driven," Register explains. "Our applicators and drivers do a great job of helping us meet those targets, and we reinforce that positive behavior via KPI reporting and an idle policy."
He gives another example with application equipment.
"As soon as you say you're installing GPS on equipment, people assume you're there to watch what they're doing. It's the 'big brother' syndrome. But that's not it," he says. "GPS/telematics technology has advanced so far that it's not about watching dots on a map move anymore. From a fleet perspective, it's not about where a vehicle is but how a vehicle is performing."
The return on the investment of fleet management extends beyond maximizing the assets.
"It's an investment to install the tracking and telematics equipment," Register says. "The ROI is realized in several ways (fuel savings, total cost of ownership, reduced downtime, maintenance and repair cost savings, efficiency, etc.), but the overwhelming advantage is the capture of the 'big data.' It can help us answer questions that we may not know we need to answer."
As an example, he says that if there was a sustainability initiative to reduce the company's greenhouse gas emissions by 2%, then the fleet data can show what the company is doing today and what it might take to accomplish that.
"Without telematics in place, you'd be hard-pressed to know how to do that," Register says.