Avoid Cold Weather Diesel Problems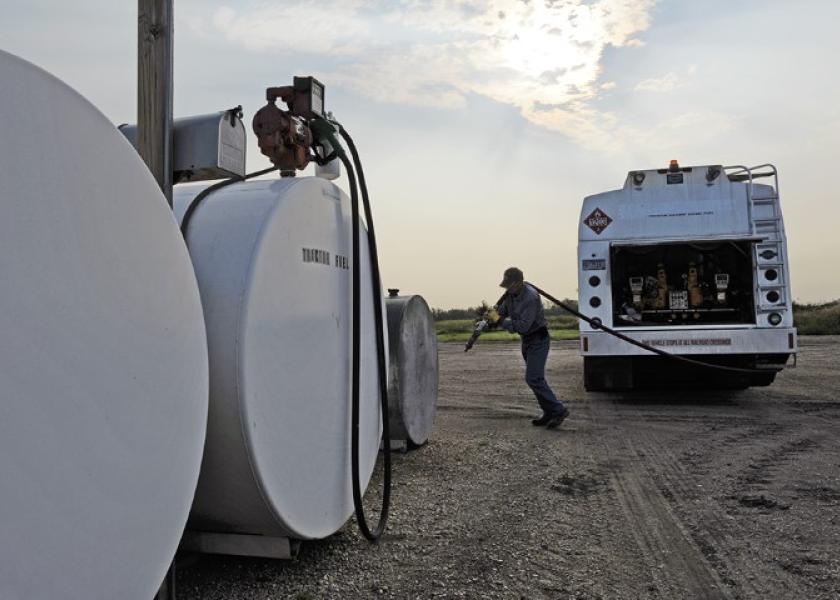 By Ron Jessen, CHS director of product management for Cenex refined fuels
As harvest wraps up and temperatures fall, it's time to winterize stored diesel fuel. If No. 2 diesel left over from harvest cools during colder, overnight temperatures, it may reach "cloud point," when wax crystals develop in the fuel. The fuel will look cloudy and crystals can plug the fuel filter, resulting in poor starts, engine hesitation, stalling and even engine damage.
Don't let cloud point surprise you. Equipment might run just fine on No. 2 diesel during a cold snap, but crystals may be accumulating in the fuel. Even if winter fuels are blended after reaching cloud point, those crystals won't melt, but will linger and plug the fuel filter. So an engine that runs well on a chilly Friday could leave you stranded on a warm Monday.
Know When to Blend
The cloud point for No. 2 diesel is approximately 14 degrees. For farmers in the southern growing region, these temperatures may seem like a distant concern, but it's hard to predict exactly when weather will turn cold, so an early-season move to winter-grade fuel is recommended.
A rule of thumb is to switch to a winter blend 15 degrees above cloud point. When overnight temperatures begin to dip down near 30 degrees F, it's time to blend in No.1 diesel with additives for winter. For every 10 percent of No. 1 diesel added, the fuel cloud point will drop by 3 degrees F.
When blending into a storage tank that includes biodiesel, add an additional 10 percent of No. 1 diesel to compensate for the higher cloud point of biodiesel. Typically biodiesel blends are 2 to 6 degrees warmer than
the cloud point of No. 2 diesel.
Factor in the Heel
The "heel" of a storage tank is simply the total volume of No. 2 diesel left in the tank before you begin blending the winterized fuel. Don't just pour new fuel on top of stored fuel. First gauge the heel and reach the proper blend before bringing in the first delivery of winterized fuel. If No.1 is added to the storage tank without proper blending, farmers will actually dilute the winterized product and negatively impact the fuel quality.
Ask the Experts
When done correctly, fuel blending is a scientific process that will improve diesel engine performance. Your local Cenex® dealer can help you achieve the right winter blend for your equipment based on expected regional temperatures and your stored fuel. Cenex has the right seasonal fuel blends for your region and equipment use. Our cold weather premium diesel fuel, Cenex® Wintermaster®, offers operability to minus 30 degrees F with a cold filter plugging point of minus 55 degrees F.
Seasonally enhanced Cenex® Roadmaster XL® and Ruby Fieldmaster® premium diesel fuels have a cold filter plugging point of minus 25 degrees F. These special formulations provide excellent shoulder season flexibility.
For more information or to locate a local Cenex fuel distributor, visit www.cenex.com.