Farmers Cite Successes In 2020, Look Ahead to 2021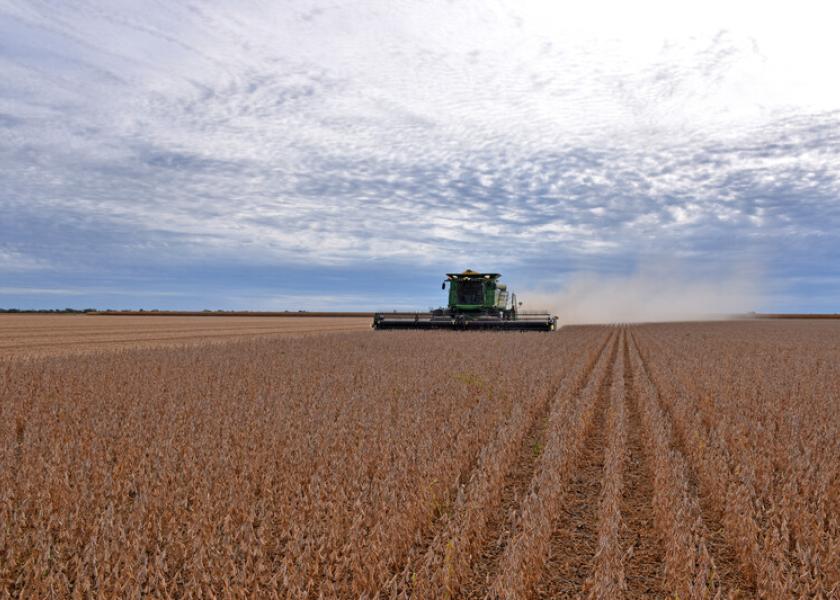 What went right in 2020? And what are farmers looking to do different in the coming crop year? 
The 2020 Farm Journal Harvest Study shed light on those two questions with its top takeaways. 
Almost 1,000 farmers (964 to be exact) completed the survey, and they on average farm 584 corn acres and 558 soybean acres. 
One big success of 2020 was an earlier harvest compared to 2019.  
37% of respondents shared 2020 harvest was 1 to 2 weeks sooner
30% of respondents shared 2020 harvest was 2+ weeks sooner
Compared to 2019, less grain is being stored at the elevator. In 2020, 88% said they are storing half or less of their 2020 crop at the elevator, which is up 6% from 2019.
Here are the top 10 things farmers wished they would have done in 2020 (and multiple responses were possible): 
Installed field tile
Earlier planting
Earlier harvest
Added grain storage
Added on-farm storage
Fungicide application
Planted a cover crop
Bought drought-resistant seed
Post-emergent application
Pre-emergent application
Here's how farmers answered if any of these agronomic challenges impacted yields in 2020 (multiple responses possible):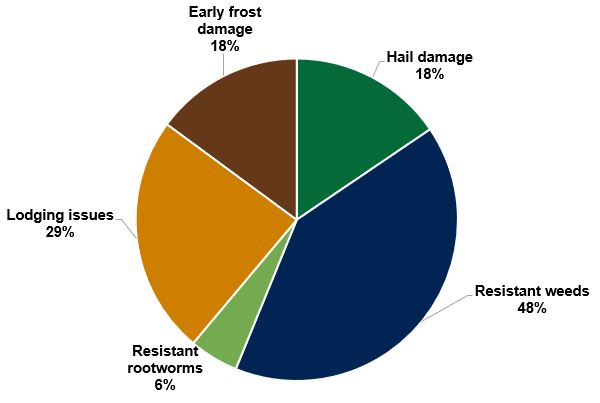 For crop input purchases, trait selection is gaining importance in how it drives seed selection. For example, here are changes respondents are looking at making for 2021 (from the 2020 Harvest Study), and comparing their answers to data from intentions for 2020 (from the 2019 Harvest Study):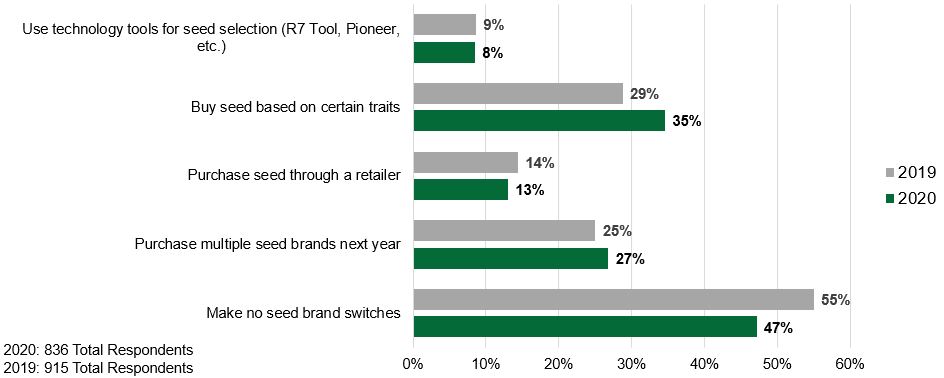 Looking out into the future, farmers expressed positivity with 44.6% of respondents saying they are positive or extremely positive about the overall farm economy. And 61.7% are positive or extremely positive about their farm's overall financial health, which is a significant increase over previous years.
When looking to the next five years, respondents shared that 44% plan to farm the same amount of acres and 35% plan to farm more acres.