New 'Easy-To-Understand' WOTUS Rule To Be Released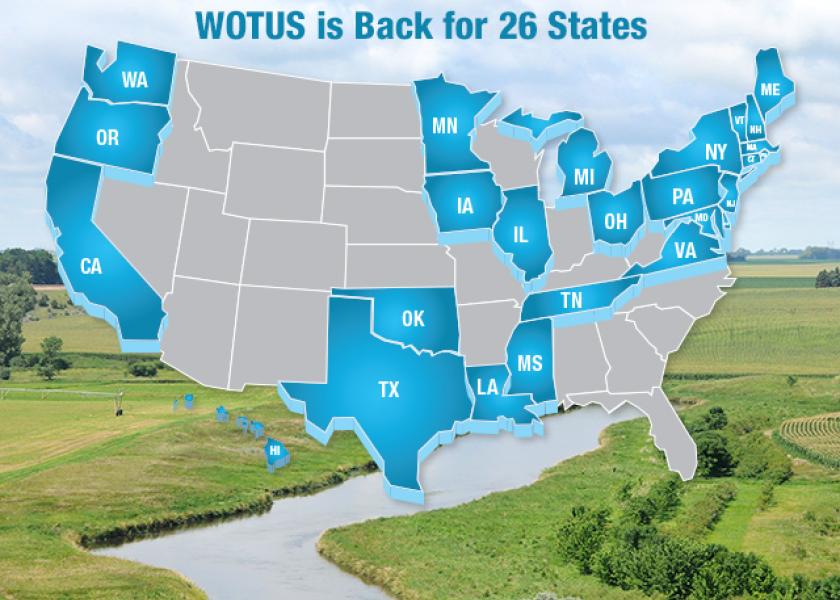 The Trump administration is expected to release a new Waters of the U.S. (WOTUS) rule this week. While details are still murky, EPA talking points suggest the new rule will redefine the jurisdiction of the Clean Water Act more narrowly than a rule issued by the Obama administration in 2015.
"EPA documents say the new rule will be 'clear and easy to understand' and will help landowners 'understand whether a project on his or her property will require a federal permit or not, without spending tens of thousands of dollars on engineering and legal professionals,'" says ProFarmer policy analyst Jim Wiesemeyer. "The rule will eliminate ephemeral streams and most ditches from federal jurisdiction as well as wetlands that aren't 'physically and meaningfully connected to other jurisdictional waters.'"
When the Obama administration released the 2015 version of the Waters of the U.S. rule, agriculture was angry.
"America's farmers and ranchers deserve a government that will review and address their concerns," said U.S. Rep. K. Michael Conaway, who chairs the House agriculture community, and U.S. Rep. Glenn Thompson, who leads the forestry subcommittee at the time of the rule announcement in May 2015. "Instead, the process by which this rule was established ignored them. Even input from the states was ignored, clearly displaying the arrogant, 'government knows best' attitude ever-present in this Administration."
For the past three years, the WOTUS rule has been a bur in the side of farmers across the country. Several farmers have spent millions of dollars fighting the feds because of the rule.
According to Wiesemeyer, the Trump administration's version of the rule will 'very likely' be challenged in court.