Pulse: Farmers Eye Equipment Purchases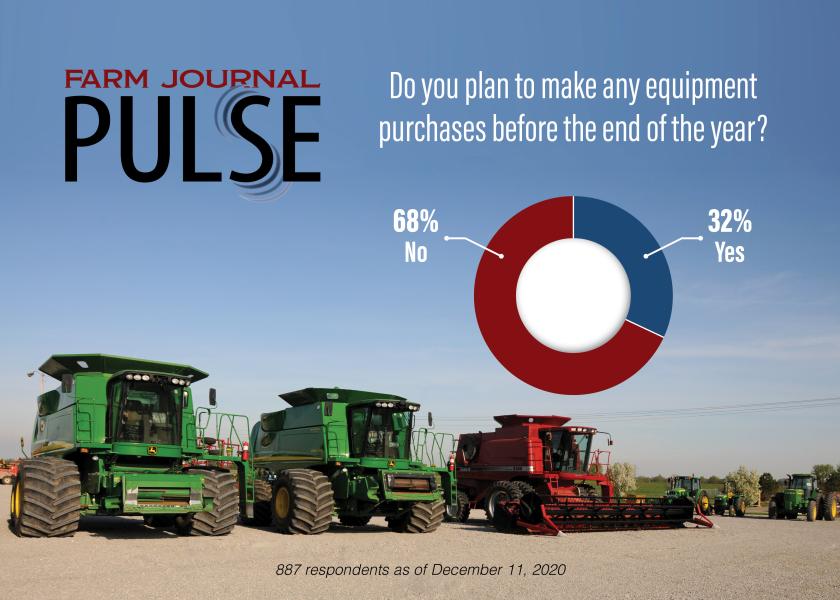 Santa just might bring a present that doesn't fit under the Christmas tree this year. A Dec. 9 Pulse Poll asked how many farmers were buying equipment before the door closes on 2020. 
Do you plan to make any equipment purchases before the end of the year? 
 
Yes — 32%
No — 68%
Responses: 887 
Looking to make a big purchase? Don't miss the chance to check out advice from Machinery Pete during the Farm Journal Field Days Equipment Edition. New on-demand content is live now through Dec. 22. 
Login or register for free at FarmJournalFieldDays.com. 

Check out these must-watch sessions: experts, trends and guides

•    A New Model for the Farm Equipment Business: Join this discussion as we talk to a newly formed multi-store dealership in the southern Plains. 
 
•    Ask Machinery Pete: Have your machinery questions answered by the one and only Greg Peterson. 
 
•    Top Trends in Used Machinery: Peterson shares his top takeaways from the used machinery market for the months ahead. Key drivers in values have shaped up to be age, condition, warranty and personalization. 
 
•    The Hottest Segments in Machinery: The IRS Section 179 tax deduction and related incentives are like gas cans next to a box of matches. As we near the final days of 2020, Peterson will dive into the top farm equipment categories and how farmers should position their purchases. 
 
•    Tools That Do The Trick: It is winter maintenance season for equipment on the farm. We have the ultimate guide for the must-have tools for your shop, toolbox and truck. 
 
•    5 Tips to Maximize Resale Value: This guide provides best practices for how to sell your farm machinery for maximum value.
Login or register for free at FarmJournalFieldDays.com.