How Weed Control Choices Have a Domino Effect on Communities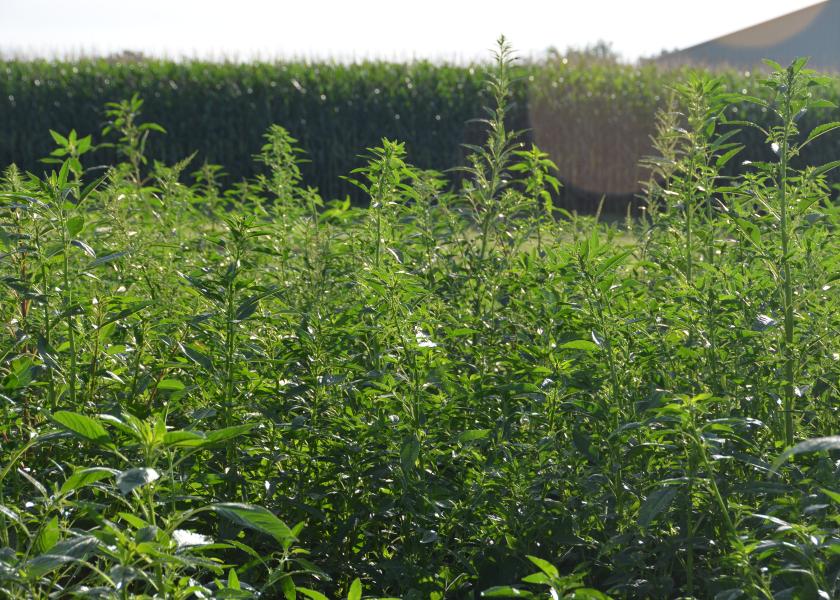 When one person jumps into a pool, the ripples affect the entire community in the pool, not just that one person. In a similar way, the choices you make in regard to weed control impact more than just your fields, they affect your neighbors and ultimately entire community.
For example, farmers who ignore weed resistance and continually use the same mode of action year in and year out build a weed seed bank that trashes not only their own fields but travels to neighboring fields. Another example: Recent farmer herbicide decisions affect not only their own operations but others as well.
Researchers at Kansas State University examined how the use of dicamba and how its potential for success or for off-target movement influences neighbor decisions. In this scenario there are both weed resistance/weed management and social repercussions.
Weed Resistance Implications
When a neighbor doesn't follow good stewardship practices you can expect the weeds on their farm to gain resistance, thereby decreasing herbicide efficacy. How soon does their problem become yours though?
"It's not just about how the weed seeds physically move," says Sarah Lancaster, KSU Extension weed scientist and co-author of the study. "Particularly with pigweed species like waterhemp or Palmer amaranth the pollen can travel considerable distances. When that happens, it introduces new herbicide resistances into fields that weren't there before.
"So, it's important to be aware of the fact that your neighbors have this problem so you can be more vigilant about watching for escapes in your own fields."
It doesn't take long for one farmer's problem to become everyone's problem. Here are a few ways weed seed spreads, just to show how quickly it can occur:
Waterfowl/animals
Wind
Water/flooding
Machinery
Best management practices such as using multiple modes of action, pre-emergent herbicides, residual herbicides and a zero-tolerance policy for escapes will help keep weed control tools effective on your fields, longer.
Community/Social Consequences
Because there's a domino effect from what one farmer does to their neighbors, the social environment and farmer reputations are impacted.
"I've been following what's going on with dicamba for several years," says Terry Griffin, with Kansas State University department of agricultural economics. "After talking with weed scientists we decided to use 'game theory' to examine how and why farmers are making decisions with respect to what their neighbors are doing."
"The social implications of certain dicamba-related decisions are huge. This study can show landowners, other farmers and industry more about the complexity of these decisions farmers are making every year."
The researchers examined two 'players' for this study: Defensive Dan and Sprayer Sue. Dan takes a more conservative approach, isn't fully sold on using a single technology and has been the subject of off-target damage in the past. Sue doesn't always practice the best integrated pest management strategies, uses a single weed control system for ease-of-use, has limited sprayer capacity and does her best to follow label instructions but has still had unsuccessful applications.
Here are three of the many possible scenarios the Kansas State researchers found these two 'players' could experience in relation to dicamba applications and an example how one person's decision has a direct impact on their neighbors.
Scenario 1: What happens when no fines or penalties are provided for off-target movement.
Sue's applications will either be successful (no off-target movement) or unsuccessful (off-target movement with impact on neighbor's yields). There are no fines or documentable penalties for off-target movement or off-label issues. Sue believes that simplified herbicide selections by using all one herbicide system results in reduced farm management costs (less time to sprayer cleanout, etc.)—which represents the increase in payoff represented in the "unsuccessful" column.
Dan wants to use non-dicamba tolerant crops because he documents higher yields from these products. He knows, however, that Sue will be using dicamba and could have off-target movement. Therefore, he's considering planting dicamba-tolerant crops as a defensive measure.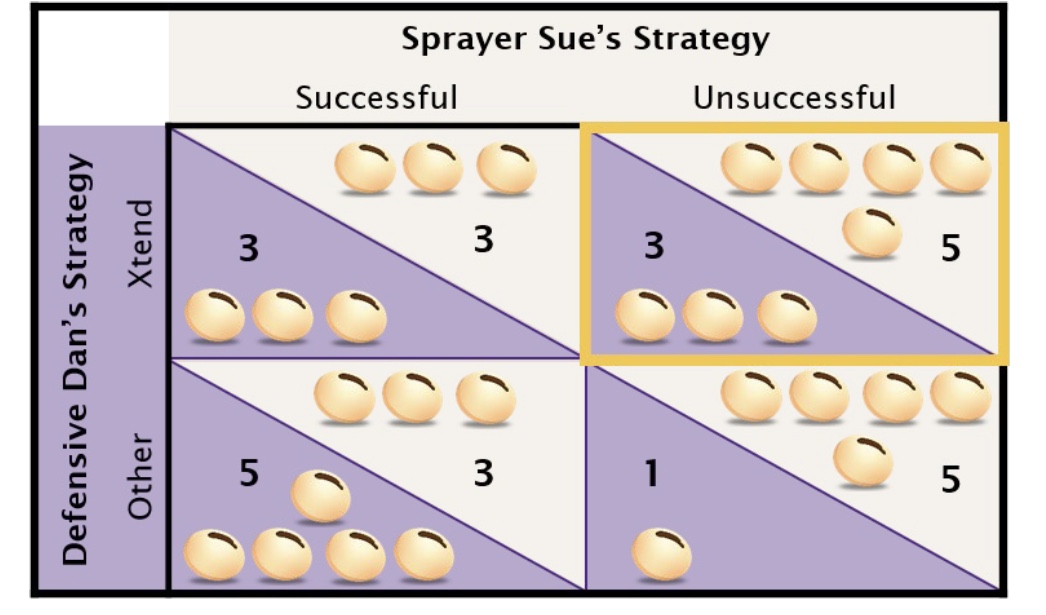 C: Kansas State University
In this scenario the 'stable' option, or one that results in the best outcome for the parties, is dicamba-tolerant/off-target movement (referred to as Xtend/Unsuccessful in the chart). Sprayer Sue gets benefits from the weed control system and perceived farm management benefits. Defensive Dan doesn't get the highest yield possible but gets the highest yield he can with Sue's strategy in mind.
Scenario 2: Outcome when a small regulatory fine is issued for off-target movement.
Previous scenario descriptions still apply in this case, however, Sue will be fined one unit if Dan experiences yield damages as a result of her herbicide application. These damages will only occur when Dan plants "other" seeds.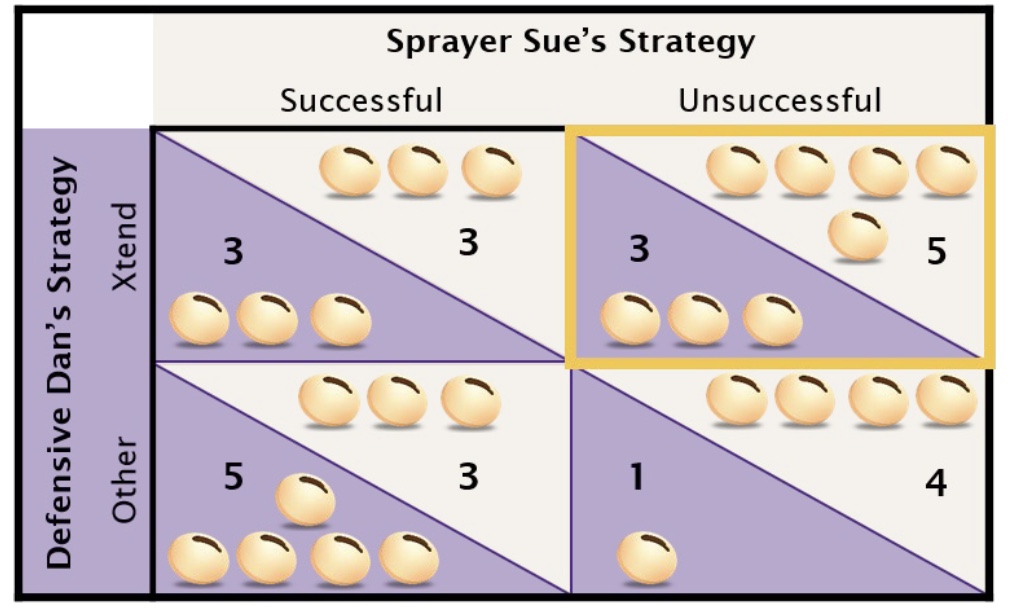 C: Kansas State University
Regardless of what Dan plants, the better outcome for Sue is still the 'unsuccessful' category. The 'stable' outcome for each party is again dicamba-tolerant/off-target movement, proving risk management for Dan and the greatest possible benefit for Sue. A small fine does not lead to a change in practices for Sue.
Scenario 3: Large fines are assessed for off target movement.
Larger fines, equal to two units, will be required when Sue has off target movement (unsuccessful). This fine results in greater losses for Sue when Dan plants "other" herbicide trait packages, making a successful application more appealing. When he plants dicamba-tolerant products, dicamba-tolerant/off-target is still her most appealing option.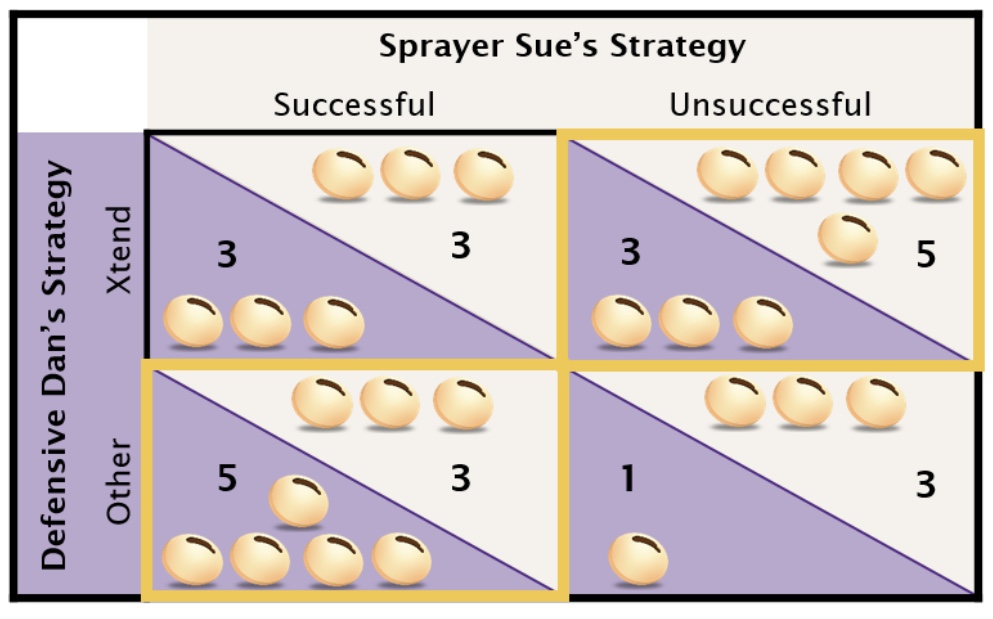 C: Kansas State University
In this scenario, Dan's best option is Other/Successful. The best risk management strategy to account for Sue's potential off-target movement is dicamba-tolerant/off-target.