Ferrie: Plan For A Normal Crop In 2021; Don't Let A Drought Threat Drive Your Decisions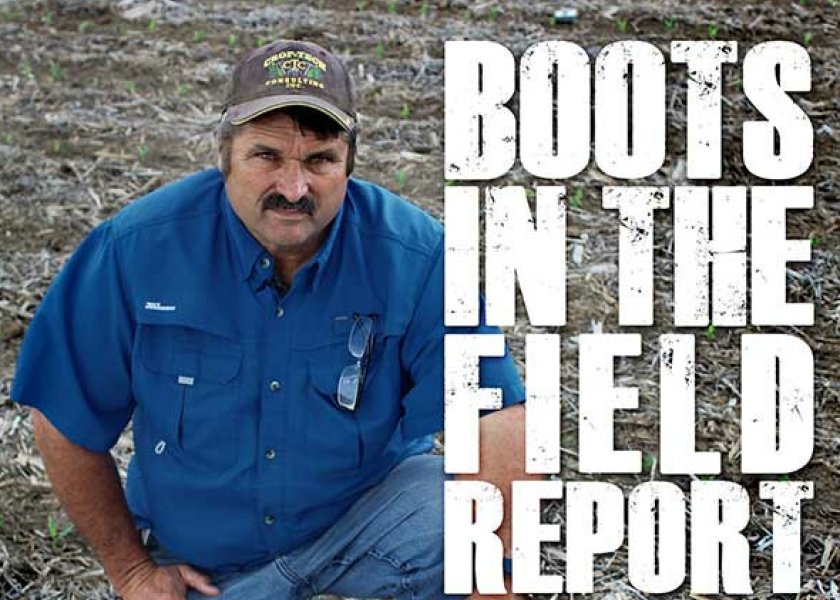 The potential for this currently dry winter season to snowball into a dry spring is possible but don't let that risk drive your hybrid and seed population decisions, advises Ken Ferrie, Farm Journal Field Agronomist.
 Instead, "plan for a normal crop, hope for the biggest crop of your career and then mitigate the risk of a drought or crop failure," Ferrie says, in the latest edition of his Boots In The Field podcast.
"Our first level of drought mitigation is crop insurance. Work with your agent to get the best mitigation risk you can, as droughty farms may need different coverage than your other farms do," Ferrie adds.
If you're not sure which soils on your farm are the most drought-prone, consult your 2012 yield maps.
With regard to selecting seed populations, Ferrie says don't lower your populations for 2021 in anticipation of a drought. Plus, don't use just one seeding population across every field on every farm.
"That's not how we mitigate risk in dry seasons," Ferrie says. "Picking the right population is a process, and it's important."
How can you start the process?
Ferrie says look at each field individually to evaluate its potential drought risk.
"The information you need can be compiled from past yield maps, past aerial imagery taken throughout the year, soil type maps, topography maps of the fields as well as personal observation from previous cropping seasons," Ferrie explains.
Along with taking those steps, investigate each field's usable, water-holding capacity under your current management style, he advises. A good indicator of this is your yield history – in drier years – by field.
"That's what our GIS crew looks at and considers – the wet years and dry years – as they break up your fields and put together management zones," says Ferrie, who owns Crop-Tech Consulting, near Heyworth, Ill. "With this information, we can then pick a realistic yield goal for each field. And that will get us in the ballpark for the population needed."
As a starting point, Ferrie's team uses 6.5 bushels per 1,000 plants to meet a farmer's yield goal. This is a ballpark figure only.
"So, if you have a realistic, 200-bushel yield goal in a field, it should take about a 33,000 planting population to reach it," he explains. "Or if you have a realistic 180-bushel yield goal, it will require a population of about 28,000; a 250-bushel yield goal will take a population of about 38,000."
Oftentimes, you can have those types of yield ranges in the same field and you need to adjust planting populations to fit them. But if you don't have the ability to vary planting populations across the field, plan to set the population based on what the majority of the field needs.
"Do your homework and come up with a realistic yield goal for each field," Ferrie says. "Then, between your individual field experience and the help of your seedsman pick a hybrid and a population for that field."
However, if you can vary populations within a field, that's the better practice to adopt. Why?  "We know some hybrids can flex as much as 5 to 10 bushels per 1,000 plants, depending on genetics," Ferrie explains.
This edition of Boots In the Field provides a wealth of practical information that can help you figure out how to pick the right hybrids and planting populations for 2021. Take 10 minutes and listen to the full details Ferrie offers here:
Ferrie: Your Fields May Need A Leveling Pass Now To Prepare For Spring Planting
Ferrie: Seed Treatments And Hybrid, Variety