Farmer Welcomes Sesame Street to Promote Agriculture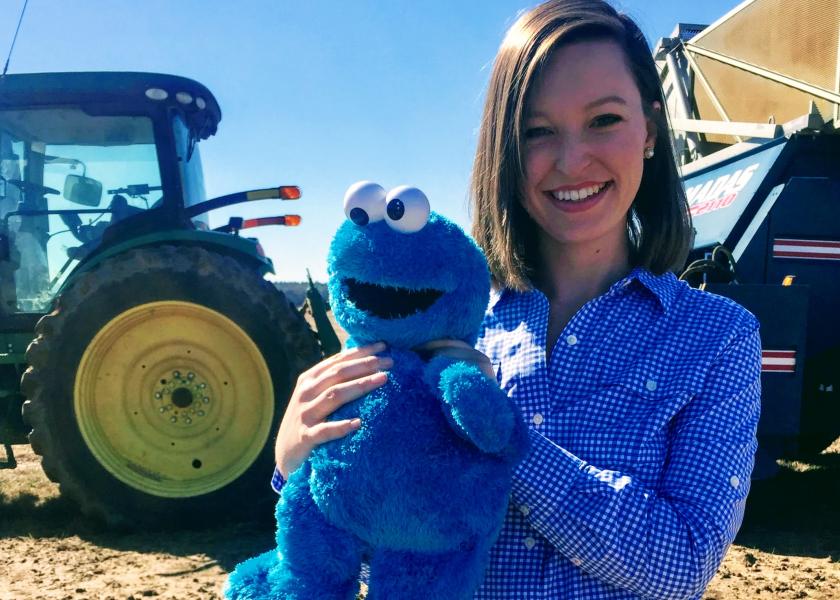 When Sesame Street knocked, Casey Cox threw open the door on her Georgia farm and charged toward an opportunity to take American agriculture to a new audience. The classic children's television series, with viewership reaching dizzying heights, was asking, and Cox was readily answering. "Yes. Absolutely. We'll make it work and get it done—no matter what."
In early 2019, Sesame Street began preparing a segment partially focused on an iconic food with a hallowed place in every American pantry: peanut butter. Cox, always on the alert for a chance to champion agriculture and educate the public—particularly kids—didn't blink at a shot to take the farm-to-table message directly from her rows to 150 million children across the planet: "There was no way I was going to miss out on telling millions of kids about where food truly comes from."
"Make it Happen"
Cox, 29, a sixth-generation farmer at Longleaf Ridge Farms in Camilla, Ga., grows sweet corn (spring and fall) and peanuts on sandy ground, along with field corn and soybeans on the level land of Mitchell County. Outpacing row crops, Cox has more acreage in timber production and timber preservation, adding to the timeless, pristine appearance of a property that rubs against the stunning beauty of the Flint River. It's a unique ecological environment dictated by the Flint, a flow Cox considers part of the lifeblood of her farm, and in many ways, the winding river knows her name: "It's a special part of our family and it's a part of our lives," Cox explains. "I've grown up on the Flint River, and whether I'm in it or walking beside it, it's the way I recharge."
Prior to full-time devotion at Longleaf, Cox led the Flint River Soil and Water Conservation District for six years, and learned the media ropes, going from local television spots to RFD-TV's FarmHer series to a season one appearance on Netflix's Rotten. Each interaction was an opportunity, Cox emphasizes:  "I never imagined being in the spotlight, especially on camera, but I am grateful for every opportunity to cast the agriculture industry in a positive light."
In 2019, Sesame Street, as part of its Foodie Truck segment—helmed by the classic presence of Cookie Monster—began planning a feature on peanut butter. A hired crew (Film Captive Productions) out of Atlanta contacted the Georgia Peanut Commission, in search of a spotlight farmer. Since returning home to south Georgia, Cox had become very involved in advocating for the peanut industry, including participating in the Peanut Leadership Academy. Due to her past experience, Cox was tapped for the Sesame Street role, and after the production team watched a bit of GoPro footage of Cox at Longleaf, the questions were over: Sesame Street had found its farmer. "It was certainly different, and out of my comfort zone," Cox explains, "but I was all in right from the start."
However, there was a slight problem, or more accurately, a sizable problem: There wasn't a peanut plant in sight. Filming was set for February—a month when fields are bare and far removed from May planting. Cox began a tristate, all-hands-on-deck hunt at USDA research facilities, University of Georgia, University of Florida, and Auburn University, in search of a token peanut plant. "It was Sesame Street," Cox recalls with a grin. "We were going to make it happen no matter what." (A single potted peanut plant was obtained, but never made it on camera.)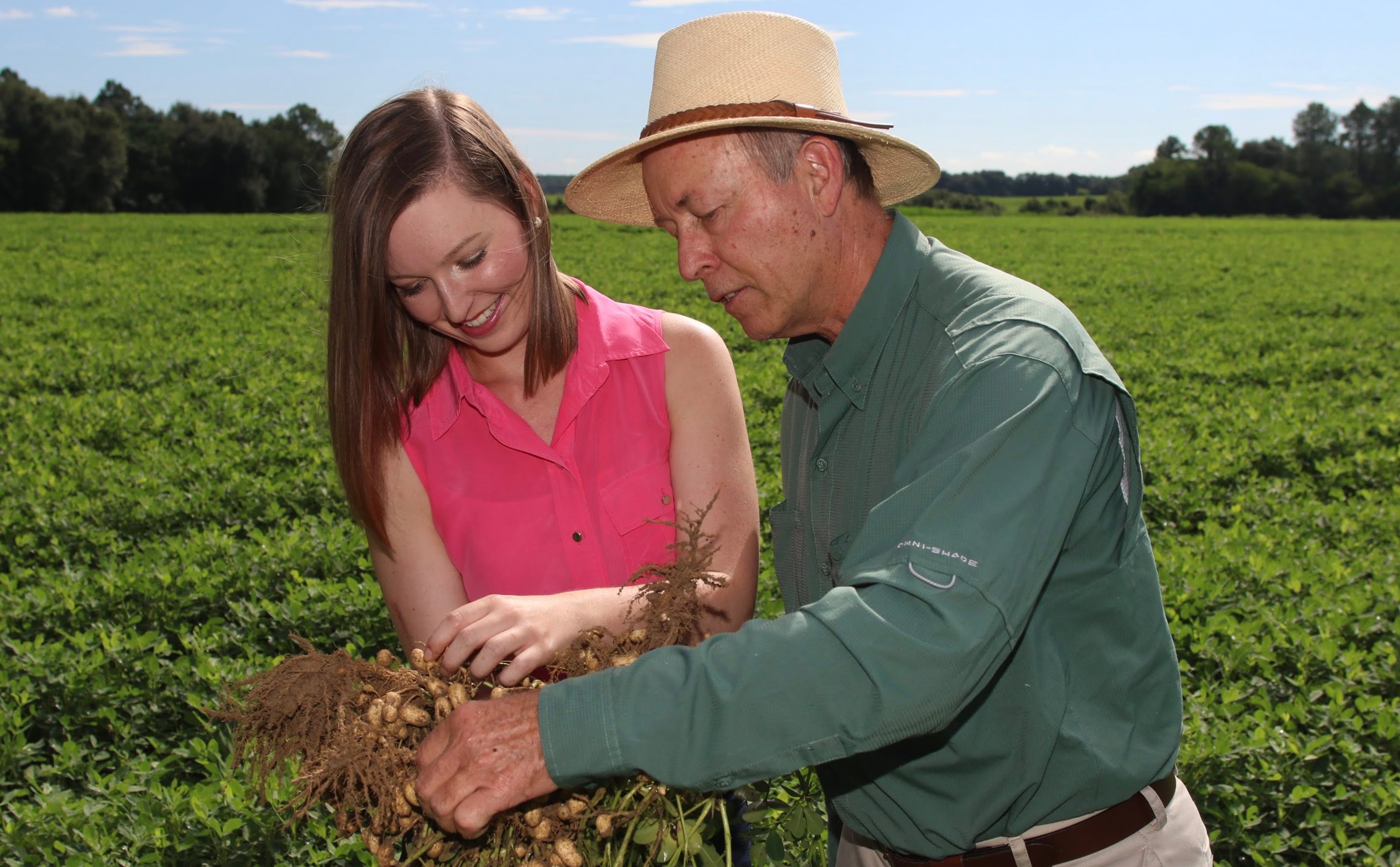 Fortunately, a few months prior during the fall, the National Peanut Board had filmed three farm families at harvest for a promotional video, including the Cox operation. Translation: Sesame Street had access to Cox's B-roll footage.
The film crew shot Cox on a tractor, and then spliced the video with B-roll to make up for the disparities. The crew then filmed processing in a peanut butter factory with Cox performing the voiceover. All told, despite the hurdle of February production, the finished product was seamless and included in episode 12 of season 49.
"Best Opportunities"
Cox maintains the highest praise for the Sesame Street crew: "I commend Sesame Street because they were a total pleasure to work with, and the Foodie Truck series is a brilliant concept and great way to reach children with where their food comes from. As an agriculture industry, we need to seize every opportunity to broaden our platform and reach more people. Working with an iconic partner like Sesame Street was an invaluable opportunity."
As media windows open for other farmers, what is Cox's advice? "Never be afraid to get uncomfortable because one door may open another. As a farmer, you know more about your subject than you realize because it is your life, and people want to hear from you."
"You never know where your efforts might lead to next," Cox concludes. "I never imagined I'd be on Sesame Street, but how can I top it? That experience has been one of the best opportunities of my life to promote agriculture."
For more, see:
Grizzly Hell: USDA Worker Survives Epic Bear Attack
Rat Hunting with the Dogs of War, Farming's Greatest Show on Legs
Misfit Tractors a Money Saver for Arkansas Farmer
Predator Tractor Unleashed on Farmland by Ag's True Maverick
Government Cameras Hidden on Private Property? Welcome to Open Fields
Farmland Detective Finds Youngest Civil War Soldier's Grave?
Descent Into Hell: Farmer Escapes Corn Tomb Death
Evil Grain: The Wild Tale of History's Biggest Crop Insurance Scam
A Skeptical Farmer's Monster Message on Profitability
Farmer Refuses to Roll, Rips Lid Off IRS Behavior
Killing Hogzilla: Hunting a Monster Wild Pig  
Shattered Taboo: Death of a Farm and Resurrection of a Farmer     
Frozen Dinosaur: Farmer Finds Huge Alligator Snapping Turtle Under Ice
Breaking Bad: Chasing the Wildest Con Artist in Farming History
In the Blood: Hunting Deer Antlers with a Legendary Shed Whisperer
Corn Maverick: Cracking the Mystery of 60-Inch Rows
Blood And Dirt: A Farmer's 30-Year Fight With The Feds
Against All Odds: Farmer Survives Epic Ordeal