Bayer Says Digital Solutions Are Key To Reducing GHG Emissions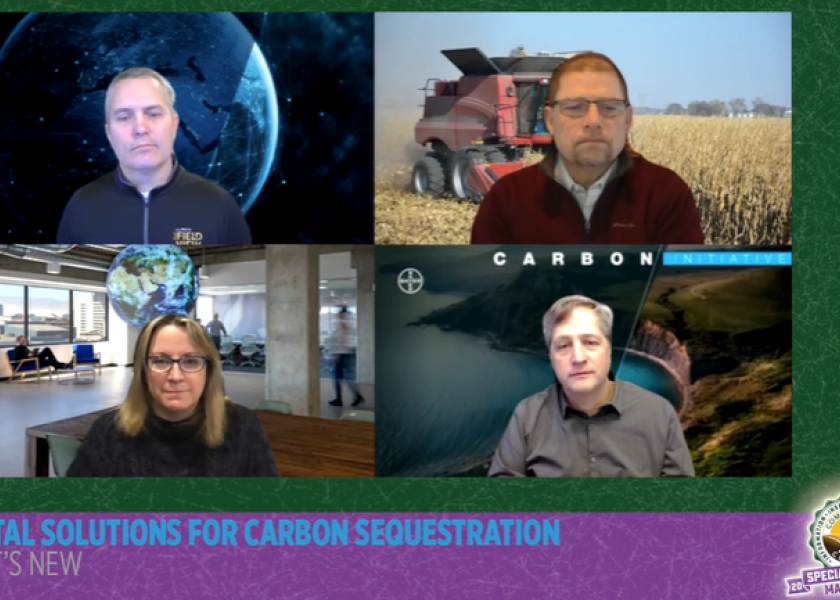 Last summer Bayer Crop Science launched its Bayer Carbon Initiative incentive program for U.S. corn and soybean growers in nine states. For adopting specific conservation practices, such as cover crops, no-till and strip-till, participating farmers were paid cash or given discounts for the company's crop protection products.
2020 laid the groundwork for future, long-term success, says Pamela Bachman, digital agriculture and sustainability manager at The Climate Corporation.
"At the end of the day, this (program) can create a new value pool of revenue opportunity for farmers and Bayer beyond just the harvest," she says.
Ultimately, she explains, Bayer expects the program to help agriculture reduce its carbon footprint and greenhouse gas (GHG) emissions. The company has committed to achieving a 30% reduction in field greenhouse gas emissions by 2030 in regions where the company operates.
To demonstrate its success now and over time, the company is focused on addressing what Bachman calls the three key letters – MRV – which stand for measurement, reporting and verification. At the core of its ability to accomplish this is Bayer's Climate FieldView digital farming platform. Farmers in the program log data about their practices and their claims are then verified by satellite imagery.
"Having this digital connectivity between the data coming in through the FieldView platform, the use of satellite imagery, we can really start getting at how we quantify greenhouse gas emissions on the farm, and also enable that verification and reporting," Bachman shared during a panel discussion at the 2021 Commodity Classic.
When farmer Mark Heckman decided to participate in the Bayer program his interest level was based more on the verification opportunities Bayer could provide and less on the cash payment.
"The biggest benefit of being a part of these types of programs is the opportunity for self-improvement," Heckman says. "Sustainability for me means that that our operation continues on, that we're making improvements and doing things better. So, the biggest reward from this and other programs is that they help us improve our operation from within."
Bachman says the connectivity provided by the company's digital platform will make it easy for Bayer to expand and scale its carbon initiative program. "We can move from 200,000 acres this year on up to 2 million or 10 million acres in the future, and digital tools can play a really big role in that," she notes.
"Looking at carbon reduction or greenhouse gas reduction is not just something for the United States," Bachman adds. "At the end of the day, we're looking at how do we roll this out globally to our farmer customers around the world. And again, having an easy-to-use digital platform enables us to connect everyone and make it easier for the farmer."
More information about the Bayer Carbon Initiative program and how to enroll is available at www.bayercarbon.com