3 Ways to Stop Weeds From Stealing From Your Bottom Line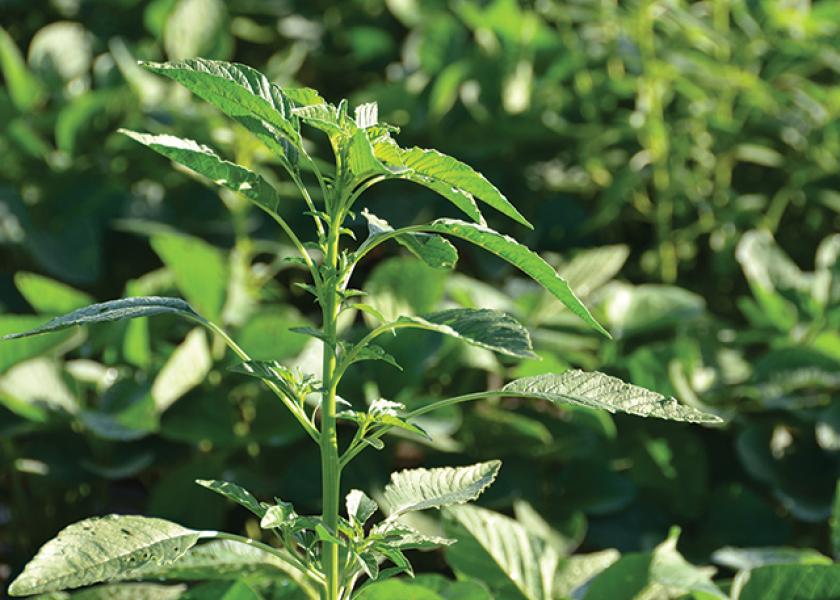 That ugly patch of weeds the combine just tore through is costing farmers money. One Amaranthus species — waterhemp or Palmer amaranth being the most common — for every 3' of row can reduce yield by up to 30%, according to experts at the Weed Science Society of America (WSSA).
"For the current year, look at when did the weeds escape, what control measures did you use?" asks Bill Johnson, Purdue University Extension weed scientist. "What weeds do you have?"
When did weeds escape?
Depending on what stage of the crop's lifecycle the weeds emerge, growers could see weaker, suppressed weeds that don't steal as much yield, or strong, huge weeds that wreak havoc.
Late season escapes: can cause damage to the combine and weed seed buildup averages out to $10 more per year for easy-to-control grasses and some broadleaf weeds, and $20 per acre per year for more troublesome weeds such as waterhemp in weed control costs, Johnson says.
Early season weeds: if the weeds grow faster than the crop, it can greatly damage yields. If the weed doesn't emerge until four weeks after the crop emerges, yield impact is far less because of the crop canopy's control. Pre-emergent herbicides with residual help keep weeds at bay until the canopy closes.
What control measures did you use?
Know which herbicide was applied where. Use this information to determine: if the herbicide was applied in a timely manner, if they were using multiple modes of action, if the herbicide is effective against their problem weeds and if there is new or emerging resistance on fields that needs to be accounted for.
Timeliness: Kill weeds before they reach 4" tall for the greatest control.
Multiple modes of action: If a weed is resistant to one herbicide, but not two, it helps stave off the buildup of resistant weeds.
Effective herbicide: Using a herbicide a weed is resistant to allows the weed to continue to grow and produce seed — still costing money without the desired outcome.
Emerging resistance: If your research shows it's not application error, you might have new weed resistance in fields. Work with Extension agents to confirm.
What weeds do you have?
This will take some legwork — by either you or your farmer customer. Figure out which weeds are present, what might have escaped and what that means for the crop.
Once you identify the weeds you had this past year, work closely to ensure the pre-emergent and any postemergent herbicide will be effective against these driver weeds. Don't ignore the ones that seem less problematic; every weed steals yield.