Verdesian Awards Retailer $30,000 To Spend On Community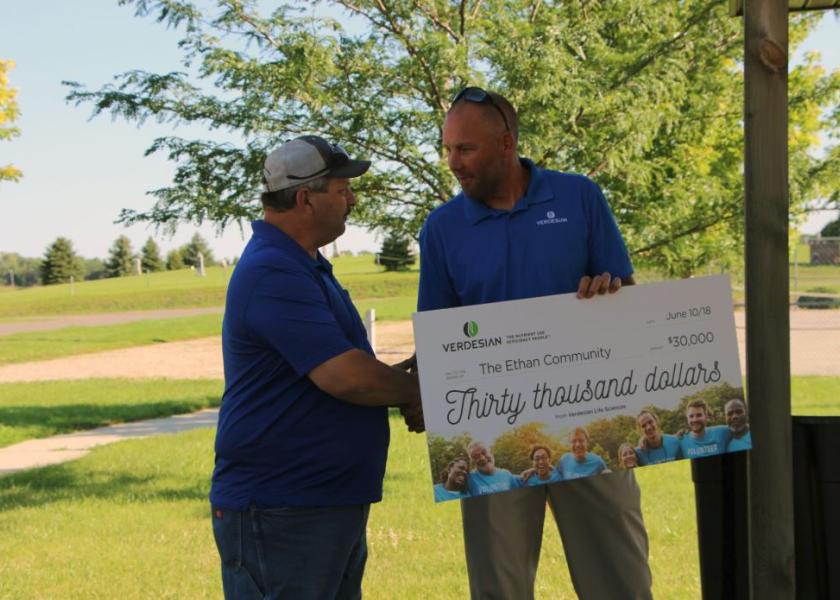 On Thursday, July 17, CHS Farmers Alliance in Ethan, SD was officially awarded $30,000 from Verdesian Life Sciences. This was a giveaway part of Verdesian's Performance Guarantee, and the retailer selected community organizations to receive the money.
Mark Endres, manager at the co-op entered the giveaway, and then as the winner selected five organizations in the community:  $8,000 to upgrade the baseball diamond park, $10,000 for the public school, $5,000 for the city, $4,000 to complete the American Legion memorial park, and $3,000 to fund children's art classes and other needed resources at the community center.
This was the first year for the Verdesian Performance Guarantee, which provided a full refund for first-time users of Avail and/or NutriSphere-N if they don't see a return on their input investment. There were then two giveaways—one for a retailer and one for a farmer. Almost 500 retailers entered for the random drawing. And the farmer winner was Marland Bode who is from Stitzer, Wis., and is a customer of Reddy Ag. Bode won an Ford F-150 truck.
"We are really trying to get our image out in the industry—we are a small company, we're very family oriented, and most of our employees come from small communities," explains Dave Schwartz vice president of sales in plant nutrition at Verdesian. "It really meant a lot to present an award to a retailer who could then give it back to his community."
And in the future, Schwartz says the program will expand.
"We are going to announce more Performance Guarantees real soon, including more comprehensive performance guarantees that include more products. We have some of the best and cleanest chemistry in the nutrient use efficiency space and we want to promote that."