What Farmers Want And How COVID-19 Brought More Change Faster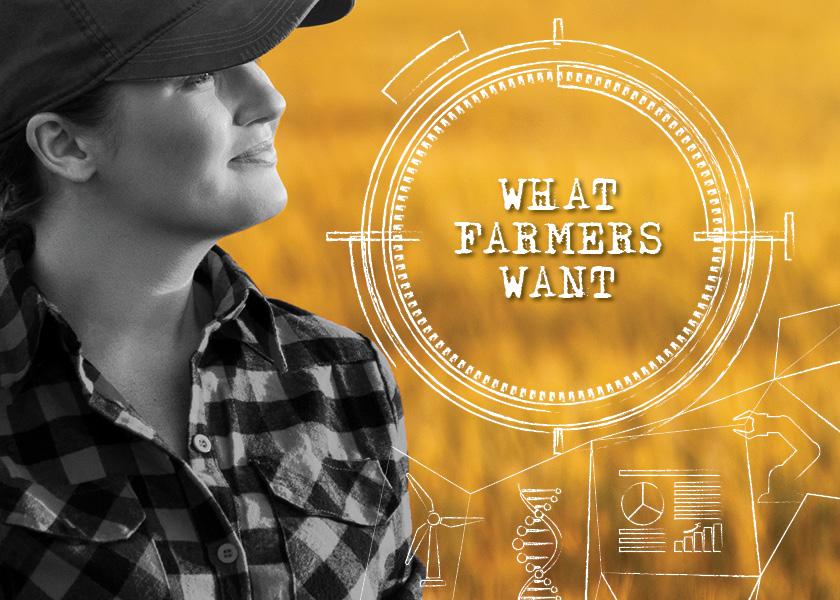 How is your business going to remain relevant in the coming five, 10 or 15 years? That's the primary question studied in 2020 in a partnership between Aimpoint Research and The Scoop. 
"We launched this effort earlier this past spring, and it reveals how many leaned into the acceleration that occurred with COVID and how businesses reacted to it as an opportunity," says Scott Caine, president of Aimpoint Research. 
The email survey received 797 farmer responses, and the results were layered with Aimpoint Research's Farmer of the Future psychographic profiles. The research builds on each effort, so key takeaways can be pulled forward to specifically answer what is being asked of ag retail by farmers who are most likely to still be in business in 2040.         
As Caine explains, to frame the situation, we are living in the fourth agricultural revolution. With technology advancements, the business of agriculture is changing.
"Boiled down, what we are talking about is food security. And what we are seeing is the digitization of agriculture including precision ag, automation and gene editing," Caine says.Farmers will be required to be adaptable and have business acumen. Likewise, retailers will need to deploy strategies that align themselves closely with those savviest of farmers. On Jan. 21, Farm Journal is hosting a webinar with Aimpoint to dive deeper into the Farmers of the Future and this retailer-focused research. Free registration is available at FarmJournal.com. 
As an overview, here are five key takeaways that show how ag retailers can position themselves for success: 
1.  Up to 75% of farmers of the future identify as innovators or early adopters of technology
"As retailers look to remain relevant, the farmers who are adapting to change and leaning into innovation are the most demanding of our time. And if we don't deliver it to them, they seek counsel elsewhere," Caine says. 
As the two segments who step out as Farmers of the Future, Enterprising Business Builders and Independent Elites are more likely to identify with an eager approach to technology. From the research, you can see how there is value in identifying how you can remain close to those farmers and demonstrating your value to them. 
Now is a key time to assess where you are with staying cutting-edge, where your customers are and how you can pivot to remain aligned with the customers of the future.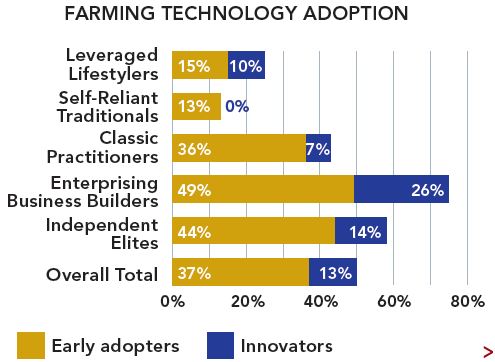 2. Loyalty is strong, but it's a fickle beast
"The reality is farmers are asking retailers to help them accommodate changes happening in the marketplace and to be in lockstep with them," Caine says. 
Of the respondents, 54% say that their top retailer has changed in some way since they started working with them. If loyalty is measured in consistency, then farmers seem resistant to shift away from a relationship. Farmers have come to expect changes, and it's even something that's important to them.
"There's a deep well of loyalty. However, loyalty is being challenged in a new way," Caine says.
Today's loyal customer should not be taken for granted or overemphasized in your future business planning. As an example, the study asked farmers how long they had been doing business with the retailer they spent the most money with. Nearly two in five have spent more than 20 years with that retailer. 
"But the majority of those people fall into Leveraged Lifestylers or Self-Reliant Traditionals—they are either struggling with finances or unwilling to change their practices," Caine says. "There is loyalty, but understand who is loyal and how they are driving your business' future. The most loyal are seeking consistency and aren't the most innovative. They are a minority of your future customer base."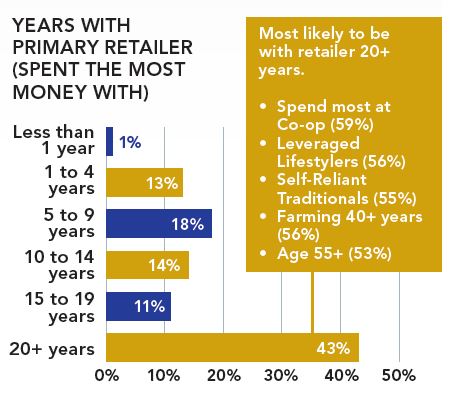 3. Strengthen your business with the products and services the farmers of the future are seeking
"We see changes over time so that what is provided and which is most important are not the same thing," Caine explains. 
The research shows basic products—fertilizer, seed, crop protection and application services—are table stakes for what farmers need from ag retail. However, data management and precision ag services are notable needs stated by a key segment of Enterprising Business Builder farmers aged 19 to 44 years old, who farm 2,000+ acres. 
"There's an interesting dichotomy going on here," Caine says. "There are farmers saying they expect retailers to change, offer more products, offer better services. And there are those who say they don't want you to change, but I'm going to stay with you. Here's my takeaway: you are not going to lose the most loyal customers if you change and accommodate for the future; however, you might lose customers if you do not continue to stay on track with what is moving us forward."
It's not surprising the top emerging products and services require professional advising services. Demonstrating competency by staying abreast in these areas will provide high return on investment. 
"Farmers are looking for someone to help understand their data, collect data and monetize the data. They are producing massive amounts of data and may not know the value. They are looking for guidance in how to gather, leverage and assess that intelligence, so they can improve the operation and their efficiency," Caine says. 
4. COVID-19 has accelerated change, has not been a primary driver
"We spend a lot of time asking people what most impacts their business. And COVID has accelerated the pains that are felt by those who are under distress, and it accelerated the opportunity for the men and women who say, 'I'm going to control this market. And I'm going to move forward,'" Caine says. 
When asked how impactful stated issues have been on their businesses in the past 12 months, farmers said the top answers are commodity prices, weather, profitability, input costs, yield and trade. COVID-19 ranks seventh. Applying Farmer of The Future segmentation to the responses unveils different effects COVID is having on farmers.
"Leveraged Lifestylers see external factors as insurmountable." Caine says. "Enterprising Business Builders, they change their go-to market or move in a way that embraces the change."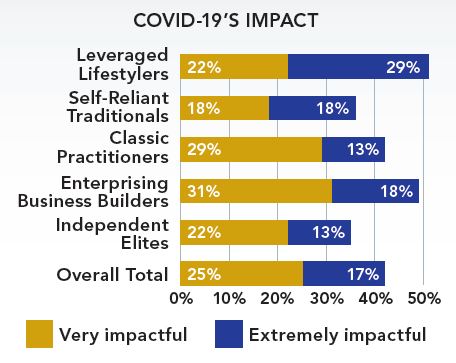 5. Continuity will be based on trust 
"Shoring up our business means every person is coming to our business with different circumstances and different responses. It's about how we meet them where they are," Caine says. "It's about our relationship and shared values." 
The research reinforces that price is not a driver in the relationship. But rather, consistency in providing products and services when needed is paramount. 
Continuing to engage with your customers is key, and that's perhaps where COVID-19 has thrown the greatest challenges with reduced face-to-face contact.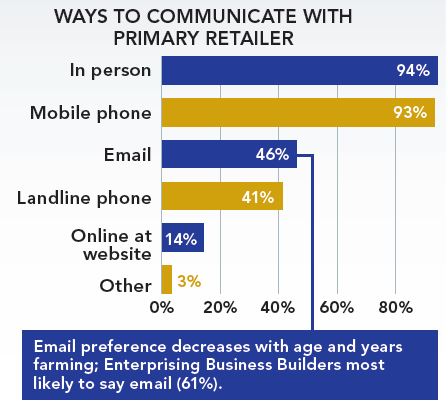 "It's key you continue having the confidence and competence to be trusted by farmers," Caine says. 
The study further illuminates how farmers and retailers have relied on in-person and one-on-one communication. Retailers who have been able to be creative and flexible will continue to be able to demonstrate to farmers their willingness and ability to support them through unknown times.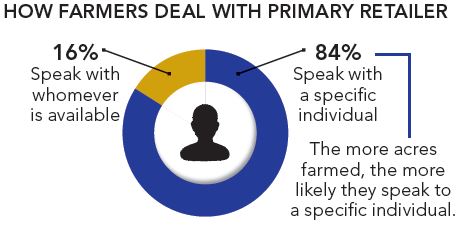 Free Webinar: