Price Gouging or Price Reality? Anhydrous Ammonia Prices Climb 60% Since Fall
Fertilizer Price Shock 031521
It's the perfect storm in the worst way for fertilizer prices. Higher demand and a strain in supplies are causing prices to soar.
"I've been in the industry for 20 years now, and I cannot remember it ever jumping this far this fast," says John Linville, a fertilizer expert with StoneX.
Fertilizer prices continue to climb headed into spring, with farmers saying the sticker shock is getting worse.
$390 in fall and $655 now (NH3). Central IA — Dustin Ritter (@DRitter85) March 10, 2021
A farmer in central Iowa says anhydrous ammonia prices shot up nearly 60% since fall and are now at $655 dollars per ton. It's a similar story in Kansas. One farmer prepaid $389 in September. Today, it's $650. In the Texas Panhandle, anhydrous prices went from $325 a ton in January to $600 a ton today. And in west-central Missouri, December posted prices at $475. Today, it's $700 dollars per ton.
We paid $389 full prepay last sept , prepaid some at $430 2 months ago for new farm . Last week $580 . $650 today ... thank goodness for prepay — Jeremy Olson (@JeremyOlson12) March 11, 2021
In January, I booked 10 loads of NH3 at $325. I needed one last load this week. It was $600/ton — Casey Kimbrell (@CBKimbrell) March 11, 2021
$475 in Dec. $700 today. ? — Jeff Nail (@jeffnail2) March 11, 2021
"You have to go back at least half a decade to see values of where we're at today," says Linville. "It's been a stark turnaround compared to where we were last summer."
While prices push higher, Linville says price gouging isn't at play. It all comes down to supply and demand.
"It seems like the entire '21 fertilizer year – which starts back in July – it seems like it's been the perfect storm scenario for almost everything, and anhydrous is absolutely no different," he says.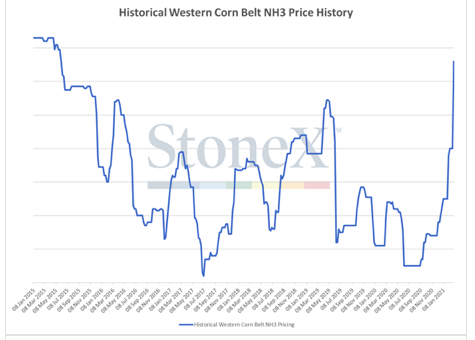 The perfect storm started with the runup in commodity prices, which meant more inputs were applied last fall.
"We believe that there are north of 2 million tons applied in the fall season," Linville adds. "So, what that does to anhydrous – from a storage and logistical standpoint – is extremely finite. There's only so much out there. And we emptied that system."
Tight supplies not just here, but around the globe.
"So, global values have been skyrocketing," adds Linville "And then of course as we empty the storage, the demand is all of a sudden very good, because again, you look at last fall when we had government assistance checks come out and grain prices have skyrocketed.  Demand is very high in relation to supply."
But he says supply strains happened again in February, as the arctic blast caused natural gas to be rerouted to people. As a result, nitrogen plants either slowed or shut down. 
"All of a sudden we lost a lot of production," says Linville. "And it took a while for these plants to come back online. They're very complicated systems, it's high pressures, it's high temperature. You don't flip a light switch and just start pumping out anhydrous."
As some plants were forced to shut off production for nearly two weeks, prices skyrocketed.
"That's the thing that triggered it and with this alone last week, we saw prices jump $115 a ton," says Linville.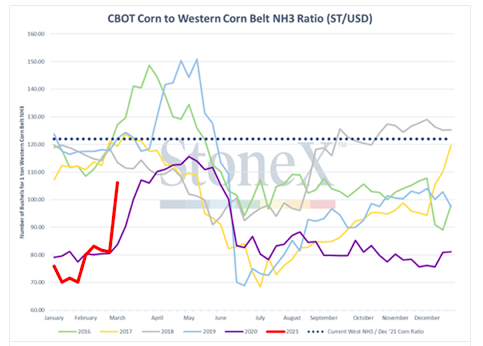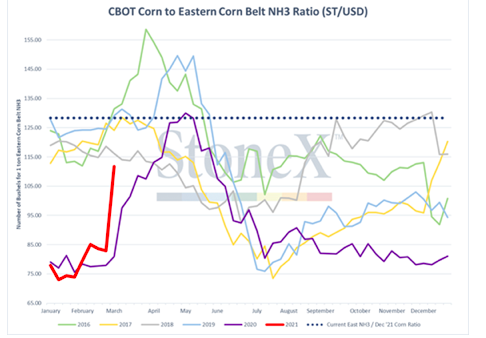 StoneX says when you compare the price relationship between corn prices and anhydrous ammonia (NH3), it isn't the lowest price ratio farmers have seen in the past five years, but it isn't the worst, either.
As supplies stay short with planting already here in some areas, the price pain may not be over yet.
"I am leaning more towards this might be a little bit longer lived," he says. "I say that because it looks like this season is going to start early, that is going to put a lot of pressure on the limited supplies that are out there. I don't think that we can produce enough to make up that difference in the coming weeks."
To stay up-to-date on the latest fertilizer industry news, sign up for StoneX's Farm Fertilizer Newsletter. 
Related Stories: 
Mosaic Wins Countervailing Duty Case as Supply and Price Strains Continue
Faced with High Fertilizer Prices? Here's Why Sticker Shock Could Last Through Spring
Phosphate Prices Hit Highest Level Since 2012, As Nitrogen Prices Climb