New, Free Publication Addresses Fungicide Efficacy For Soybean Foliar Diseases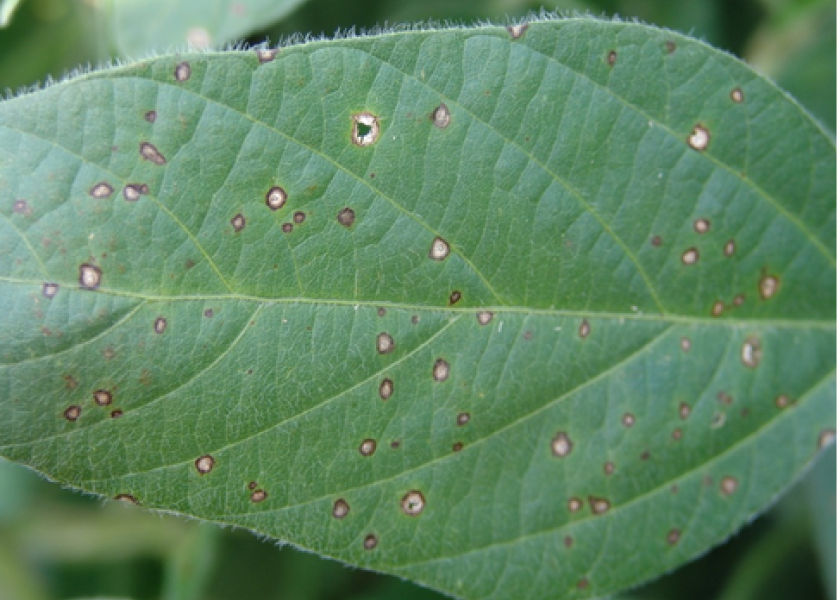 Daren Mueller used to have a standard response when farmers would ask him what fungicide was best to use in their soybeans.
"Fifteen years ago, I would say they all work pretty similarly as long as you get it out there at the right time, you get decent coverage and you don't screw up the application," recalls Mueller, Extension plant pathologist at Iowa State University.
Now, that's no longer the case, because some foliar diseases have developed resistance to some of the current fungicide technology in the marketplace.
"A farmer has to really reflect on what diseases he or she has or suspects they have in their field and then select a fungicide accordingly," Mueller says. Even then, some diseases are tough to rout.
"If you have frogeye leaf spot, there's a darn good chance that you are dealing with the resistant strain," he says, adding that Illinois, Iowa and the mid-South are areas where the resistance problem prevails.
"It's pretty hard to find sensitive strains of frogeye leaf spot out there anymore unless you're somewhere, like in parts of Wisconsin, where it's not as common," he adds.
Farmers looking for guidance this season on selecting a fungicide can get help from a new, free publication developed by the Crop Protection Network (CPN), Fungicide Efficacy for Control of Soybean Foliar Diseases
Mueller is co-director of the Network, a multi-state, international partnership of university and provincial Extension specialists, and public and private professionals that provide unbiased, research-based information.
Even with the new publication, Mueller says farmers still need to evaluate what disease problems they have and whether a fungicide will deliver control and an adequate return on investment.
"There are some products, solo products and premixes out there, that rely on QoI (technology) that's not effective as it once was," he says. "So, you have to do your homework on what's left and make your decision. And hopefully, this fungicide efficacy table can give you a little bit of help as you make a decision."
Five Soybean Diseases to Scout
"New" Corn and Soybean Diseases Present Seed Selection Challenges