Markets Now with Tyne Morgan: Here's Why USDA's Acreage Number Could Grow
USDA issued its first look at acreage this week during the annual Ag Outlook Forum. USDA's chief economist Seth Meyer showed projections that pointed to corn planted acres coming in at 92 million and the number of acres planted in soybeans this year is expected to reach 90 million. The combined total for corn and soybeans would set a new record.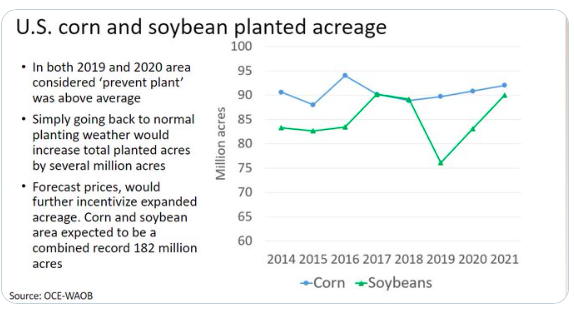 Meyer said the estimates were based on normal weather and normal prevented plant acres this year. But with a drought monitor that shows drier weather conditions gripping much of the Corn Belt, Mark Gold of Top Third thinks the acreage forecast will grow before spring.
"I think it's going to be even bigger–weather permitting," says Gold. "They have corn acres at 92 million, I think it could be 2 million more than that. They have bean acres at 90 million. I think that could go up."
Gold says if weather cooperates this year, farmers are seeing incentives to get more crops planted.
"With the insurance levels where they're at right now, farmers are going to plant fence post to fence post," says Gold. "I didn't think the USDA would get too aggressive on big numbers right now, but I think when we see the March 31 planting intentions number, they're going to be huge numbers. And then it becomes a game of what's the spring weather going to be? And can they get it in the ground?"
Arlan Suderman of StoneX agrees farmers have more financial inventive this year to overcome weather challenges and plant as many acres as possible.
"Keep in mind that everything out of the USDA outlook forum was pretty much just economists talking among themselves and running numbers and thinking what ought to happen," says Suderman. "Now we get into the private surveys and we get into what's actually happening on the farm. And last year, we had 8 million prevent plant acres of corn and soybeans plus some others that were largely because there were some planting problems, but there wasn't an incentive to try to overcome those planting problems like we had the year before when some farmers took the insurance payment. This year, the incentive is there."
Suderman thinks farmers could also plant more double crop soybeans if the right weather conditions occur, a factor that could also add to the acreage total this year.
"One of the things I'm watching is what kind of spring will we have" he says. "We're looking right now at an outlook for a warm spring in the plains and maybe dry, which tends to speed up the maturity of the hard red winter wheat crop, perhaps add warmth, also across the southern soft red winter wheat belt as well. That could speed up development of the wheat crop and encourage more double cropping of soybeans behind wheat as well. The farmer gets very creative in increasing acres when the market gives incentive to do so."