Hunt for ROI Stokes Change for Two Dakota Farmers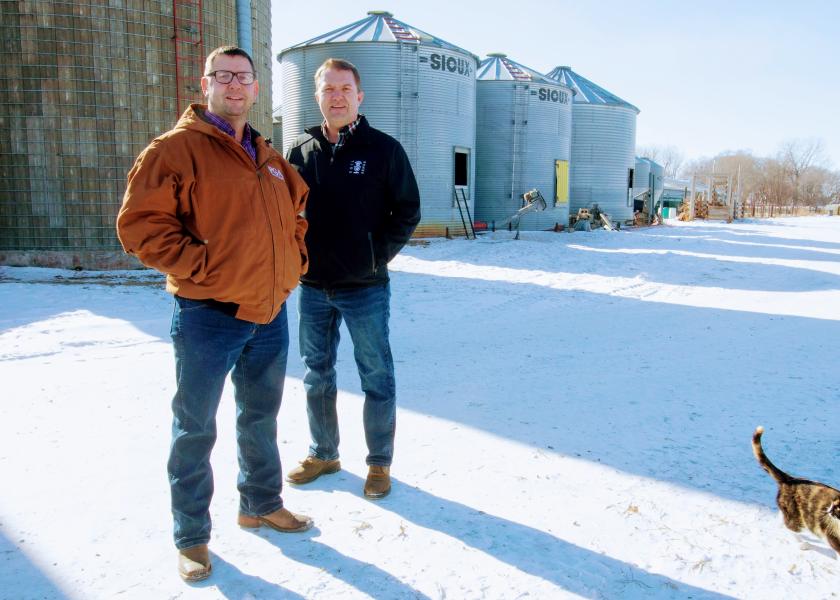 Brothers in arms. Tyler Zimmerman and Chris Walberg, lifelong friends and equipment-sharing neighbors, have overhauled their farm operations with increased crop diversity, intercropping, no till, cover crops, and livestock integration, all the while trading lessons learned from each challenge and success.
In 2014, Zimmerman placed his fields on a reduced input and soil health path, and the effort caught the eye of Walberg, who followed suit with significant changes tailored to his own ground. Intent on saving dollars through reductions in machinery wear, fuel costs, chemicals, and fertilizer applications, as well as increases in soil biology and organic matter, Zimmerman and Walberg, both 46, have changed agriculture horses in midstream, and say the results are improving long-term ROI—as well as igniting a new zeal for farming.
"Jumped Right In"
On heavy soils within the Red River Valley, in Cass County, N.D., Zimmerman grows a mix of dryland crops on what is essentially the ancient glacial bed of Lake Agassiz. In addition, he farms sandier ground on a ridge in close proximity, and in total, Zimmerman works 2,500 acres of canola, cereal rye, corn, flax, millet, soybeans, sunflowers, wheat, and yellow field peas.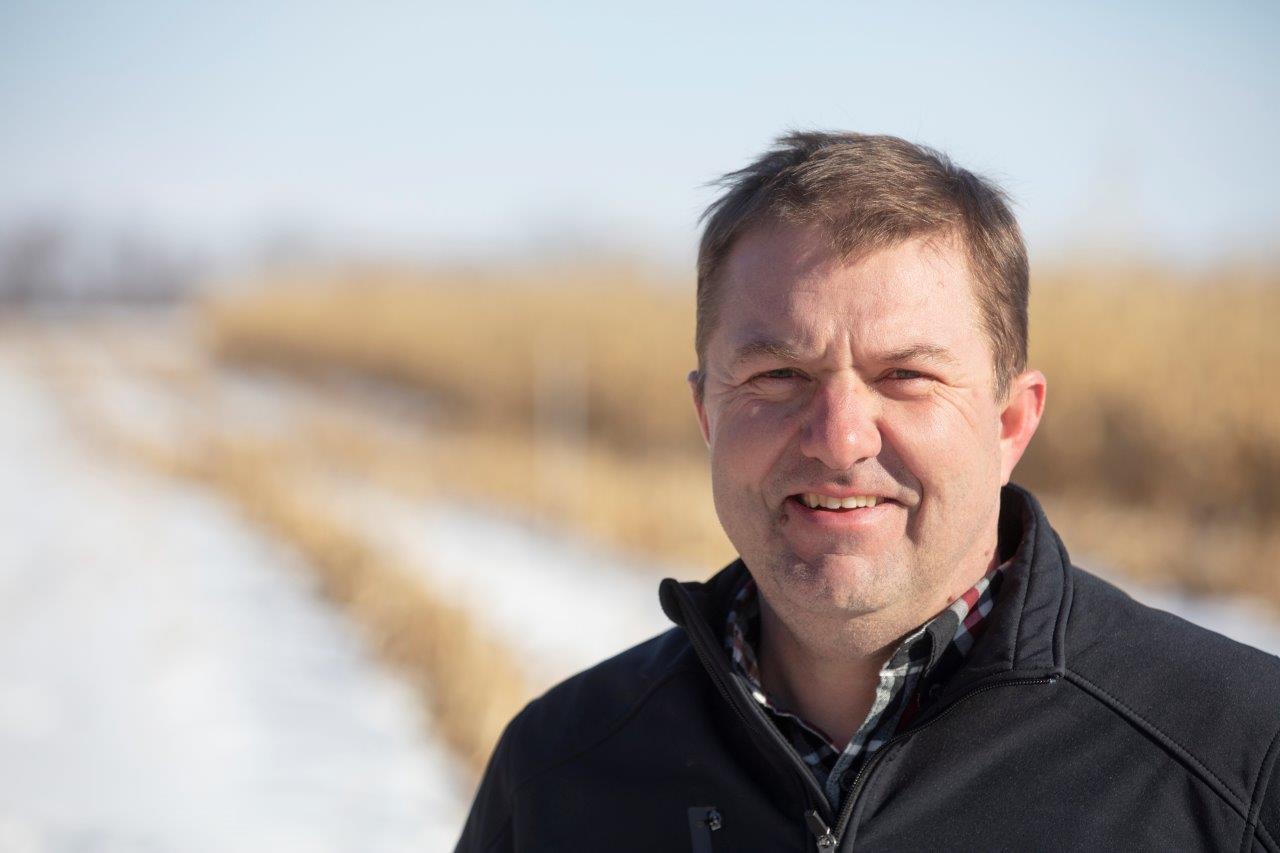 For over 20 years, Zimmerman has been intrigued by the possibilities of no till, despite a region in southeast North Dakota where relatively few farmers engage in the practice. But with no associated equipment, a large portion of heavy ground, and no nearby source of farmer experience, Zimmerman's interest remained largely speculative until 2013, when he planted a cover crop on prevent plant ground and seeded corn the following spring by no tilling in—without a hitch. "It really worked well," he recalls. "That was my initiation and I jumped right in and things snowballed. I didn't know what I was doing exactly, learning on the go, but I knew I was eliminating passes for sure and I started selling all my tillage equipment."
During the fall of 2014, Zimmerman's soil didn't receive any deep tillage, and he was on the cusp of complete no till. "My transition was vertical tillage with a little pass in the fall or a little pass in the spring, and that was it. We were 100% percent no till otherwise after the first year."
Zimmerman strives for a cover crop blanket across his farmland each winter, but complete coverage is not a reality in his geography. For example, 70% of his ground is in covers for the 2020-21 winter. "I do my best, but year-in and year-out, the weather only lets me do so much."
Planter Patience
Patience is a prerequisite of no till production. In Zimmerman's neck of the woods, the planting window is relatively tight due to cool, wet springs. Vernacular translation: If the ground ain't ready for planting—it ain't ready.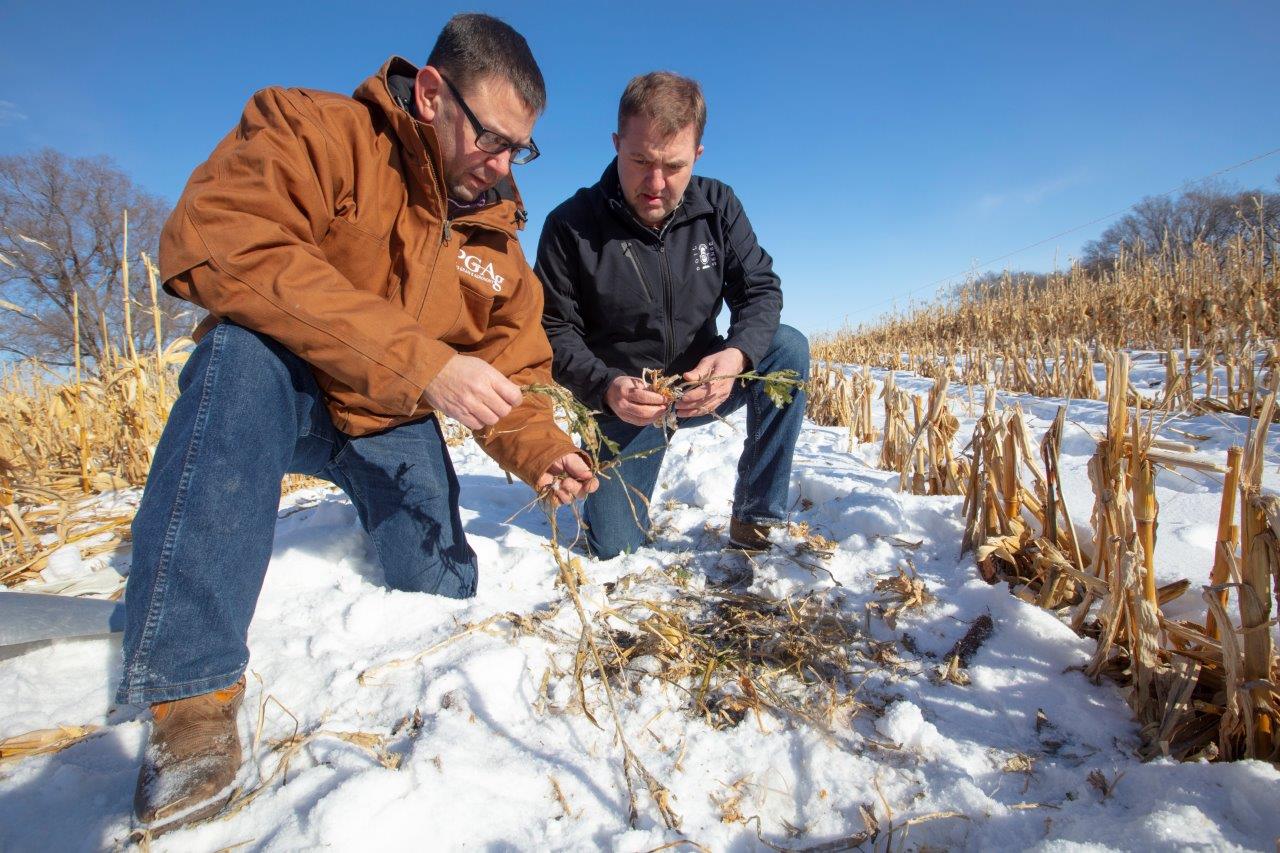 When Zimmerman's neighbors roll, the nearby activity, no matter how alluring, has no bearing on whether his machines are in the field. "I know if I charge out there I'll have emergence issues, because impatience means poor seed to soil contact. When you dig up with a field cultivator, the ground is dry and ready to go seed, but when you no till, you have to let nature dry and warm up the ground."
In just six years, the change in much of Zimmerman's soil is readily apparent. At the turn of a shovel, some of his fields reveal 10-15 earthworms per scoop, a marked difference compared to a near-absence in many neighboring, conventionally tilled fields. "It doesn't take long to see visible differences in texture, moisture, and structure, and also water infiltration," he describes. "After a farm has been conventionally tilled for 150 years, you won't see changes overnight, but you will with time."
And how have corn and soybean yields fared on Zimmerman's no till ground? Soybeans, he notes, have held yield numbers from day one of no till. Corn bushels, however, took an initial dip, but have since climbed back to Zimmerman's standard yield averages. "Corn was a yield struggle the first couple years, but some of that was my patience level. I seeded along with my neighbors, although my ground wasn't ready. I had stand and fertility issues too, but I changed things and added 28% 2x2 with the planter to get nitrogen close to the seed for an early start in cooler soil. Now, in years four, five and six of no till, I'm back to equal corn yields. Like everything in farming, it was about learning."
Connecting the Dots
Ten miles from Zimmerman, Walberg farms dryland across the line in Richland County, mainly on flat quarter sections split by shelter belts. He grows alfalfa, corn, millet for seed, oats, rye, field peas, soybeans, and sunflowers, along with significant cattle production. His farmland is generally sandy (organic matter from a low of .8% to a high of 2%), and arguably better structured for no till or minimum till, with no wet balling effects of heavier clay. Walberg's soil is relatively forgiving, and his acreage lies on the cusp of what was essentially the shallow water area and beaches of Lake Agassiz. Drive roughly a mile south of his operation and the ground turns to sugar sand, conducive to grassland, but not generally hospitable to most row crops.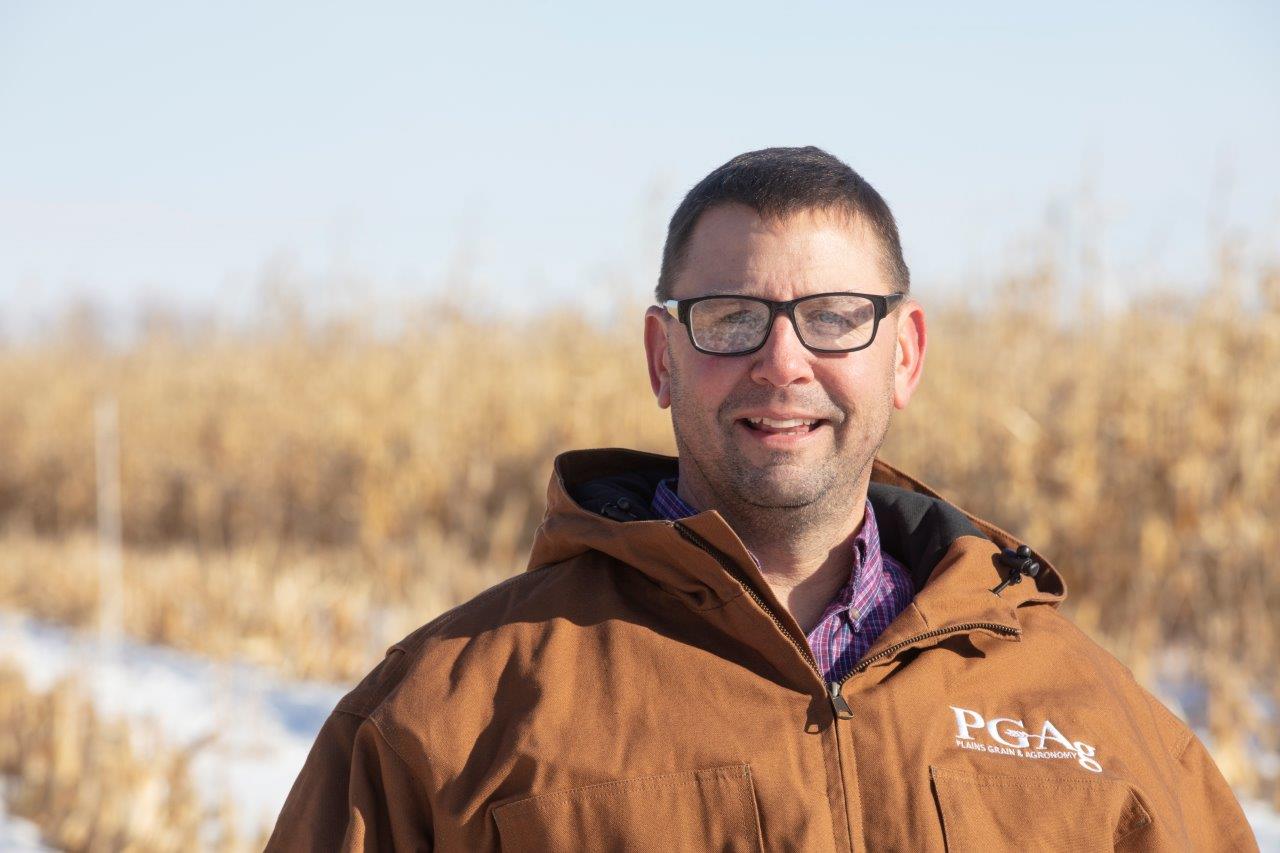 Over the past decade Walberg dabbled in no till, seeding soybeans into corn stubble on a quarter with a hired drill on several occasions, but generally, Walberg remained almost entirely in conventional tillage. Bottom line, he observed signs of no till success, but never seized on the mindset to go full-bore. Walberg watched as cover crops on prevent plant ground served as a major feed source for cattle, but he didn't connect the dots across his land.
However, after watching Zimmerman, his lifetime friend and kindergarten buddy, test the waters, Walberg gained confidence and leaped into the proverbial pool. In 2019, Walberg no tilled 80% of his farmland, and followed with 100% in 2020. In addition, 85% of his ground is in cover crops for the 2020-21 winter. "Tyler was an inspiration for me and instrumental in changing how I farm. I wanted to improve my soil health, reduce erosion, and boost organic content, and reduce pesticide use with beneficial insects. I knew I could also save on fuel and fertilizer in the long-term, and hopefully extend grazing for my cattle. Short-term gains are good, but I was looking long-term, wanting to hand somebody in the next generation a farm in better shape than what I started with."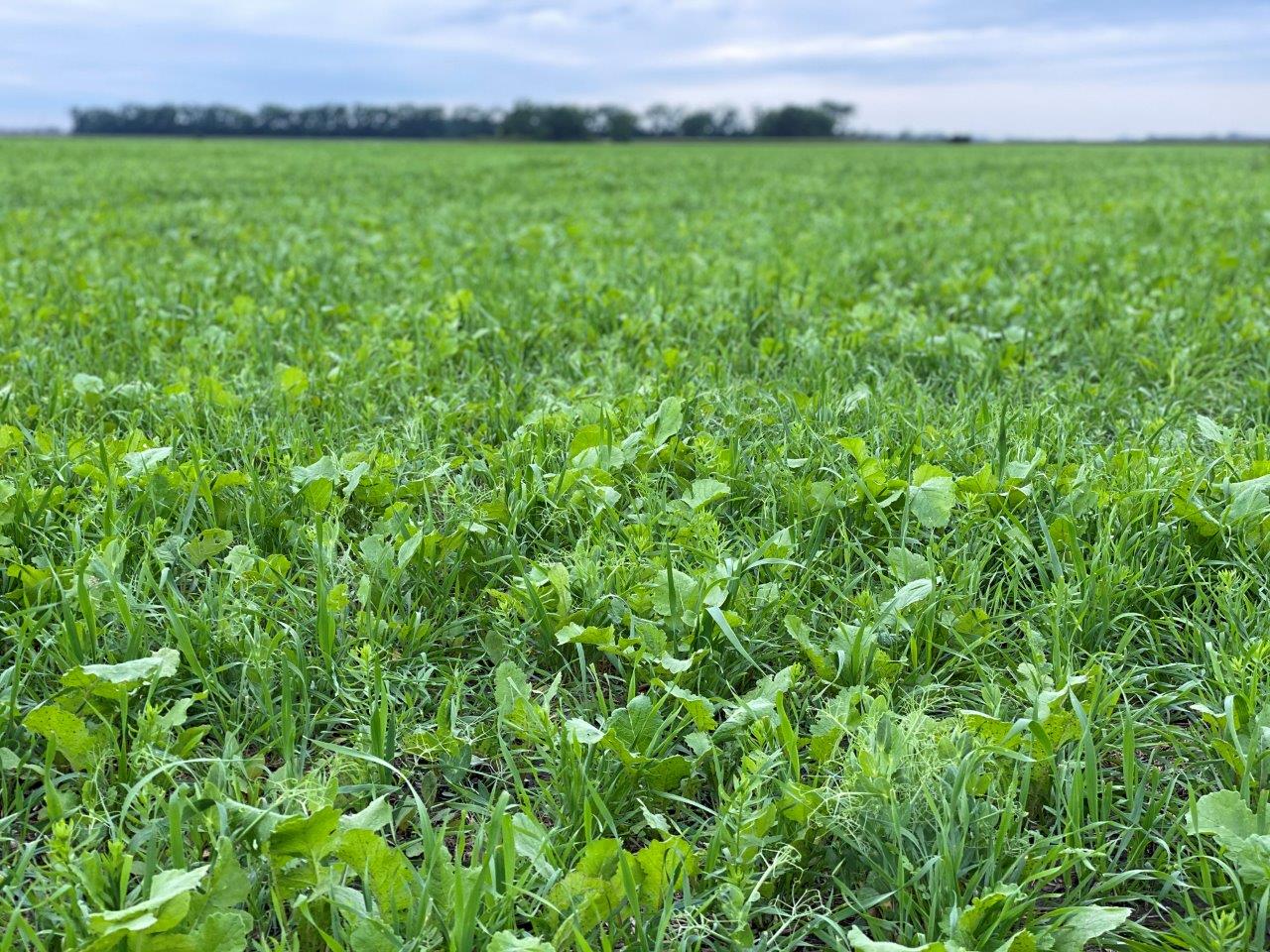 No till corn into soybeans was a major boost for Walberg. In 2019, I no tilled 80% of my corn and it worked well enough to hook me. You always have people saying you can't do that because the soil is too cold, but that's not the case. I'm learning as I go with successes and failures, but the bottom line is improvement. I'm figuring out how to tweak equipment, get timing right and nail the right crop mixes. My soil structure is changing in front of me and earthworms are commonplace where they've never been found before."
60" Corn
In 2020, Walberg trialed corn on 60" rows, as a driver for diversity and grazing potential. "I knew we might take a yield hit of 5%-10%, but I wanted to experiment and find a way to overcome the yield drag. More reasons, I wanted to plant nitrogen-fixing covers to reduce fertilizer applications, and increase organic matter. On top of all that, it can be a win-win for livestock grazing. Nutrition for cattle on corn stalks quickly tails off, but the covers would dramatically change the equation and extend time on the field."
For the 60" corn test, Walberg utilized a 30-acre field with a history of weed issues typically used as a feed lot in winter. After burndown and seeding, the field erupted with a heavy flush of weeds. Walberg sprayed, waited 10 days, and planted a seven-species mix of covers. From that point, the covers emerged and smothered all weed presence, according to Walberg.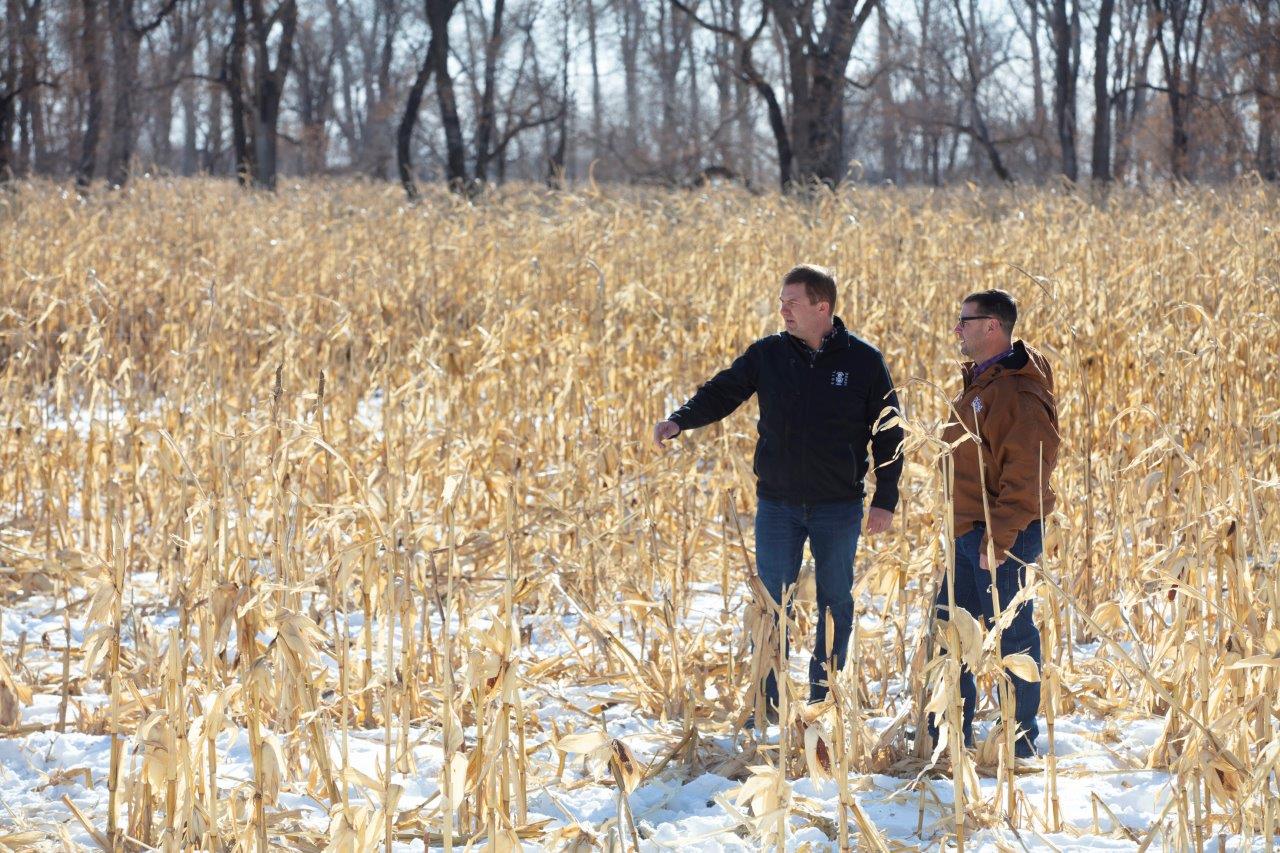 The field was merely a dry-run, but Walberg was very intrigued by the results, and will graze cattle on the 30 acres this winter, although he cut a strip for a yield sample: "Cover growth was tremendous, but we're leaving the field alone to find out what kind of nutritional gains are to be had. I did run a combine through to check the yield numbers which hit 150 to 160, and on that particular soil, super sandy and less than 1% organic, I'll take anything 150-plus. Again, yields were satisfactory and the cover growth was really great. If I find a way to consistently get yields at only a 5% drag, I'd consider taking 60" rows across my entire corn acreage."
Likewise, Zimmerman tried 60" row corn in 2020 on a 40-acre field split with 30" row corn (25 acres of 60"; 15 acres of 30"). However, he met with a 15% yield loss—unacceptable. "The cover crop growth was incredible, but there's no way to do it at 15%," Zimmerman says.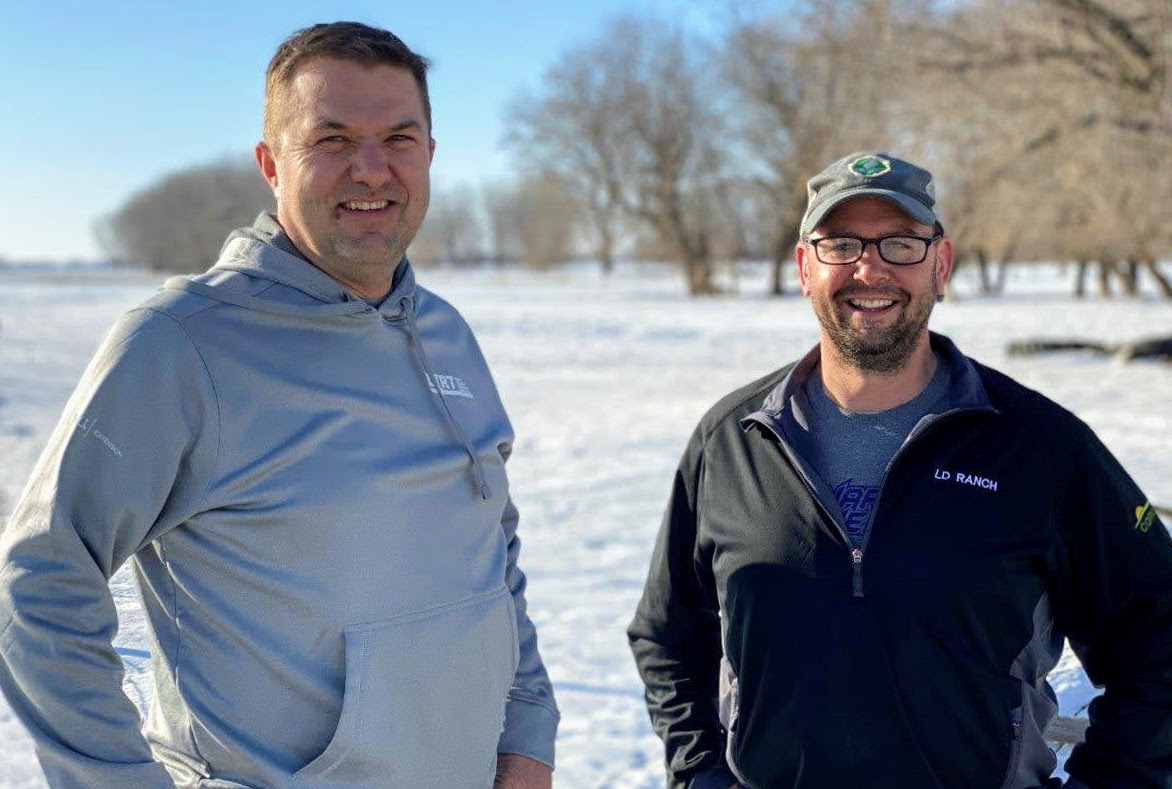 He intends to try 60" row corn again in 2021, shifting the trial to a field that's been in no till for five years. "The benefit is corn plus covers with diversity benefits to next year's crop or grazing or soil health. I think 60" corn is going to be around, but we have to tweak the yield decrease to 5%, because a full season cover providing major diversity plus a cash crop at 95% would be a major win."
Intercropping, Equipment Sharing
Zimmerman intercrops canola and peas, and says the pairing provides major lessons in weed control. In 2019, his first year of intercropping, the field (on heavy ground) took on water damage that triggered weed pressure in the drowned areas, but the rest of the canola and peas were almost weed-free, despite only a preplant burndown and no post treatment. In 2020, his intercropped field was moved to sandy ground, again with only a burndown application, and weeds were a no-show, except in a few alkaloid spots, and a single strip due to error. "We had a screw-up while planting and one of the drill sections didn't seed canola for a 5' band across the field, but overall it was really, really encouraging to see the big lesson on synergy and no weeds. Intercropping can have some huge benefits going forward and I'm very excited to keep learning."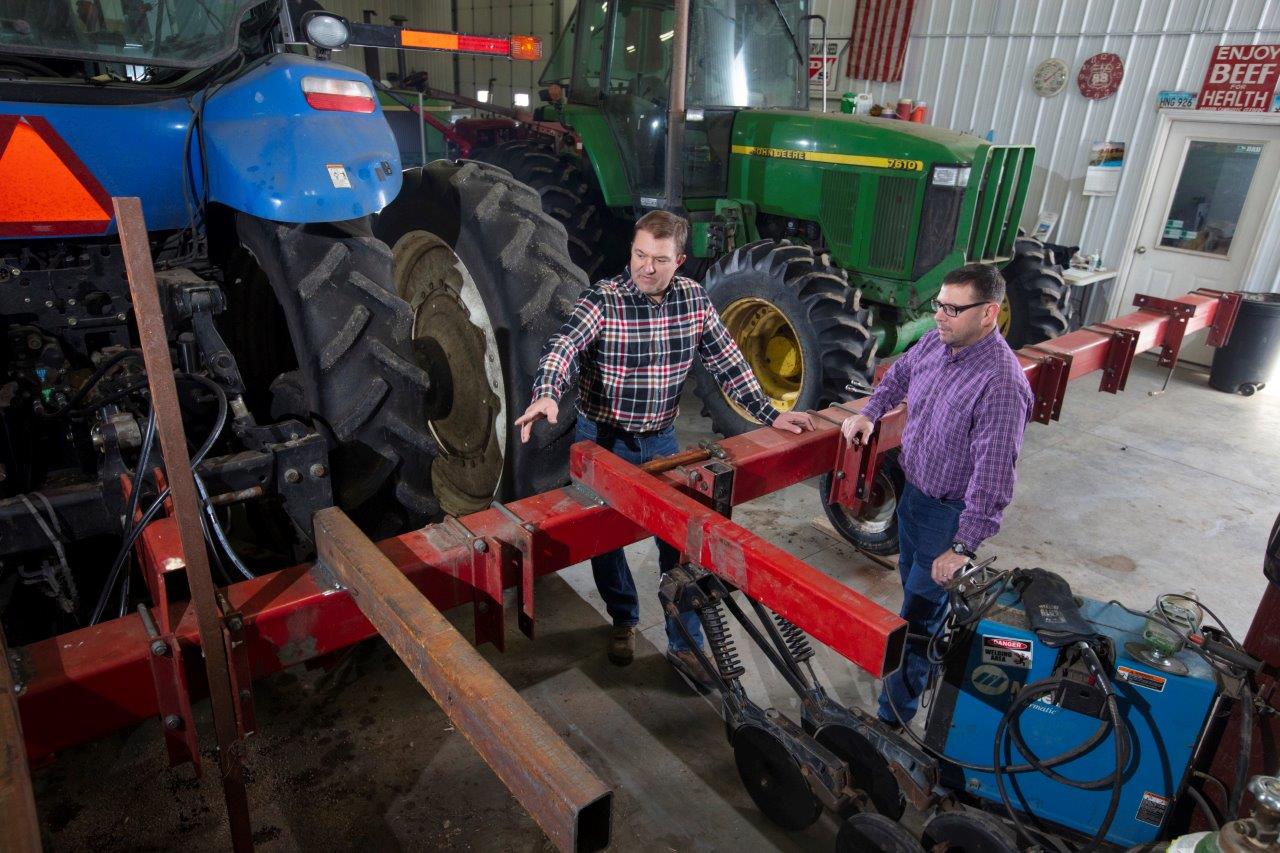 Zimmerman and Walberg already share a no till drill and tractor, and are in the process of building an interseeder to match their 40' corn planter. (They already have a 20' three-point drill modified to fit 30" and 60" corn.) "We bought a drill to part out, and bought a gandy box," Walberg describes. "We've got the pieces ready. This will be a 40' unit and we can also sidedress and hook a fertilizer cart behind."
As with all areas of production, the interseeder will provide more opportunity—and challenges, Walberg continues. "You don't know what works until you try. The covers I planted on prevent plant this year were awesome; covers on 60" corn were awesome; and covers on 30" corn were terrible, and there was just too much shading."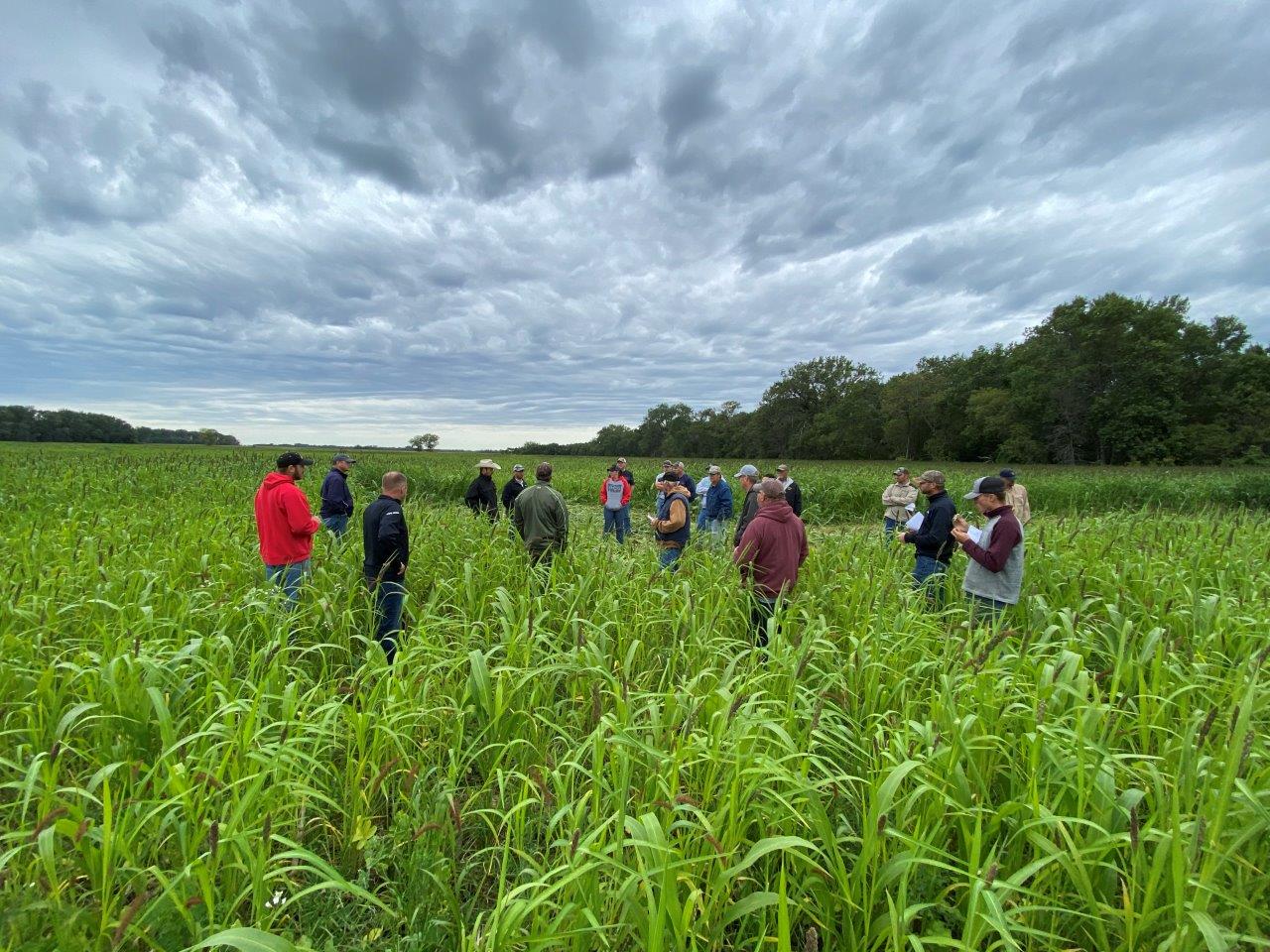 Likewise, Walberg's covers on sunflowers, planted by drill and airplane, didn't work. Whether incorrect timing or excess shade, Walberg will search for the answer in 2021, partially based on Zimmerman's sunflower results. "There are some great clues because of what happened in Tyler's sunflowers, which had great cover crop biomass, flown on by airplane at the same time as mine. He grew oil sunflowers and I raised confectionary sunflowers. Maybe oil sunflowers don't shade as bad in our region? I'm going to learn because there are invaluable lessons to be had when you can trust the other guy beside you."
Trust
A farm mentorship is sometimes a two-way street with heavy traffic. Zimmerman and Walberg share friendship, trust, equipment and a strong belief in the long-term benefits of change on their operations. There is evident symbiosis at play, with both farmers providing invaluable support, yet also ensuring the other avoids echo chamber entrapments. "We'll call each other out," Zimmerman says, "and help each other in a heartbeat. When you share equipment and personal history, you can get anything done even in the tight situations when you need the same thing at the same time."
"I used to always steadily talk to Chris," Zimmerman details, "but now our conversations are much, much longer and we share about what we're learning and what we plan on trying. It's a daily back-and-forth, and frankly, it's made farming so much more exciting for me."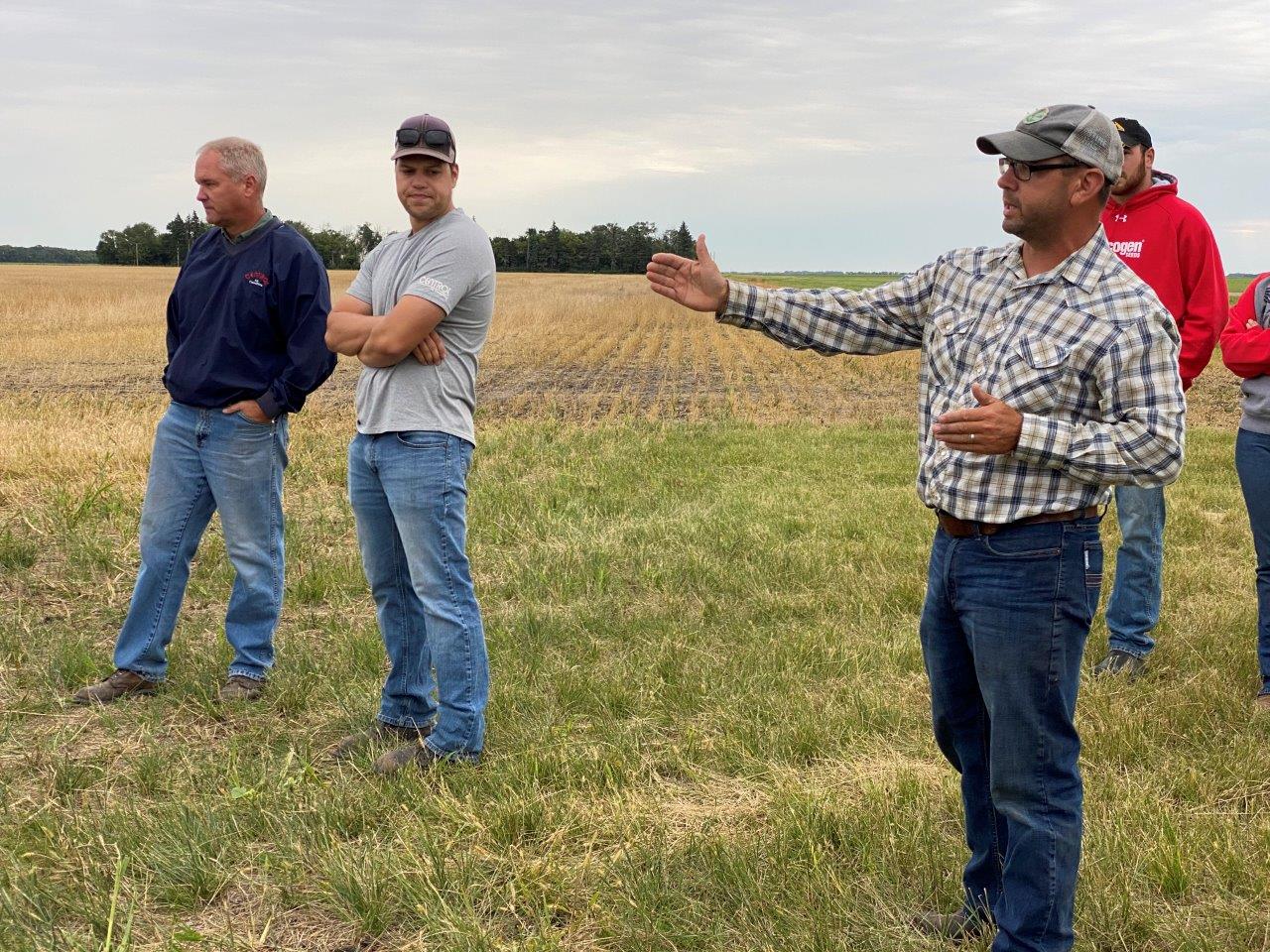 Zimmerman's perspective is precisely echoed by Walberg, who says equipment sharing is just a small facet of the overall dynamic comprising a lifelong, farming friendship: "We tell each other the cold truth, and encourage each other at the same time. We compare ideas, find ideas together, try rotations, experiment with management ideas, all based in trust. The changes we're seeing in our fields are real, and it's been genuinely exciting to go through this with Tyler. The improvements have been nothing short of fun."
Bring on the Cows
Walberg's cover crop mix has provided new options regarding cattle feed, and hopefully, more numbers in the herd. He intends to extend the grazing season into February by cutting hay early and seeding covers in early June, and is considering planting a quarter section exclusive to covers strictly for winter grazing. "That is money. Whether it's 60" corn and grazing afterward, or any other cover area, the cattle are getting substantial nutritional benefits, longevity of grazing, and it will also allow me to add more feet on the ground. At the same time, my ground is building up nitrogen and adding organic matter—something I want to increase a few percent in my lifetime."
Zimmerman, although he has no livestock in his operation, has implemented a cattle rotation on pieces of his farmland. Recently, after cutting a field of peas, Zimmerman planted an eight-way cover crop mix and moved 130 of Walberg's cows onto the quarter. "Those cows came off Tyler's covers and we could easily see the condition gained. The covers do a lot for the soil and a lot for the cows, and that field needs no spraying for weeds, all while banking nutrients," Walberg says.
The formula provides dual benefits, Walberg adds. "Tyler gets livestock integration and I get grazing. We're both watching and learning."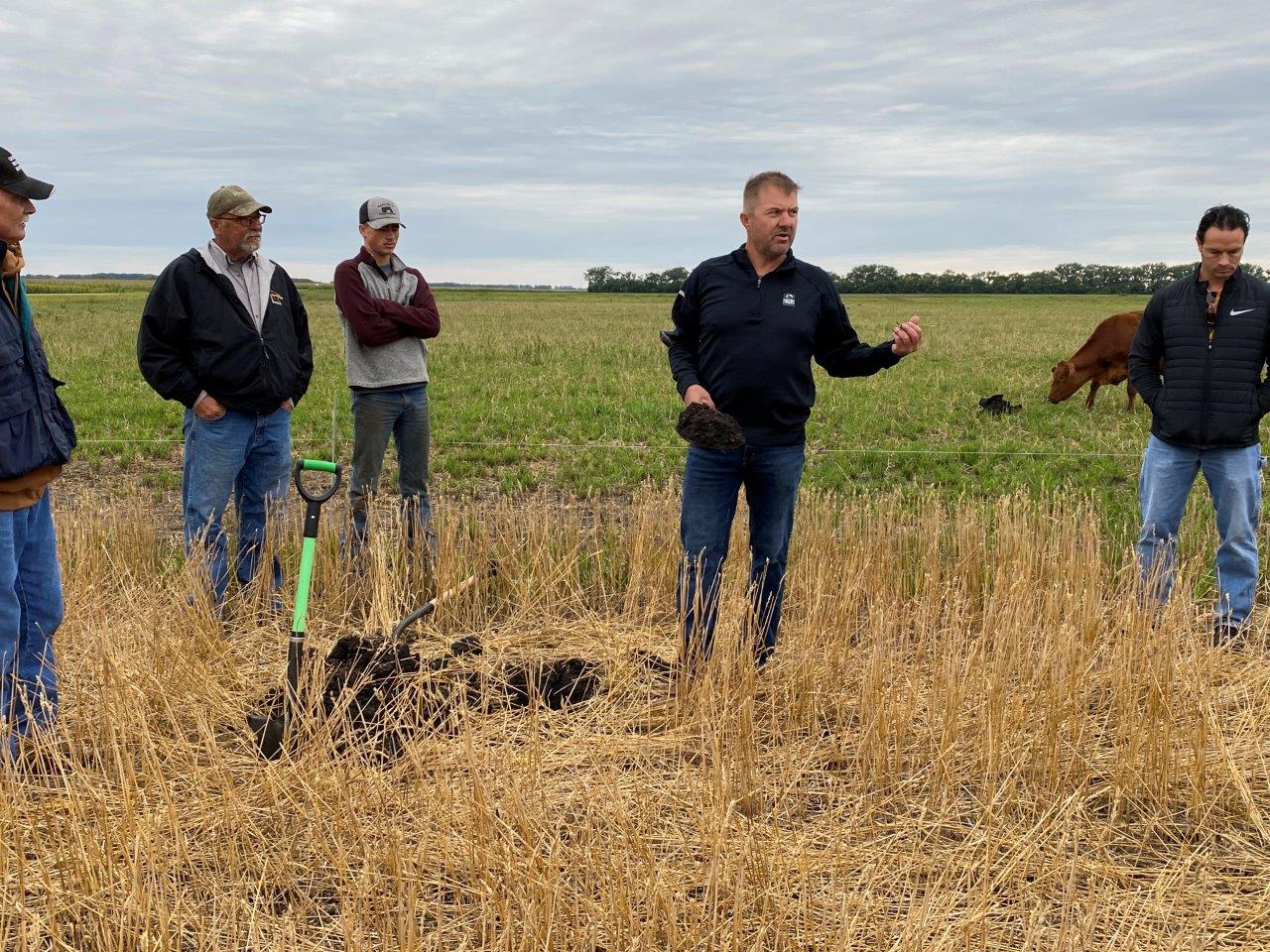 In addition to Walberg's cows, Zimmerman has struck another livestock arrangement with a second producer, equating to 550 acres of cover crops and corn stalks subject to grazing. "It's a whole new level of diversity for me," Zimmerman explains. "This past summer, I also set aside 40 acres on May 15 with a full season cover with the intent to graze. So I've had at least a few cattle on it all summer, just to jumpstart the biology."
"It's great because I don't have to worry about the financial part of cattle," Zimmerman adds, "but my land picks up the benefits without the complication of ownership."
ROI
How have the soil health measures implemented by Zimmerman and Walberg stacked up against farming as a business? What is the ROI from the overhaul?
Zimmerman reports consistent savings in multiple input categories, taking pressure off yield demand. He cites fuel, machinery, equipment, fertilizer, pesticide and labor dollars as significant areas of reduced expense. "The long-term savings are legitimate. I no longer need top yield, but instead try to be as close as I can. Meanwhile, I'm building my soils. I don't know who'll take over my farm when I'm done, but if I rent it out or sell it, I want to have 25 years of no till and 25 years of building up organic matter and soil biology, and everything I'm doing now is going to help me get a better price. There are so many angles of ROI advantage."
Walberg echoes Zimmerman's perspective, and adds in livestock gains. "I'm also cutting into feed costs and can bring on more cattle long-term, and each year we're learning new things to fine-tune and get input costs down even further. I've seen a slight yield reduction in some fields as I've transitioned and learned, but overall, I'm where I was a couple years back, but going forward, I'm looking at years five to seven for real mineralization in my ground and sustained returns. This is a long-term investment and the future looks really bright."
Grassroots
In 2019, Zimmerman and Walberg began knocking on local doors, hoping to harness the power of numbers. What began as shop talk morphed into truck rides with several curious conventional-tillage farmers to check out soil biology and experimentation, and then blossomed into a grassroots field day. Zimmerman talked to several friends, took an unofficial head count, and called Abbey Wick, Extension soil health specialist with North Dakota State University. "Dr. Wick came out and we had 15 guys show up and we drove to a dozen fields for three hours of learning on the spot," Zimmerman says. "For some of the guys, it was their first exposure to what we were doing, and things went great."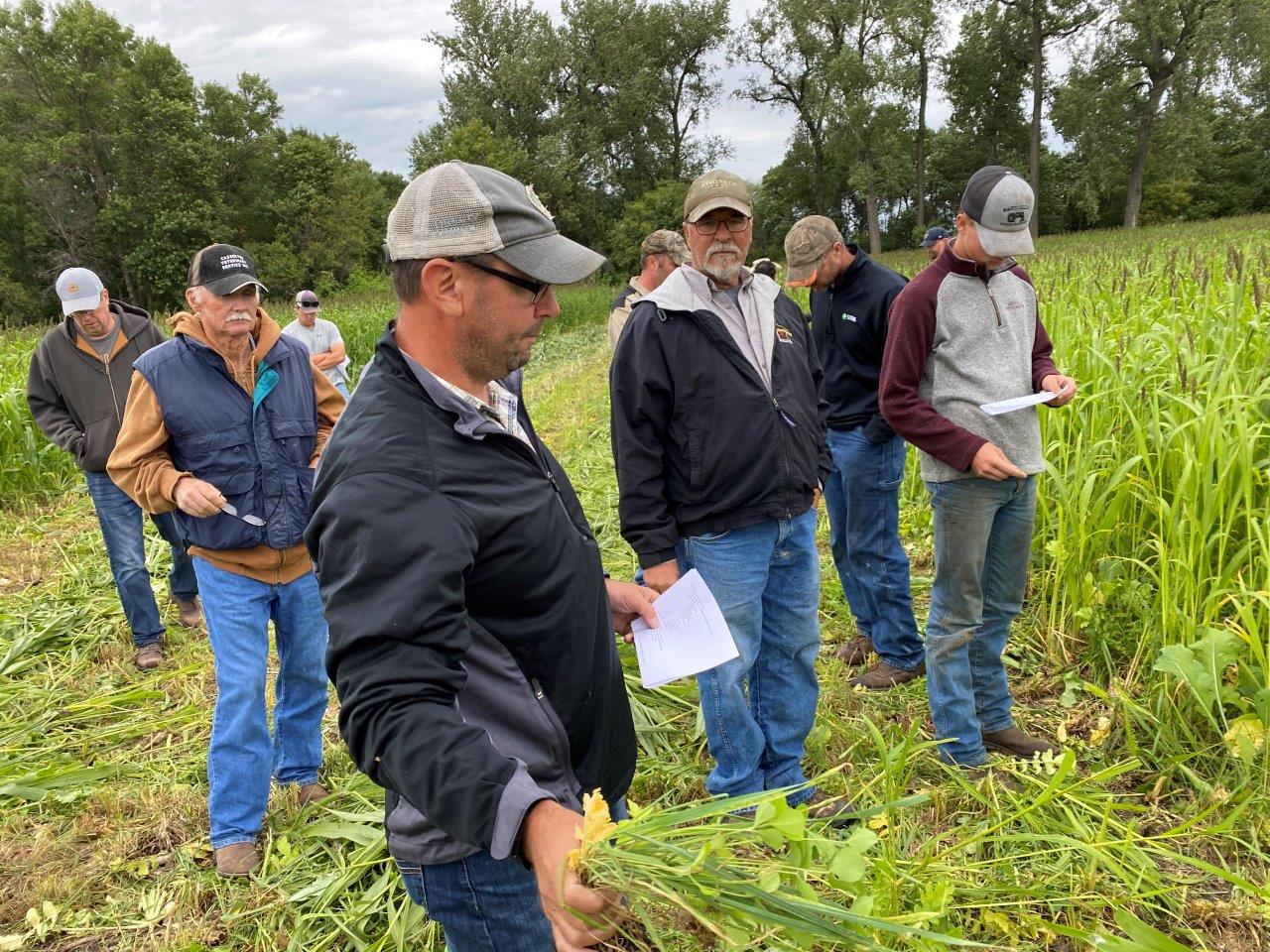 The success of the field gathering spurred another grassroots meeting in Walberg's farm shop during December, this time attended by 45 interested farmers and Wick. "We brought in no till guys from out of our area for a three-hour discussion," Zimmerman adds. "There were at least 30 guys who had never done anything in soil health, but they had lots of questions, and we did soil experiments with five-year no till soil compared to conventional soil, right in front of everyone."  
In 2020, Zimmerman and Walberg repeated the informal field day, taking a group of local farmers for a four-hour tour through 10 fields within a 20-mile radius: grazing cover crops, stripper headed wheat, 60" row corn, and more. "It's so important for guys to see this," Zimmerman says. "When I started, I didn't have a group, but you need a group to learn from one another. I want to teach the next guy and he will do something and I will learn back from him. Chris and I want a buddy system for everyone in our area. It great to read an article on what guys are doing far away and get ideas, but when you know what is happening in your own neighborhood or county, it's much more valuable."
The Horizon
Hyperbole aside, Zimmerman and Walberg are stoked by the soil changes on their farms, and believe ROI savings will continue to accumulate in the long-term. Zimmerman advises growers to push conjecture off the table and experiment directly with a small piece of farmland. "Start with a 40 or 80 right now, otherwise you'll never get to year seven or eight and see major changes. I thought about doing this 20 years ago and made the mistake of waiting. Of course there will be tough spots, but you'll also find it exciting, fun, and economically rewarding in the long run. I can't properly describe what it's like to drive by my fields in late November and see all green, and know my soil is not blowing away over the winter."
"Before, everything for me was simple and formulaic," Walberg concludes. "Now, I'm thinking about planting things with synergy, fixing nitrogen and organic matter. No question, things are much more exciting for me now and I'm consumed with improvement. It's challenging, but I can't get enough of watching real change across my land."
For more, see:
Fleecing the Farm: How a Fake Crop Fueled a Bizarre $25 Million Ag Scam
US Farming Loses the King of Combines
Ghost in the House: A Forgotten American Farming Tragedy
Rat Hunting with the Dogs of War, Farming's Greatest Show on Legs
Misfit Tractors a Money Saver for Arkansas Farmer
Predator Tractor Unleashed on Farmland by Ag's True Maverick
Government Cameras Hidden on Private Property? Welcome to Open Fields
Farmland Detective Finds Youngest Civil War Soldier's Grave?
Descent Into Hell: Farmer Escapes Corn Tomb Death
Evil Grain: The Wild Tale of History's Biggest Crop Insurance Scam
Grizzly Hell: USDA Worker Survives Epic Bear Attack
A Skeptical Farmer's Monster Message on Profitability
Farmer Refuses to Roll, Rips Lid Off IRS Behavior
Killing Hogzilla: Hunting a Monster Wild Pig  
Shattered Taboo: Death of a Farm and Resurrection of a Farmer     
Frozen Dinosaur: Farmer Finds Huge Alligator Snapping Turtle Under Ice
Breaking Bad: Chasing the Wildest Con Artist in Farming History
In the Blood: Hunting Deer Antlers with a Legendary Shed Whisperer
Corn Maverick: Cracking the Mystery of 60-Inch Rows
Against All Odds: Farmer Survives Epic Ordeal