Farmers Must Prioritize Resilience as Climate Volatility Grows, Research Says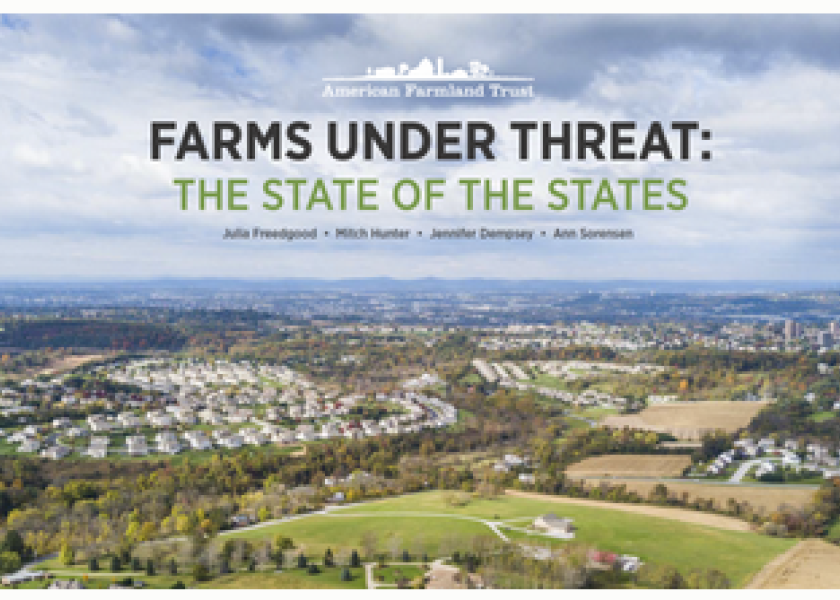 This article was written by Nate Birt, Vice President of Trust In Food, a Farm Journal initiative. Learn more at www.trustinfood.com
Retired American Farmland Trust researcher Ann Sorensen exudes optimism and pride in equal measure—both about the potential of farmers to be environmental change agents and about impact of the research she's led in support of scaling voluntary conservation adoption on U.S. lands.
Yet she's candid about the headwinds farmers face. On the one hand, urban sprawl threatens to overtake ag lands that will never again return to production. That's relatively predictable, as AFT's "Farms Under Threat" reports illustrate, she says. But increasingly volatile weather spurred on by climate change remains a real concern that's much harder to anticipate.
"Think about how to be as resilient as possible," urges Sorensen, who holds a Ph.D. in entomology from the University of California at Berkeley and has more than 70 refereed research reports under her belt. "If I were a farmer right now, that is exactly where my focus would be: How can I make my farm as resilient as possible to give me as many options as I possibly can going forward?"
In a recent interview with Trust In Food, a Farm Journal initiative, Sorensen reflected on her career and the work of AFT helping farmers adopt conservation—and what producers can be doing today to see around corners to tomorrow's unknowns. She continues to work part-time for AFT.
How did you come to have a career in conservation agriculture?
By training, I'm an entomologist. After college, as a grad student at UCB, I was focused on integrated pest management, working with farmers all throughout California, starting down near Bakersfield, working my way up to the Central Valley and winding up in the Pope Valley adjacent to the Napa Valley in northern California. After that, I went to Texas A&M University. I did a post-doc and switched to fire ants. At the time, fire ants were causing quite a problem in Texas, mostly on ag land.
I did a year at the University of Georgia, again extending that post doc. Then I went to work for the Texas Department of Agriculture. That was under Jim Hightower. I still was doing the fire ant program. Then the American Farm Bureau Federation recruited me because at the time, they had a large concern about fire ants, and they also had a lot of concerns about Africanized honeybees. I was at AFBF for six years or so.
Then I was recruited by American Farmland Trust. In other words, my career bounced me around all of the country. It was the work I did in California as a graduate student in the Central Valley with farmers where I realized how much farmers knew about their environment. They were always making really interesting observations, which of course is great for a graduate student. This was before there were very many women in agriculture, and I was one of the very few women working out in the field with farmers. They found it very difficult to directly communicate with me. They didn't know how to treat me.
When I went from Georgia to the Texas Department of Agriculture, that's when I started getting interested in policy. The dept of agriculture gave me a lot of insight on regulatory concerns, and working for AFBF, you're largely focused on policy. That was a real eye-opener. Because I was working for the national organization, I felt that their policy was the be all, end all. I would go to state Farm Bureau meetings and county Farm Bureau meetings, and they didn't even know AFBF existed. They were concerned about local things like, 'Is the Postal Service still going to be servicing our route? and 'Where do we bury our animals?'
What do you consider your most important contributions to conservation agriculture research?
Because I was research director at AFT, basically what I was trying to do was work with academics to try to figure out really good approaches to some of our environmental issues in agriculture and how cost-share could play a role to address those concerns.
AFT in general has played a pretty big role in all of the farm bills since its beginning. It was very involved in establishing the Conservation Title in the 1985 farm bill and establishing the Conservation Reserve Program.
I joined in 1992, and AFT kept its focus on conservation programs and expanding conservation programs—of course, with a focus on farmland protection—but also not losing sight of programs like EQIP, and eventually getting the Conservation Security Program (CSP), expanding the Conservation Reserve Program, getting CREP, etcetera.
The one thing that struck me with the farm bill is that it is an incredibly complex piece of legislation. I was developing research to inform the policy, not the implementation. It was my real pleasure to convene ag economists a couple of years in advance of next farm bill, gather ideas and put together research so federal policy folks had something in hand they could go with up to the Hill to talk to congressional staffers. Economists are somewhat like entomologists, they're a little bit different. [Laughs]
What's been most exciting about your career in conservation?
I had a background in integrated pest management, and a year or two after I joined AFT, I had the opportunity to work with the U.S. Environmental Protection Agency. At that point, they were trying to focus on specialty crops and the need to wean farmers away from organophosphates and transition to them safer pesticides, and hopefully to integrated pest management.
That was really cool because we were working with a lot of university researchers. We were actually getting IPM implemented on the ground and helping specialty crop growers make these transitions, figure out barriers and hurdles and what would work.
We also had a little earmark in the federal agreement to do work in Hawaii and the western Pacific. Agriculture in Hawaii is totally different from the mainland. Very few farmers actually own their land. Most of them are basically leasing land from agricultural parks—we're talking five to 10 acres with a heavy emphasis on specialty crops, including growing flowers and that sort of thing. There were some growers that were growing corn on larger acreage, and I know while I was still working out there, biotech companies were coming out and testing some of their genetic corn varieties. And researchers were experimenting with growing tea and other crops that could replace the disappearing pineapple production. There was also an incredible diversity of growers in the islands. That was also a highlight.
All these years I've worked with AFT, I've never been bored. There's always another project, another team of researchers that you're working with, a policy that suddenly catches fire and it actually gets implemented. It's that thrill of being involved on the ground floor and actually seeing something go into law that actually has an impact. For somebody that was originally an academic, that's just an amazing feeling.
For so many academics, it can be very laborious: You develop a hypothesis, you test the hypothesis, you write a scientific publication, it gets peer-reviewed, you may get some flattering words said about your research, and other researchers may quote it. I think that you'll find that with a lot of people that work with advocacy groups. It's that ability to maybe, at some point, have an impact.
What are your predictions about the most game-changing opportunities ahead for U.S. conservation agriculture in the next two to five years?
So much of that depends on the next farm bill, right? I don't really want to get political, but certainly the change in administration has made me a little more optimistic because I know that [President Joe Biden's] incoming administration is going to address climate change, and that to me is the largest issue looming above agriculture right now.
As you know, so much of ag and production ag is dealing with the weather. To start addressing climate change, to start really thinking about how we manage the landscape, to think about how important it will be to reintroduce diversity into agriculture—there's incredible opportunity there.
All the work AFT is doing on regenerative agriculture, focusing on soil health, and thinking about practices so that agriculture can become part of the solution instead of being part of the problem, it just opens up all sorts of opportunities. It's not going to be easy.
What we've learned during my career is that it's very difficult to change the way you grow things on a farm. There are equipment challenges, there are distribution challenges, there are marketing challenges. It's so much easier to do what you've always done. We have an aging farm population, and being an aging senior myself, I know it's very difficult to think about changing habits. At the same time, I think there will be incredible opportunities for producers if they seize those opportunities.
What are your biggest concerns or fears about conservation agriculture in the U.S. today?
Part of the reason that we've looked at tradeoffs between agriculture, biodiversity and wildlife habitat, and the role that agriculture could play, is that agriculture has really had a huge impact on biodiversity and wildlife. For the most part, it's been a very detrimental impact.
Part of that is just because agriculture occupies so much of our landscape. It's such a huge land use in this country that of course it's going to have an impact. But particularly when we changed over into more monocultures, getting rid of hedge rows and anything that was blocking the use of large equipment, agriculture truly started having a huge impact, relying more on chemicals.
It started to play out with the die-off of pollinators because it has an absolutely devastating impact on any crop that needs to be pollinated. As entomologists, we've known this for a long time: When you go to a monoculture and if you start relying too heavily on genetically modified crops, you start getting insect resistance, you start getting weed resistance. Also, invasive species are coming in, and climate is not helping at this point. We're no longer seeing the die-offs of overwintering pests in the Midwest that we used to get so some of our pest insects are coming back pretty strong in spring and summer.
What are some of the first steps farmers to integrate conservation into their operations?
Focus on improving soil health and making sure that the soil is covered year-round. That's going to help improve the productivity of the farm. It's going to cut down on soil erosion and wind erosion. It's going to hold moisture, which is really important where we have these swings with intense rainfall or lengthy drought. That would be Step 1.
Step 2 would be to look at the farm and the yields that you're getting. For those areas that are more marginal—which is easier to do if you're into precision ag and you can actually measure the yields—think about putting those back into a more natural habitat using perennials. You should be maintaining buffer strips. USDA's Natural Resources Conservation Service does a really good job of identifying practices and telling you what those practices can do.
The last couple of years, NRCS has really gotten sophisticated, and they've gone online and have a new online tool—the Conservation Assessment Ranking Tool (CART)—that their field staff are using that automates everything. They can go out to a farmer's field, look at all the soil types and look at how well the farmer is doing. It's sort of like a report card on all sorts of variables like wildlife habitat, water quality and soil erosion. They can talk to the farmer about putting in additional practices that can help improve that score, show the farmer real-time what that would look like. Then, it links directly to all of the cost-share programs that are available to that farmer, not only federal cost-share but also the state. it also provides the NRCS staff person with the information they need to help the farmer apply.
We're actually in the process of shooting some of AFT's Farms Under Threat data over to CART so the states can use it to help farmers that want to apply to farmland protection programs, easements and so forth. It gives the states a feel for how threatened that farm might be by development and how close to development it is.
What would you like to tell the conservation agriculture research community? What are the greatest unanswered questions you'd like to see researchers prioritize?
AFT is really involved in some of the lingering questions about soil health and carbon sequestration by agriculture. There's an immediacy to that because it could very well be, and we're hoping, that ag can play a role in sequestering carbon, probably through no-till and cover crops. But there's still a lot of questions about that, particularly around measurement, because it can be so expensive to measure the amount of carbon that's being sequestered.
Another focus should be trying to figure out this balance between agricultural land where we're producing crops, protecting biodiversity and protecting wildlife corridors. We're starting to learn more about migration and the impacts of climate change on everything. That's going to continue to play out and needs a lot of focused attention.
What else would you like farmers to know?
I hesitate to advise farmers about what they plant, what markets are, that sort of thing. I know that more and more of them are certainly aware of the impacts of a changing climate. They may not totally buy into the fact that it's caused by humans, but they're definitely seeing it. USDA has regional centers—(the USDA Climate Hubs - they've had them for a couple of years now) —that are trying to help farmers make the adjustments.
One of the things that AFT is wrestling with right now with our Farms Under Threat research is that we're doing future scenarios, and we're trying to look at the impact out to 2040, both from development and climate change.
Believe it or not, it's easier to predict development, except for the fact that you may have more in-migration because of sea-level rise or recurring flooding and higher fire risk. It's much more complicated to try to predict how the climate is going to impact where we grow crops.
We have at least two huge groundwater aquifer sources for agriculture where we have a lot of irrigated ag. One is the Ogallala Aquifer which spans eight states, and that's running out of water. That has a huge impact. Of course, there's California's Central Valley. And also the water issues surrounding the Colorado River all the way down to Arizona. That is going to impact where farmers can grow crops and what they can grow. Around the Ogallala, we will see a switch from irrigated acres to dryland. There will be more fallowing of land in California, and of course the other thing you'll see is fewer chill hours in the winter. That's going to impact some of the specialty crops, and certainly tree crops, fruit crops and grapes, and then you have fire risk. How exactly are we going to do this?

Luckily for us, there are a lot of other researchers out there that have been trying to model potential shifts in crops and how quickly that may occur.
You think about our existing infrastructure and how everything is set up, and we may have to shift it.