China Cancelation Didn't Dampen Strong Sorghum Demand Story
Sorghum producers are enjoying strong demand once again. The commodity was on the front lines of the trade war, seeing demand disappear. But China started to come back to the U.S. for sorghum in early 2020 and the demand story has been strong ever since.
"One of our marketing guys in the east is talking about how aggressive the fight is over the remaining small amounts of old crop sorghum that are out there," says Tim Lust, CEO of National Sorghum Producers (NSP). "The very strong demand there is really down to if you can identify it and find it, well, there's three or four buyers for it."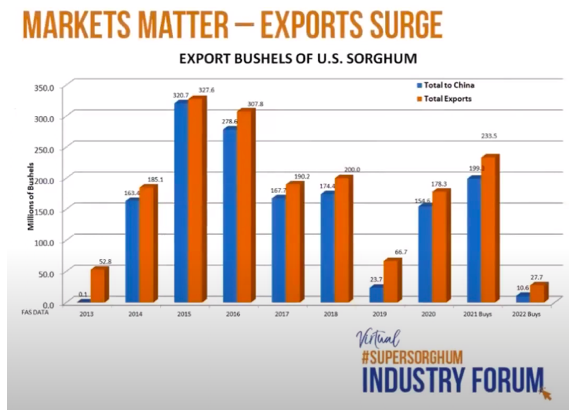 Lust says it's not just old crop sorghum seeing the renewed hunger. China is even making new crop sorghum sales, which Lust says is rare in the sorghum industry. The situation is creating the strongest basis sorghum farmers have seen in several years.
"The thing that's more exciting for me than even that is all of these new crop sales, and all of these new crop bids that are being offered," says Lust. "I heard one at 130 over yesterday on an interior bid for a new crop. In my career here for over 25 years, I've never seen anything like it. So, it's exciting."
China cancelled previous purchases of 2.1 million bushels of U.S. grain sorghum in the week ending February 25. #oatt — Arlan Suderman (@ArlanFF101) March 4, 2021
USDA confirmed Thursday China canceled a previous purchase of sorghum, equating to 2.1 million bushels. That cancelation occurred during the week that ended on Feb. 25. However, NSP says the cancelation is rather small and not cause for alarm.
"The cancelation was one vessel, or to put into context, 2 mbu out of 200 mbu they've bought," says Lust. "Cancelations happen, and we don't see this one instance as alarming. We will continue to monitor sales going forward."
Demand Driver
So, what's driving the demand? Lust says in China, it's sorghum's ability to be used for a favored alcohol, as well as other uses like feed. But he says China isn't the only country seeing strong demand.
"We also have export demand into some other countries. Whether that's some food aid demand going into several of our African countries that are struggling or whether that is some specialty uses going into Japan and a few other countries, there's a really strong pull from a number of different directions from the international market," says Lust.
He says domestic demand is also picking up, including an increased hunger for sorghum in the pet food industry.
Sorghum Competitive for Acres
Strong demand - combined with strong basis- means sorghum is competitive again for acres. Lust says sorghum saw more than 1 million acres disappear due to sugar cane aphid and other challenges farmers were experiencing growing sorghum. But he says newer varieties are showing resistance to pest damage, and the price is right for farmers to plant sorghum this year.
"We certainly expect a significant increase in sorghum acres, but we'll have to wait to see exactly what that is," says Lust.
NSP is expecting sorghum acres to increase more than 10% this year, especially if winter wheat damage proves to be worse than expected.
"We have a lot of wheat acres in eastern Colorado and down into the Texas and Oklahoma panhandles that don't look very good right now," says Lust. "The freeze was really hard on them a little too early to know what that means. But if some of those acres come back out, sorghum is certainly a prime crop to replace those acres. That could add even more to it, depending upon what happens there."