Character Outweighs A Resume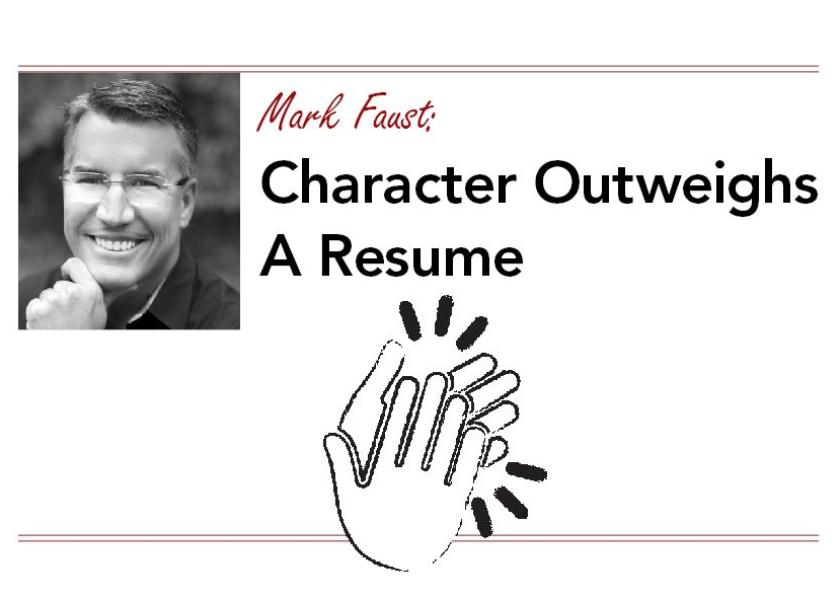 A five-person sales team hadn't sold half as much as the founder of the company had in the business' first year. The new hires hit the ground running with their marketing degrees and "improvements" to the sales process. But the results had floundered. 
It didn't take long to figure out the original sales process was highly effective, and those highly educated salespeople left for "more base pay" and "products easier to sell." 
Finally, with only two salespeople, sales began to really take off. Record sales were occurring month after month. 
One of the sales stars was a reformed drug dealer. He was never a user, but like Jesse on "Breaking Bad," he had honed some management and sales skills on the front lines of the drug world. He had threats and brushes with the law that only an ingenious delinquent could have survived. 
We became friends
He had better character than some of the so-called "great hires" that left like they came, fired with enthusiasm. His life transformed in the blink of an eye for a few reasons. He had a daughter, and he knew he needed to be the good parent to raise her. And the boss who hired him into this business put faith and trust in him like no one else ever had and always gave him encouraging words. 
Finding a church and faith that didn't reject him was part of his transformation, too. One day, the boss and he literally walked out of a church when the congregation and pastor tried to publicly humiliate the young man about his past. I guess at that place of worship only nonsinners need apply. 
Give the chance to succeed
That's my point. Other than when hiring Fortune 500 C-level execs, perfectly clean resumes and pristine pasts are not requirements nor determinants of future success. Employees who are the most loyal and impactful to a business have told me, "My boss gave me the chance and believed in me like no one else." 
The Power of Suggestion
In our CEO roundtable, one client said he praised employees for a great job, even sometimes when they didn't excel but he knew they could. Over the next month, every other CEO in the group used the tactic and shared success stories. 
One CEO had his wife complain one morning, "Your daughter won't eat her eggs." All he said to his daughter was, "Honey, you are the best egg-eater I know." He poured his cup of coffee, and as he walked out the door, he saw all the eggs were eaten.