Carbon Markets Webinar: Everything Farmers Need to Know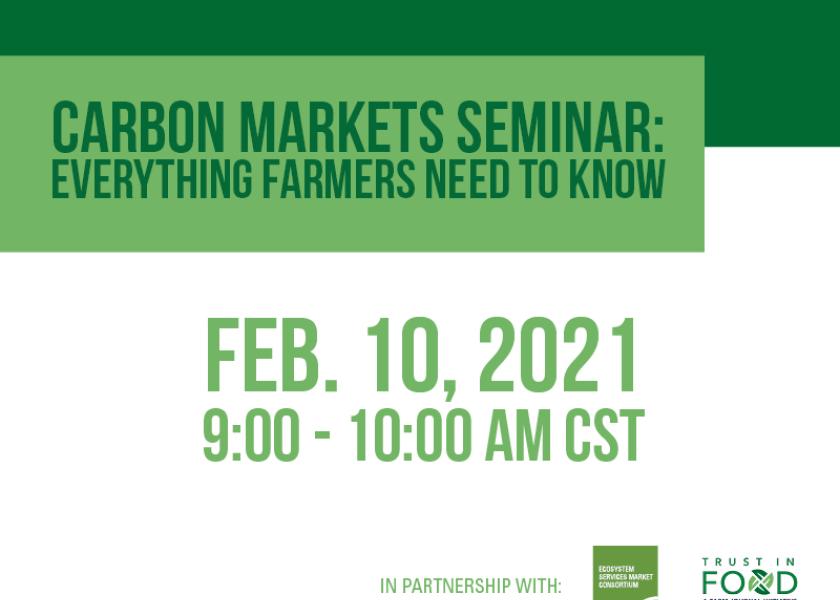 Soon you might earn a living not just from what you grow on top of the soil but on what you're helping to store inside of it.
Carbon sequestration can offer promise or pitfalls for your farm.
Curious how carbon markets can add new revenue streams to your operation? Hear from farmers and ranchers who are exploring the possibilities of carbon markets and learn the ins and outs from carbon-market experts and scientists.
Feb. 10 at 9 a.m. CST
Use promo code for 50% off registration fee: CARBON
This session, held in conjunction with Farm Journal's Trust in Food Initiative, will feature:
Benjamin Bartley, Ecosystem Services Market Consortium (ESMC)
Leo Bastos, Bayer
Kelley Thomas Delpit, Rancher and Sustainable Northwest Klamath Basin Manager
Aldyen Donnelly, Nori
Michael Fruechte, Fruechte Farms
This webinar is a bonus session for the 2021 Top Producer Summit and Trust In Food Symposium (You must be registered for the Summit to attend the webinar).
For 2021, the Top Producer Summit will feature both a small in-person event set for Feb.15-17 in Nashville, Tenn., with an online program launching the following week, Feb. 23-25. With the theme, "Breaking New Ground," producers will hone their money, marketing and management skills.
Register at TPSummit.com with the code: CARBON
Co-located with the Summit is the all-virtual Trust In Food Symposium. Now in its fourth year, the theme for this all-virtual event is "Regenerative Reset" – a nod to the incredible opportunities facing farmers, ranchers and growers by integrating sustainable products, new innovation and environmental stewardship into their operations.
Themes this year will include a changing climate and carbon policy outlook in Washington, D.C., featuring Jim Wiesemeyer of Farm Journal's Signal To Noise podcast; animal agriculture sustainability trends with leaders from pork, dairy, beef and poultry; and innovation in agricultural products and technology. 
Register at TrustInFood.com/Symposium.