The Battle for Ground in 2021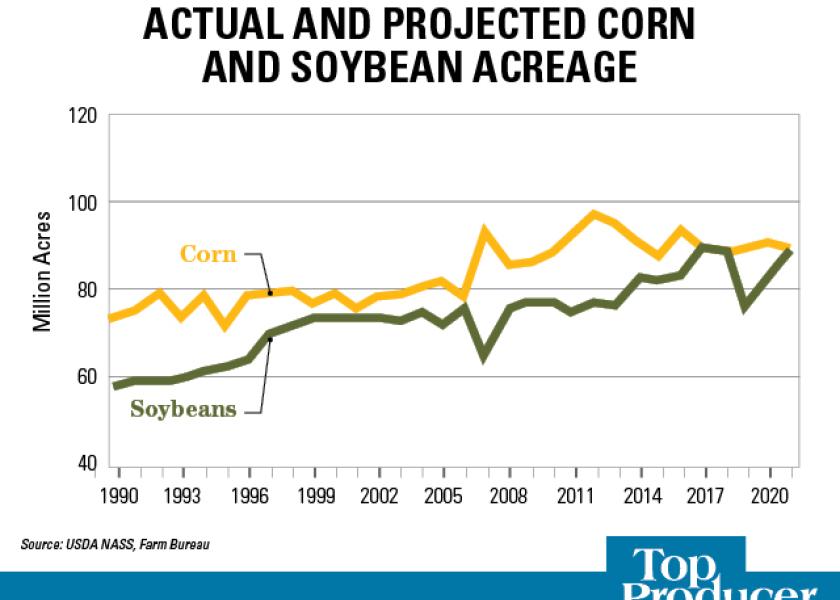 Grain markets are driven by lower supplies and higher demand
By Tyne Morgan and Rhonda Brooks
A few months can make a major difference for the grain markets. After years of stagnant prices, a bullish market is in place.
"This happened so quickly in terms of loss of U.S. crop and world crop loss and the arrival of a big buyer; it's almost unprecedented," says Dan Basse, president of AgResource Company. "The combination of lower supplies and higher demand is rare."
Tighter carryover of corn and soybeans for 2020/21, smaller-than-expected South American crop production due to dry conditions caused by La Niña and consistent buying of U.S. grain by China are all supporting grain prices. 
Can China's Buying Continue?
While both supply and demand are contributing to higher grain prices, Chinese demand is a big piece of the puzzle. Basse says feed demand, specifically for hogs, in China was at record-high amounts in September and October, with another record likely to be confirmed for November.
As China's pork industry evolves away from backyard hogs, feed rations continue to use more corn and soy meal. This demand, Basse says, should continue to grow. 
"We see a runway for an ag bull market that's maybe 18 to 24 months, and it's a demand market," he says.
South America Supplies
On the supply side, weather concerns are causing Basse's firm to reduce their South American production projections.
"Right now, we see support in the corn market at $4.05, and if you give me a problem in Argentina or with the Safrinha crop in Brazil, corn prices could make it up to $4.80 to $5 sometime late winter, early spring," Basse says.
Considering the prices in Brazil, farmers have a major incentive to push planting dates and get the second-crop corn in the ground this growing season, says Chip Flory, Farm Journal Economist and "AgriTalk" host. 
Acres in in 2021
Early estimates from USDA call for 89 million acres of soybeans in 2021 — an increase of 7% from 2020 — and 90 million acres of corn — a 1% decline from 2020. 
"There's going to be this bidding campaign going across the Midwest to get corn and bean acres," Basse says.
Some analysts are predicting as many as 92 million soybean acres for 2021.
"We've never touched that number before," says Chad Hart, Iowa State University economist. "I'm not going to go that aggressive. I'm in that 90- to 91-million-acre camp."
Read More
2021 Outlook: Is the Stage Set for $5 Corn in the New Year?