Attend the Online Top Producer Summit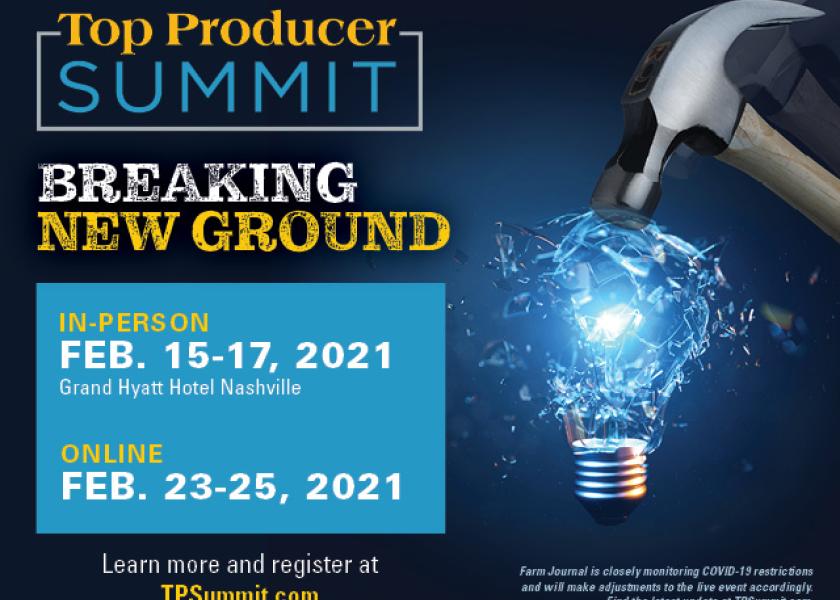 We're quickly closing in on the Top Producer Summit online event, which kicks off Feb. 23. Make sure you are registered for this annual event that gathers the nation's most productive and growth-oriented producers to discover business opportunities, gain valuable insights and trade ideas. Take your operation to the next level. (There are just a few spots left for the in-person event in Nashville.)
Speakers and sessions on tap for the online event:
JOHN PHIPPS
Phipps Farms
How to Make 2021 a Leap Year

RENA STRIEGEL
Transition Point Business Advisors
Off-Farm Heirs and Succession Planning: Too Little? Too Much? Or Just Enough!
           
SETH MEYER
USDA
Live Q&A with USDA's Chief Economist
ERIC SNODGRASS
Nutrien Ag Solutions
High-Impact Meteorology - What to Expect in 2021
      
ESTHER GEORGE
Federal Reserve Bank of Kansas City
Economic Outlook From the Federal Reserve Bank
ANGIE SETZER
Citizen's Grain 
The Grain Marketing Behaviors that Breed Success (And the Ones that Don't)

Top Producer Awards Banquet
This year, you'll have a front row seat to watch the Top Producer Awards banquet LIVE! Tune in Monday, Feb. 15 at 7 p.m. CDT on AgWeb to watch the ceremony and announcement of Topy Producer's annual awards: Top Producer of the Year, EWA Trailblazer Award and Tomorrow's Top Producer Horizon Award.