Ag Barometer: Farmers Are Optimistic About Crop Prices, Farmland, COVID Vaccine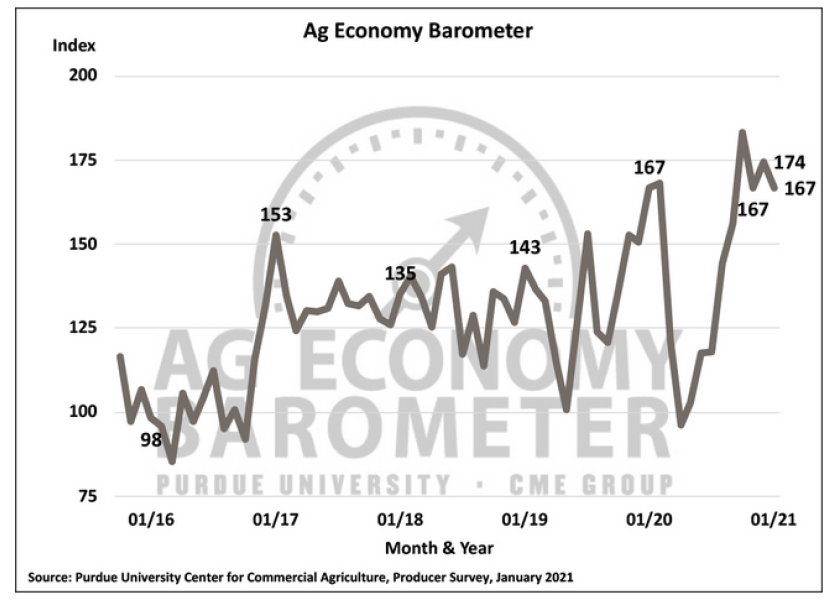 The most recent Ag Economy Barometer offers a mixed bag of perspectives from U.S. farmers who were surveyed in late January.
On one hand, the barometer shows some farmer optimism, thanks to the ongoing rally in crop prices. On the other hand, concerns about government policies and their potential impact on the future of trade are tempering that optimism, says Jim Mintert.
"Farmers are also concerned about the environmental regulatory aspect; they're worried about having a more restrictive regulatory environment," Mintert told Agri-Talk Host, Chip Flory, on Wednesday. "And it's the same with state taxes, with income taxes."
Overall, the barometer drifted lower in January to a reading of 167, a decline of 7 points compared to December and equal to the index's November reading. Even so, the barometer shows areas of farmer optimism, including decisions to make capital improvement investments and a positive outlook for farmland values.
"When asked what they expect to happen in the upcoming 12 months, 43 percent of respondents, up from 35 percent in December, said they expect farmland values to rise. This is by far and away the most optimistic short-run perspective farmers have provided regarding farmland values during the life of the barometer survey," the barometer reports.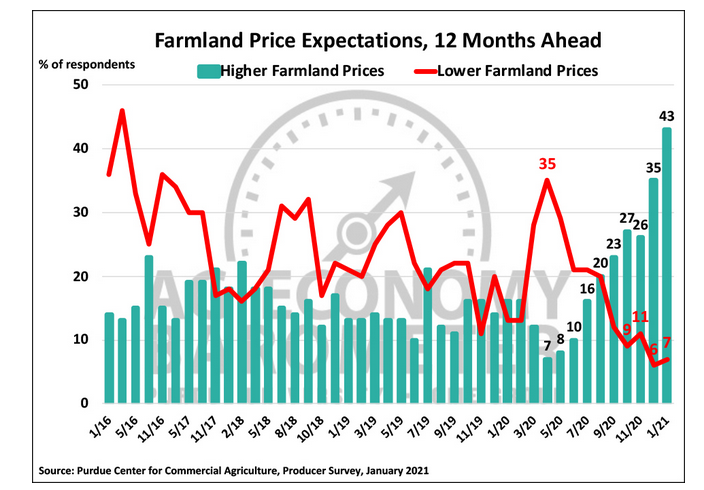 A new question. In the January survey, Mintert included questions about sequestering carbon now that several firms are offering farmer contracts.
"Thirty percent of the people in the survey said, 'Yeah, we're aware of some opportunities.' So that was, if anything, maybe a little surprising," Mintert says.  
Of that group, 22% said they have engaged in some discussions about receiving a carbon capture payment.
"We didn't define what the word discussions means," Mintert says. "So, we don't know if that really meant negotiations with a firm, or if it meant more like internal discussions on the farm. We're going to do some follow up and future surveys and try and learn a little bit more on that and what farmers might want to do."
Vaccination outlook. The January barometer also explored farmers' interest in the taking one of the COVID-19 vaccinations that are available, showing that sentiment is changing over time. "In October, the barometer showed that just 24 percent of respondents planned to get vaccinated as soon as possible," the barometer reports. "Responses to the January survey, conducted after nationwide vaccinations got underway, indicated farmers are now much more willing to get vaccinated as 58 percent of respondents said they plan to get vaccinated as soon as possible."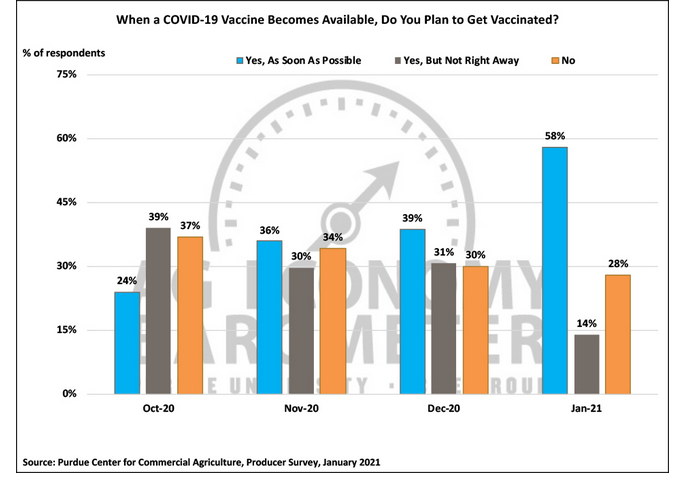 Mintert and Michael Langemeier, Purdue Center for Commercial Agriculture, manage the barometer survey and write the monthly report. The Ag Economy Barometer is calculated each month from 400 U.S. agricultural producers' responses to a telephone survey. The January survey was conducted Jan.18-22, 2021.
The full discussion on Agri-Talk is available here: