Ag Barometer: Farmers Are Making Capital Investments, Expect Farmland Prices To Increase
Ag Economy Barometer 010621
U.S. farmer sentiment about the ag economy ticked upward slightly in December, according to the latest Purdue University CME Group Ag Economy Barometer. The modest improvement – up from 167 points in November to 174 points in December – was the result of farmers' improved outlook regarding commodity prices.
"The barometer was still nine points below where we were in November but way higher than we were back in April," Jim Mintert told AgriTalk Host, Chip Flory. "Back in April we were at 96, so the sentiment is much more positive than last spring. I guess that's no surprise, given what's taking place in the economy and in agriculture, especially with this rise in commodity prices in the fall and continuing here into the early part of 2021."
Two significant findings in this month's report are farmers' positive outlook for land prices and their plans to make capital expenditure purchases, specifically for equipment.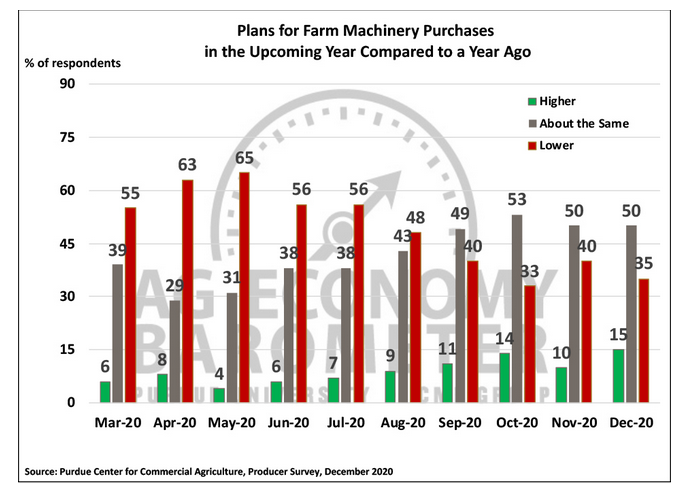 Mintert says the farm capital investment index is at a record high.
"There was a 13-point jump in December compared to November, and I believe that's probably the biggest one-month jump, maybe not ever, but certainly one of the very few where we've seen a jump of that magnitude in one month," he notes.
Mintert says his team routinely asks farmers about their plans for machinery purchases in the upcoming year compared to the year earlier. He describes the findings in December as dramatic.
"If you go back to May, just 4% of the people in our survey said they plan to increase their farm machinery purchases," he recalls. "In December, that was up to 15%. In May, 65% of the people in the survey said they were going to reduce their farm machinery purchases, while in December that was just 35%.
"So, it's really flip-flopped. And it's pretty clear that with the rise in commodity prices, the rise in profitability, the improvement that that meant with respect to working capital, that people were looking for ways to augment their farming operation. In many cases, of course, people have been holding back on capital expenditure purchases for several years. This created an opportunity to make some changes. And that's why people were telling us now's a good time to make large investments in a farming operation."
Farmers are more bullish about the future for land values as well.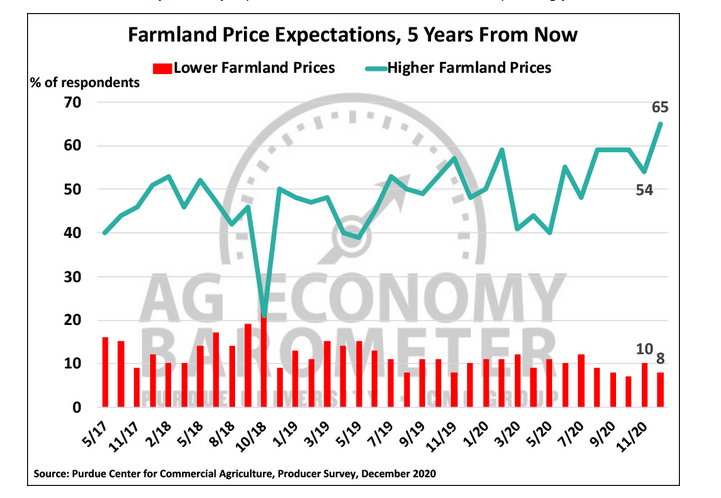 "We had the highest percentage of people on a monthly basis that have ever told us that they expect to see higher farmland prices in the upcoming 12 months, with 35% of the people in the survey saying farmland values are going up over the next 12 months," Mintert says. "Back in April, there was just 7% that felt that way."
Mintert and Michael Langemeier, Purdue Center for Commercial Agriculture, manage the barometer survey and write the monthly report. The Ag Economy Barometer is calculated each month from 400 U.S. agricultural producers' responses to a telephone survey. This month's survey was conducted from December 7-11, 2020.
Mintert's full discussion with Flory on AgriTalk is available below: