CoBank Report: Biggest Impacts From Mergers Will Be Rebate Programs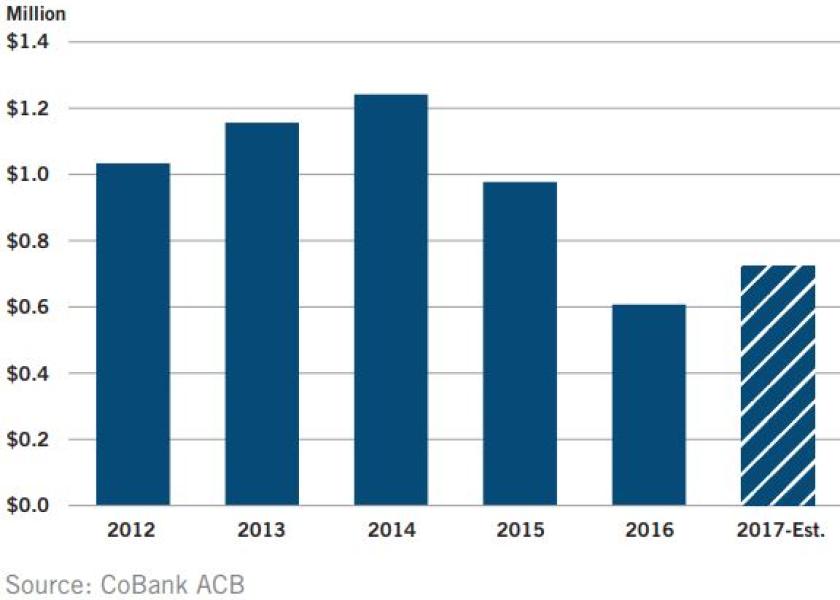 The latest round of ag mergers resulting in the "Big 4" (Dow-DuPont, ChemChina-Syngenta, Bayer-Monsanto, and BASF) will have an impact on ag retail profitability according a recent CoBank report. And Will Secor, economist with the bank, says the greatest impact will come from changes to the rebate program.
"These rebate programs are where you'll see the most change going forward from these mergers," he explains. "As a result, ag retailers are thinking about how to not just react but have a true response to the change."
The two biggest changes to the rebate programs will be an increase in the volume requirements as well as increased complexity, Secor says. Since the Big 4 will have fuller, more complete lines of seed, crop protection and farm data offerings, their incentive programs will change.
"On the volume side, as these mergers have gone through, the companies are looking to capitalize on their increased scale in R&D and drive growth on the marketing side. There will be increased incentives to increase those volume thresholds," Secor says. "In terms of complexity—from a portfolio approach, these companies have thought out their full offering and the rebate programs will factor in a full package of products."
Since rebate programs have established their role in the industry over decades, their pervasiveness in the industry means the forthcoming changes will have a large impact. Secor predicts the greatest effects of rebate changes will be after the mergers are closed–but probably in the next three years.
"What we are seeing is that ag retailer margins aren't improving," Secor says. "Our customers have focused on cutting expenses to remain profitable." Secor details that CoBank customers in the farm supply category are representative of the farm supply sector as a whole.
According to the report, the impact of the rebate program changes will be extensive enough to result in any of these four changes in business strategy for an ag retailer:
Exiting some business lines associated with seed and crop protection and devote resources to other areas.
Reducing the number of brands they offer and partner with one manufacturer to maximize rebates.
Offering competing products to increase bargaining power with manufacturers.
Cooperating or consolidating with other agricultural retailers to gain bargaining power while preserving variety and maximizing rebate program discounts.
As for further consolidation in ag retail, Secor says these rebate changes will add pressure to those businesses already prime for consolidation.
"In this time of change, people may say "it's not bigger is better--- but better is better." How a retail business responds to change will depend on the strategy of the ag retailer—what fits their culture, their size, their resources," Secor says.