Platform Streamlining Grain Selling/Buying Gets Investment Boost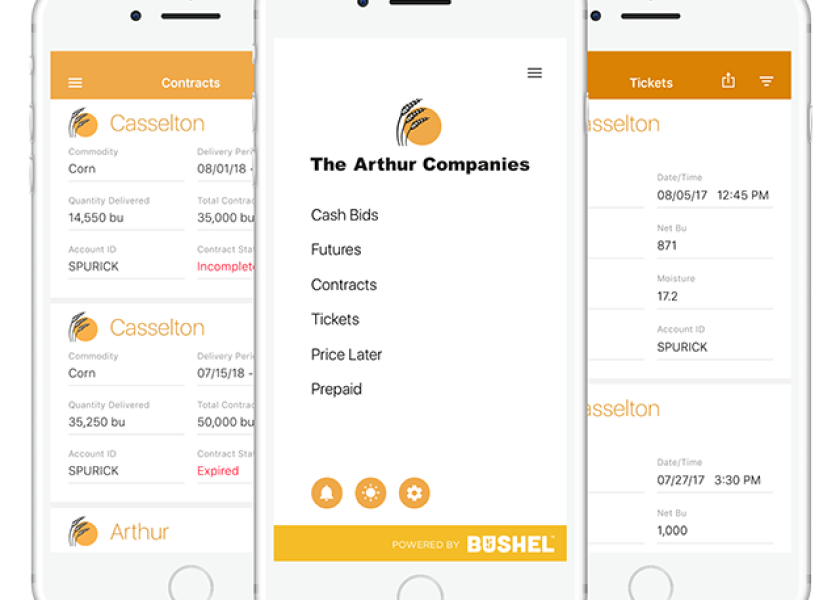 Agtech startup Bushel has announced it has raised $7 million in a private investment round with support from agricultural and software investors.
The company launched in June 2017 as a mobile platform that can be branded by the grain elevator to give its customers access to real-time information on scale tickets, contract settlements, agronomy purchases, and cash-bid offers. Last week, the company launched eSignature, so customers can electronically sign contracts, replacing the traditional paper trail.
The company has the following goals with the new financial resources: expand its reach, accelerate new features, research and development and customer success; and evaluate strategic partnerships and acquisitions.
Currently, over 400 locations use the Bushel app, but as Jake Joraanstad, Bushel CEO and co-founder, explains, their goal is thousands.
"To have the most impact in this space, the more elevators that we have a presence at, the more the network will get the full benefit from the product," Joraanstad says. "We want to be the marketplace leader by delivering information in real-time from the elevator to their farmer customers."
Joraanstad credits the company's sole focus in agriculture, and Bushel's choice to market a business to business product, with its early success.
"We have a roadmap of product enhancements for years to come. With this funding, we can double down on some of those efforts," he says. "We aren't trying to build an ERP system or a farm management system. We're right between those two things. We're a CRM for the grain industry."
He continues by explaining the company has the full intention of remaining an open ecosystem and compatible with farm management tools, accounting systems and insurance data programs.
As for acquisitions, the company acquired FarmCentric in December 2017, which is a web-based tool for elevators to post bids and marketing information. Joraanstad says the company is going to invest in that product and streamlining its offering across mobile and web-based services while continuing to look for other acquisitions in line with its mission.
"Today, we have farmers opening the app three to ten times a day," he says. "I think this illustrates how we're improving communications between grain facilities and their growers."