Ag Retail Scrambles for Online Sales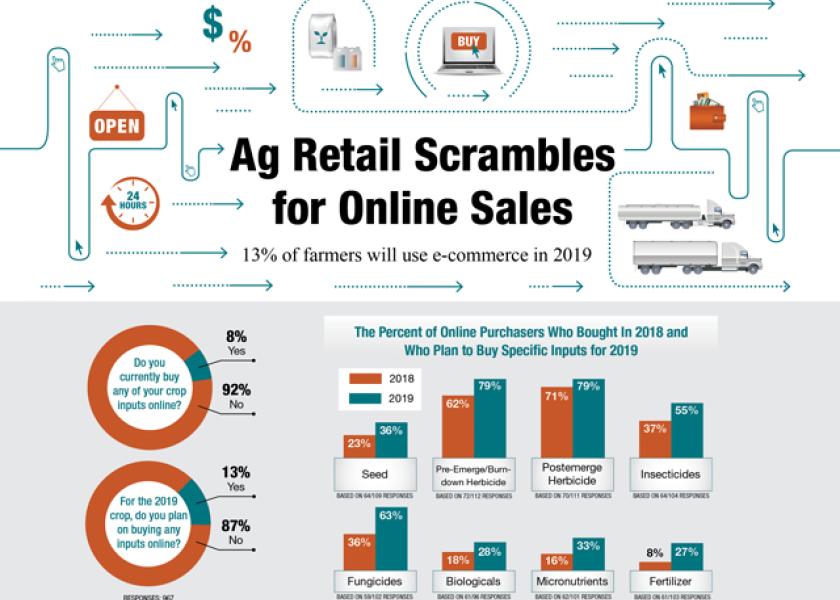 What if an entire farm supply of herbicide, fertilizer or seed was a mere click away and deliverable by Amazon or available by pickup from Walmart? Outlandish? Probably. Maybe. However, farming is rooted in one inescapable certainty: Change waits perpetually offstage.
The scramble for ag retail dollars has kicked up a dusty haze as traditional chemical players scrap gravel with an expanding list of online start-up companies elbowing for market space. It's a brick-and-mortar versus e-commerce clash, and the rules of purchase, customer loyalty and transparency are at stake. The Wild West has come to ag retail and the outcome for farmers is a looming issue.
Confusion and surprise abound. "It's crazy right now, and I've never seen a more competitive time in the ag retail space," says Curtis Garner, senior farm analyst, Bowles Farming Company in Los Banos, Calif. "Twenty years ago, money was made hand-over-fist; not now. Ag retail is in new territory, and I can't even predict what'll happen a decade from now."
In November and December of 2017, Bowles Farming Company joined five farms and approached 11 retailers with a proposition to buy in bulk, shaking the tree for the best deals on herbicide, fertilizer, defoliant, growth regulators and more. Retailer reaction? Confusion and surprise, according to Garner: "A lot shied away and said we were already getting the best deals possible, but some guys wanted to play ball, especially independent dealers."
Garner believes ag retailers are caught in a whirlwind of change. "There is a new generation of farmers raised on an 'information should be open and free' mentality, and we're seeing the reverberations specifically in ag retail. The culture is changing so fast business is playing catch-up."
"Maybe no one wants to admit it, but some retailers are scared and see change coming from online competition. In the end, the ones who create value on both sides are going to win."
Who fits the future? According to USDA's Farm Production Expenditures 2017 Summary, combined crop inputs (chemicals, fertilizers and seeds) are $51.8 billion. The number of online ag vendors seeking to tap the input market is steadily growing, with a roster including Agrellus, Agroy, AgVend, CommoditAg, Farmer's Business Network (FBN), FarmTrade, HarvestPort, Inputs.Ag, The FarmElement and more. In addition, InCeres, Agriconomie, Yagro and Agrofy are based overseas.
In 2018, Farm Journal conducted a purchasing behavior study of 997 U.S. farmers. It found 8% of growers bought at least some inputs online this year and 13% plan to buy some inputs online in 2019.
Despite the competition, Alexander Reichert, co-founder and CEO of AgVend, sees the future of ag retail as the combination of the convenience and time savings of e-commerce, with the service and local agronomic expertise of traditional ag retail. "We're going to see the percent of e-commerce purchases hit 10% and rise fast. Within three to five years, I project we'll see the number grow as high as 25%," Reichert says.
In 2015, FBN lobbed a grenade into the online ag retail market, allowing growers to go further upriver to source ag chemicals directly from manufacturers. In addition, paid membership allowed growers to view anonymous aggregation of seed performance data. The access to transparency was a radical change for growers, further accented in 2017, with the release of FBN's seed relabeling project, which showed when a given corn or soybean seed was sold by multiple companies. Seed relabeling remains a common industry practice and one that farmers are often unable to track or recognize. According to FBN, relabeling is practiced by 67% of corn seed companies and 78% of soybean seed companies.
FBN was praised and pilloried from all ends of agriculture, and the clamor continues with the kickoff of the F2F Genetics Network in 2018. Pared down, FBN offered its own seed line for non-GMO corn ($99 per bag) and off-patent glyphosate-resistant soybeans ($29 per bag).
Charles Baron, co-founder of FBN, says the pushback from major industry players is consistently strong. "Whether it's seeds, inputs or crop marketing, the future is transparency and increasing farmer profit—and that's our model," he says.
As anemic commodity prices pile the pressure on farmers, Baron insists the online option is not merely about cheaper products, but it's the future of distribution. "This is going to restructure the industry in ways massively beneficial to farmers. Why? It puts the farmer consumer in control," he says.
Subscribing to the local and personal formula, Tyler Horbach believes the future of online ag retail will be a marriage of brick-and-mortar and e-commerce. Horbach is the founder of The FarmElement, an Iowa-based startup that partners with local retailers and co-ops. Within 10 years, Horbach estimates 50% of fertilizer and chemicals will be purchased online.
Online retail expansion has an inescapable ceiling, according to Michael Boden, head of U.S. crop protection sales for Syngenta. Crop management requires a host of decisions that can't be completely met by e-commerce and the lack of human interaction is a major Achilles' heel, he says. "Most growers value a service component and the agronomy that comes with it from a relationship. That's where online ventures miss the mark. Online options may offer more price transparency, but they don't provide the decision-making components needed to make good agronomic decisions," Boden adds.
Counterfeit products and stewardship are growing areas of concern with online sales. "When online entities acquire products from sources other than authorized dealers or contracted distributors, you'd better question and be concerned about the quality," Boden says.
Echoing similar concerns, Chris Novak, CEO of CropLife America, says the online sale, handling and delivery of agriculture chemicals raises significant stewardship questions and requires understanding of federal and state law.
The number of major market players on center stage continues to shrink, and further consolidation is an incessant concern for farmers. Todd Janzen an attorney with Janzen Ag Law, says the legal spillover from e-commerce is a likely road to turmoil, at least in the short term.
"It doesn't take a crystal ball to see the big online issues stacking up. If farmers can go online and see they're being price-gouged, it's going to create waves. Zone pricing, seed rebranding and now seed sales are all related to transparency. Traditional agribusiness has consistently moved toward consolidation, but these online players have definitely upset the traditional apple cart," he says.
"Agriculture is headed for a wild time of anti-trust questions, regulatory issues, transparency factors and Amazon.com comparisons—and it all connects with online ag retail," Janzen adds.
 
Selection will likely play a counterbalance role. "There are so many products out there that struggle to get in front of growers because they don't come from one of the top manufacturers. Traditionally e-commerce in other industries has given rise to these lesser-known brands, which slows consolidation and creates more product diversity," Reichert says.
The torrent of change is so rapid Garner declines to make a 10-year prediction, but says online ag retail could boomerang on consumers and spark another level of consolidation. "I think the successful online ag retail sites may eventually be purchased by established manufacturers and retailers," he says. "What'll happen if you can go buy UAN-32 from Walmart?
"You have to be willing to recognize change because there is one thing for certain in agriculture: Nothing remains the same."
---
Farmer Buys 100% of Seed Online
Lance Petersen leads all the procurement efforts for his and his father's 800-acre Minnesota farm. Every year, they are buying more online and via electronic communication.
In 2018, he purchased postemergence herbicide and 54 tons of urea online. For seed, he worked with his local retailer and a seed supplier on a "no frills" seed contract—he bought 100% of his soybean and corn seed under a signed agreement that said none would be returned, that he expected no promise of replant seed and no additional services. Compared with 2017, he saved 15% on seed.
"I understood I was taking risk," he says. "But I ended up not replanting anything."
He purchased urea through AgVend, a site that allows farmers to search for products within a given radius.
"I saved about $50 a ton or 10% to 15% versus local retail prices on that urea," he says.
"I can't go back the other way and do solely traditional ag retail," he adds. "My day ends up being about how much we want to get accomplished on the farm, and I know I've saved time and money buying things online—at my convenience."
Petersen details his purchasing plans for 2019 at bit.ly/2Sd5p79  —Margy Eckelkamp