Vault IP Plus Approved For Use In Soybeans This Season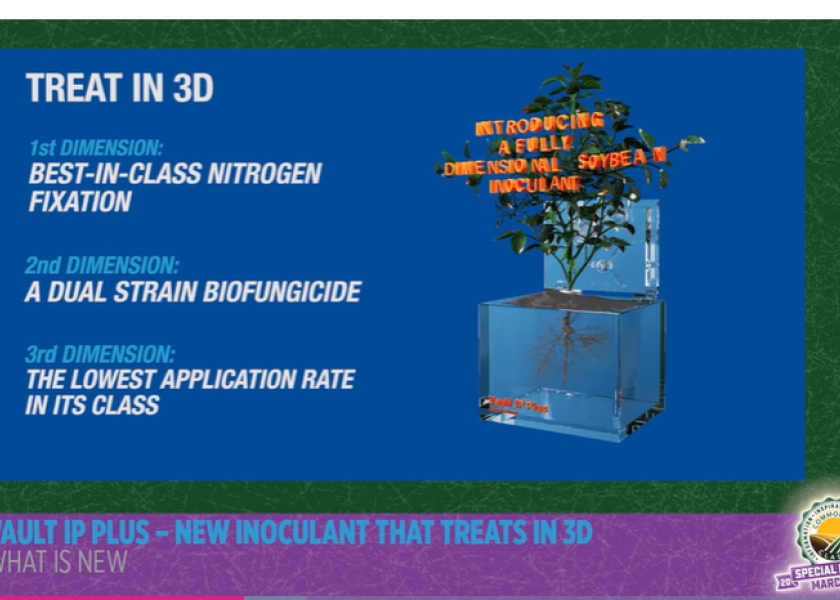 BASF formally introduced its new soybean seed treatment, Vault IP Plus, on Tuesday during the first day of the 2021 Commodity Classic. The U.S. Environmental Protection Agency (EPA) has approved the product for farmers' use this season.
Paul Klemme, BASF inoculants product manager, describes Vault IP Plus as offering 3D properties. "You get best-in-class nitrogen fixation, a dual-strain biofungicide and the lowest application rate in its class," he says.
Nitrogen Fixation
Vault IP Plus features the rhizobia inoculant, Bradyrhizobium japonicum. Inoculants are rhizobia bacteria that form a relationship with soybeans to provide excellent yield potential, notes Justin Clark, technical field manager for BASF.
"Rhizobia in relationship with the soybean plant root captures atmospheric nitrogen the plant can utilize and then converts it into a usable form," he explains.
Clark says that up to 60% of the nitrogen used by a soybean crop comes from beneficial rhizobia bacteria.
"So making sure you have lots of fresh, live rhizobia there on that seed and in that seed zone is vitally important for the success of a soybean crop," he says.
Biological Fungicides
Vault IP Plus features two EPA-registered biological fungicides. The first, bacillus subtilis, allows for extended disease protection and is particularly effective against soil-borne disease problems such as fusarium and rhizoctonia, fungal pathogens that cause root rot.
The second biofungicide, bacillus amyloliquefaciens, supports the plant's nutrient and water uptake. "The biologicals are along the roots and help soybean plants develop finer root hairs, search the soil for more water and more nutrients, thus contributing to the maximum yield potential that that soybean plant has," Klemme says.
BASF yield trials have shown a 2-bushel yield response with Vault IP Plus over a fungicide-treated base product. "What this means for farmers is maximum yield potential and a great return on investment. At $13 or $14 per bushel soybeans, you're getting about a 4-to-1 return on that investment when you have your seed retailer utilize Vault IP Plus on your soybean seed," Klemme says.
Low Use Rate
Vault IP Plus features an application rate of only .75 fluid ounces per 140,000 seeds or 1.1 ounces per hundredweight (cwt).
"What that means is if you're looking to add a miticide, fungicide, insecticide or other products, you've got more space on that seed to be able to do that so that you can maximize your yield," Klemme says.
He adds that the product is sold with minimal packaging, which contributes to less waste.
Phosphate Prices Hit Highest Level Since 2012, As Nitrogen Prices Also Climb
Q&A: Regenerative Ag Trends With Dirt To Dinner's Lucy Stitzer
Verdesian Launches Trident Nitrogen Stabilizer