State-by-State Dicamba Injury So Far in 2018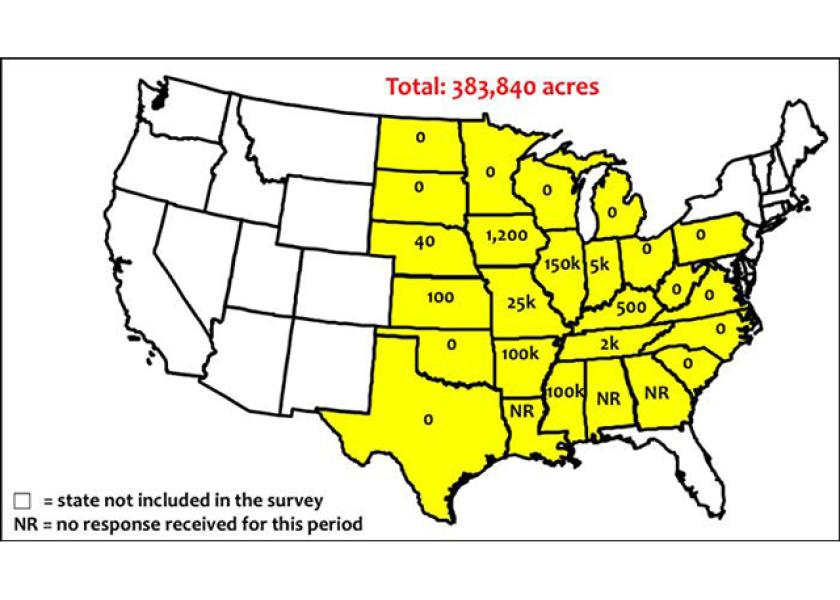 Kevin Bradley at the University of Missouri has been tracking dicamba damage reports by state since 2017. His team surveys university weed scientists and state department of agriculture representatives for updates on dicamba damage reports.
As of the June 15 report, approximately 383,000 acres of soybean are injured by dicamba in 2018. Fifteen state departments of agriculture responded to this survey. This year to-date, there have been only 43 cases of alleged injury in soybeans currently under investigation.
Bradley notes in his published update, compared with 2017, this year is resulting in more incidents and cases of off-target movement of dicamba to specialty crops, vegetables, ornamental species and trees.
"I have personally witnessed this increasing problem of off-target dicamba injury to "other" crops and tree species in the calls I have received, field visits, and "windshield surveys" of Missouri that I have taken the past few weeks, especially when driving around southeast Missouri last week," Bradley says in the report.
He attributes the high adoption rate of Xtend traits in cotton and soybeans in this geographic area as the driving force for fewer reports of dicamba damage compared with previous years.
Click here to read his full report, which includes scouting photos and damage reports.  
And here's a link to Bradley's final report on the dicamba damage in 2017.