Farm-Tested Technology a Win for Grower and Startup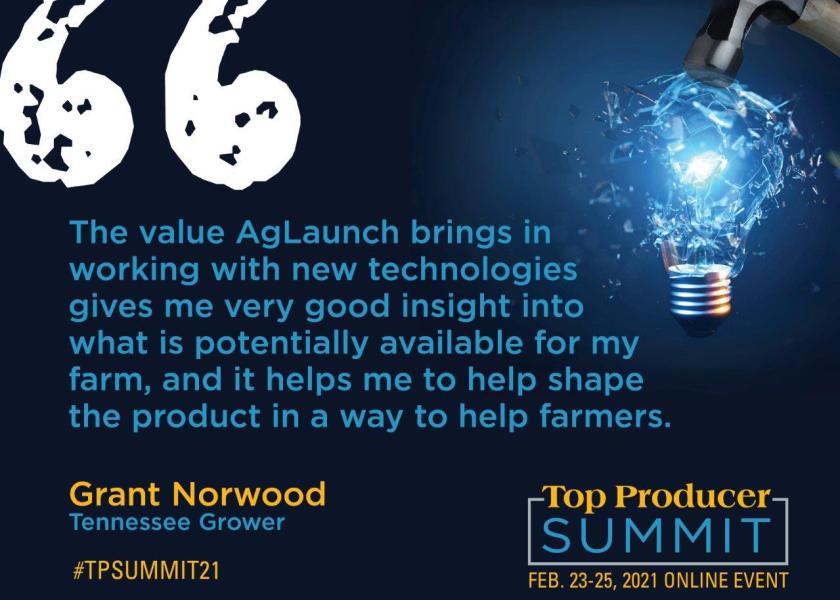 There is no substitute for customer feedback, and farmland is the ultimate testing ground for agriculture technology startups. The multiple benefits for farmer and company provide a blueprint for the success of AgLaunch, an organization connecting pre-commercial, cutting-edge tech businesses with farmers as beta-testers.
Speaking during a session at the 2020 Online Top Producer Summit*, Margaret Oldham, along with Grant Norwood, Alex Forsbach, and Patrick Henry, provided an overview of the AgLaunch system and the mutual advantages available for participating growers and startups.
Norwood grows 3,000 acres of corn, soybeans, and wheat in northwest Tennessee on 100% no till, with a third of his acreage under irrigation, and has participated in two AgLaunch-associated trials. Forsbach farms 3,000 acres of corn, grain sorghum, soybeans, and wheat, in southwest Tennessee, and has tested five AgLaunch-related products since 2018.
For several seasons, Norwood has tested GroGuru, a strategic irrigation management platform that aims for increased yield and water-use efficiency. "The value AgLaunch brings in working with new technologies," Norwood said, "gives me very good insight into what is potentially available for my farm, and it helps me to help shape the product in a way to help farmers."
In addition, Norwood also serves on GroGuru's Farmer Advisory Board of GroGuru: "It works great for both sides," Norwood emphasized. "With AgLaunch working with companies like GroGuru, it's a big step step forward for improving the product for company and farmer."
Henry, CEO of GroGuru, said direct farmer involvement with growers such as Norwood and Forsbach in developing ag technology is invaluable: "I was attracted to the model where farmers get involved early. One of the real challenges is identifying farmer-customers that are willing to test stuff out. The AgLaunch model is ideal for getting hold of commercial farmers."
"AgLaunch is a matchmaker in being able to identify those farmers who have a real passion for this and can be helpful to us starting new companies and creating new technologies," Henry continued.
Forsbach has been a beta-tester for GroGuru, in addition to four other startups: Rabbit Tractors utilizing farm robots, Kilimo with water management, Continuum Ag for soil testing and fertilizer recommendations, and TeleSense for grain bin monitoring system.
From the kickoff of practical testing, farmers are involved with each AgLaunch endeavor, described Oldham, who steers Business Development for AgLaunch. "Part of the AgLaunch model is to have farmers engaged from the very beginning, so our farmers get engaged and select the teams that have technologies they're interested in," Oldham emphasized. "Then AgLaunch works with those teams to develop their business model, and to develop on-farm trial plans, and help them get to the point where they can truly provide value."
*You can still register for the Online Top Producer Summit, which gives you access to content through March 31. Use the code "ONDEMAND" to take $25 off your registration fee.
Read more coverage of the Top Producer Summit.