Exclusive: Precision Ag's Role In Environmental Stewardship
Precision Ag Study 020221
For the past year and a half, the Association of Equipment Manufacturers (AEM) has helped spearhead a study to quantify how technology used in agriculture improves environmental stewardship including reduction in carbon, water quality, and more. 
"Agriculture is a lot of things that includes everything from tractors and tillage equipment, to technology and standalone GPS systems, as well as things like irrigators, milking machines, grain bins, all of those things fall into that equipment category. And all of those pieces have the ability to benefit from technology," says Curt Blades Senior Vice President of Agriculture Services at AEM. 
Blades says key takeaways from the research show how current technologies in the market are able to make an impact: "For farmers, all of the things in this study are currently available, and we are highlighting the added benefits–what just comes along for free. For example, farmers have used auto steer because made sense for their farm—reducing fatigue, more accurate field passes, and saving fuel in the process." 
He also notes it opens the discussion for how policies and other tech priorities can help further increase these outcomes.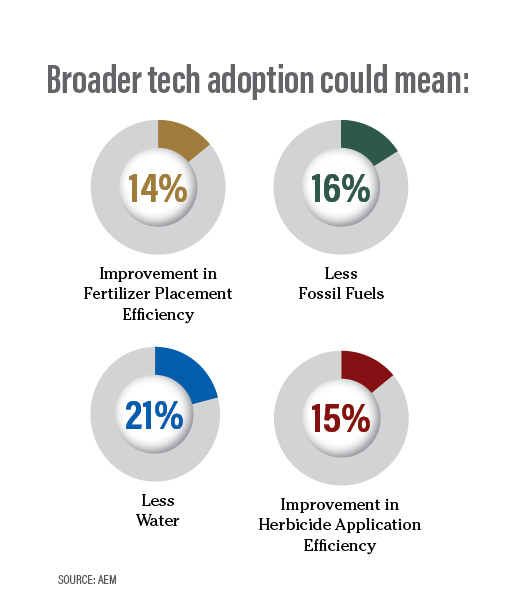 "There's some discussion with the new administration, and with the new ag committee, both the house in the senate side, taking a look at what would we put into either environmental legislation, or a Farm Bill, that would provide some support for farmers to adopt technologies like this," Blades says. "It's really early for us to begin to have those conversations. But I'm thrilled that we were invited to the table. Because, you know, we're pretty sure there's going to be some sort of environmental legislation that's going to come out of the next Congress, or certainly in the next few years. It's very important that ag has a seat at the table. Because if you're not at the table, you're on the menu, and we want to make sure that we are part of the solution."
He notes today that the adoption rates are largely driven by geography, and they're also largely driven by the crops that are grown.
"It's a really good chance for us to have a conversation about the importance of rural broadband, and how so much of this technology is just is waiting to be fully adopted, or can't live up to its full potential, because we don't have internet connectivity in rural areas," Blades says. 
With resource conservation, Blades is encouraged by some of the straight-forward takeaways. 
"We found the biggest gains in water efficiency very simply happened by installing sensors to help automate irrigation decisions. It's amazing how sensors make such a difference in the amount of water used, and water consumption is certainly part of this story that will continue to get some play in the longer term," he says.