AMVAC: Don't Skimp On Soil Insecticides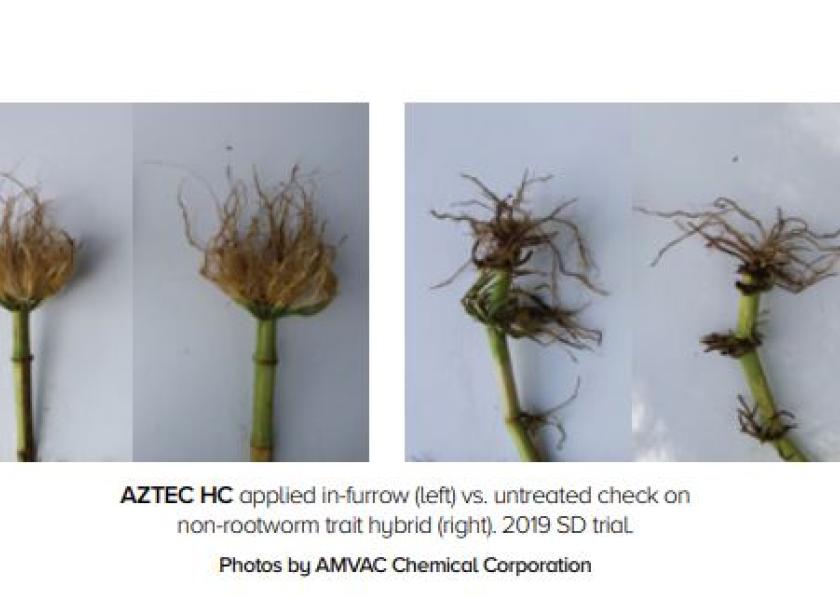 AMVAC is encouraging retailers and farmers to consider the protection and benefits provided by soil insecticides in managing corn rootworm. The company expects higher than average CRW pressure in 2021. 
And it references multiple field trials demonstrating yield gains to applications of soil insecticides.
1. AMVAC sponsored 17 university trials in 2017/2018 to study the yield response to Aztec HC in conventional and traited corn. 
The company says across the trials, Aztec HC provided consistent root protection as well as increased yield in every Refuge, single-, and dual-trait corn rootworm hybrid.
Among traited hybrids, for example AcreMax Xtreme, yield averaged 212.7 bu./acre when treated with Aztec HC vs. 210.2 bu./acre untreated. 
The yield difference in hybrids without CRW traits (Refuge) was 197.2 bu/acre when treated with Aztec HC vs. 177.8 bu./acre untreated.
2. A trial in 2020 provided similar yield gain trends in the trait and refuge. This study was done by University of Minnesota Extension, and funded by AMVAC. For example, the average yield of SmartStax RIB was 195.7 bu/acre treated with Aztec HC vs. 192.9 bu/acre untreated. The yield for the non-CRW-trait refuge hybrid was 180.0 bu/acre treated with Aztec HC vs. 156.0 bu/acre untreated.
3. AMVAV and Valent funded a related trial evaluating in-furrow liquid insecticide, seed applied insecticides, and a no insecticide control. 
Using a single hybrid, Lake Country LC 0488 VT2PRIB, Aztec HC led all products trialed with an average grain yield of 174.9 bu/acre. And Aztec HC was the only insecticide treatment that did not have a node injury score of more than 1 (one node pruned to within 1.5 inches of the plant.) Index, another AMVAC product, also outperformed the other trialed insecticides.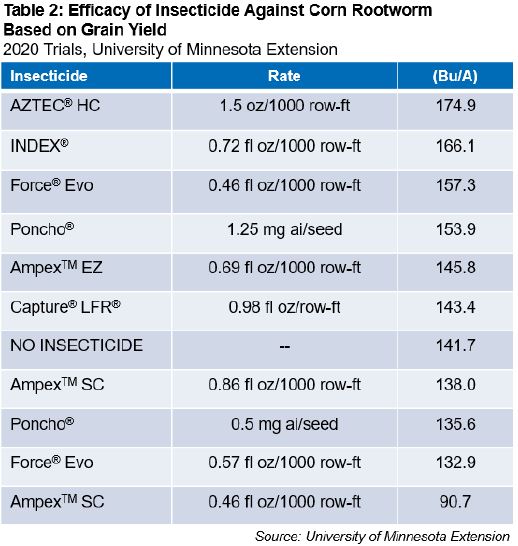 "We're pleased the results of these trials support not only the use of corn soil insecticides to control corn rootworm beyond traits, especially heading in a tough year for CRW pressure as is anticipated for 2021, but that they also highlight the market-leading position of AMVAC insecticides," Nathaniel Quinn, AMVAC Marketing Manager for Corn, Soybeans, and Sugar Beets said in a news release. "AMVAC has solutions for CRW protection in both insecticide products and equipment choices."